Lukasz Palkowski's Gods was the big winner at this year's annual showcase of Polish cinema at the Gdynia Film Festival which ended with a gala awards ceremony at the weekend.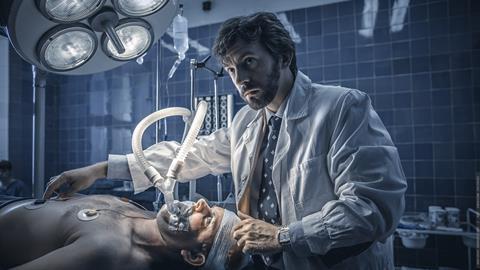 Gods (Bogowie), based on the life of Zbigniew Religa who performed the first successful heart transplant in Poland in the 1980s, received the Grand Prix Golden Lions for best film as well as individual awards in the categories of screenplay, make-up, production design and actor in a leading role for Tomasz Kot.
In addition, Gods received the award of the Polish Film Festivals and Reviews Abroad as well as the Journalists' Award, Elle magazine's Star of the Stars award for lead actor Kot and Radio Gdansk's Golden Claquer Award for the longest applauded film at a screening in the Musical Theatre for the Main Competition.
Palkowski made his feature directorial debut in 2007 with Reserve, which won three prize at the festival in Gdynia that year including the best directing debut award.
From Hardkor to Angel
The International Jury headed by veteran director Ryszard Bugajski awarded the prize for best directorial debut to producer-writer-director Krzysztof Skonieczny's Hardkor Disko which also picked up the honours for cinematography and the professional acting debut for actress Jasmina Polak.
Meanwhile, Jan Komasa's big-budget drama on the Warsaw Uprising, Warsaw 44, which Kino Swiat released in Polish cinemas last Thursday (Sept 18), took home the trophies for actress in a leading role, sound, a special award for SFX, and for the professional acting debut for actor Sebastian Fabijanski (shared with Waterline).
Wladyslaw Pasikowski was named best director for his Cold War thriller Jack Strong which also attracted a technical nod for its costume design, while this year's Silver Lions Award went to Wojciech Smarzowski's adaptation of Jerzy Pilch's autobiographical novel The Mighty Angel.
Smarzowski, who began shooting his next feature Volnyhia on Friday (Sept 19), also accepted the prizes on behalf of his composer and editor.
In addition, the awards for actors in supporting roles went to Russian actress Elena Babenko (The Photographer) and former Shooting Star Dawid Ogrodnik (The Word).
The jury gave its Special Award to actor-director Jerzy Stuhr and producer Piotr Dzieciol for The Citizen, while the auditorium rose to its feet to applaud the veteran director Sylwester Checinski who was presented with the Platinum Lions career achievement award in recognition of such films as Sami swoi, Wielki Szu and Rozmowy kontrolowane which have charmed millions.
Young Cinema Competition winners
Announcing the Grand Prix for this year's new Young Cinema Competition, jury member film editor Agnieszka Glinska explained that it had been awarded ¨unanimously¨ to Armenian-born Wajda School graduate Vahram Mkhitaryan's Milky Brother for ¨a very beautiful and extraordinary film.¨
Meanwhile, the jury's Special Award was presented to Lodz Film School graduate Aga Woszczynska for her diploma film Fragments which had been shown in the Directors' Fortnight in Cannes this year, with Special Mentions being made of Joaquin Del Paso's Siamese and Tomek Slesicki's directorial debut August.
Another new sidebar introduced by the festival's new artistic director Michal Oleszczyk, Visions Apart (Gdynia's answer to Un Certain Regard), invited audiences to vote for one of the section's four films for an Audience Award which went to Grzegorz Jankowski's independently made Polish Shit.
Independent awards
Jan Komasa's Warsaw 44 picked up the Golden Kittens - Youth City Council of Gdynia Award and Elle's Rising Star award for actress Anna Próchniak, while the magazine's Crystal Award went to Jowita Budnik for her performance in Michal Otlowski's Waterline and the Youth Jury's award for Best Film in the Main Competition to Waldemar Krzystek's The Photographer.
Other prizes included the Don Quixote - Polish Federation of Film Discussion Clubs Award and the Arthouse Cinemas Network Award to Gregorz Jaroszuk for his feature debut Kebab & Horoscope; the Golden Kangaroo Award to director Jerzy Stuhr and producer Piotr Dzieciol for The Citizen; and the Amber Lion for Wladyslaw Pasikowski's Jack Strong.
Full details of the award-winners at this year's Gdynia Film Festival can be found at: http://www.festiwalgdynia.pl/en/
OTHER NEWS FROM GDYNIA
Project London to distribute Gods
Around 24 hours before Saturday's awards ceremony, Lukas Palkowski's Gods (Bogowie) was already announced as the second winner from the Gdynia festival to be selected for the award sponsored by the UK-based Project London initiative for the distribution and promotion of Polish films in the UK and Ireland.
The award, which includes all exhibition costs, fees and the film's promotion, guarantees distribution in Cineworld, Odeon or Vue cinemas in the UK and Ireland.
Speaking exclusively to ScreenDaily, UK critic and film programmer Phillip Bergson, who was a member of the award jury alongside Project London's co-founders Mariusz Muskietorz and Pawel Jodlowski and actor-director Michael Sarne, said that Gods will be released in the UK on October 20, ten days after its Polish opening by Next Film on October 10.
Project London has previously handled the distribution in British cinemas of such Polish films as Leszek Dawid's You Are God, Andrzej Wajda's Walesa. Man Of Hope and Wladyslaw Pasikowski's Jack Strong which was seen by over 1.1m cinema-goers in Poland this year.
PFI Awards for Portobello, Gutek Film
The UK's Portobello Film Sales and Polish distributor Gutek Film were among the winners at this year's Polish Film Institute (PFI) Awards presented during the festival week in Gdynia in recognition of the art film.
Portobello Film Sales and production company Opus Film received a PFI Award for their international promotion of Paul Pawlikowski's Ida, which won the Grand Prix in Gdynia last year, while Gutek Film was honoured for its distribution of Sugar Man in Polish cinemas.
Other recipients included the Wajda Studio and Wajda School's EKRAN programme as Best Professional Education Programme and Fixafilm for the digital reconstruction of Andrzej Wajda's The Ashes.
Polish-Danish co-development
Calls for the establishment of a Polish-Danish co-development fund - on the lines of those funds already existing between Germany and Poland and Germany and Denmark - were heard at a Polish-Danish co-production meeting during the festival.
Danish-born Ole Wendorff-Ostergaard, who has been living and working in Poland since 2008, pointed out that ¨the main challenge in Poland is development. Getting support for this area needs to be adapted. We have to see if a political will is there to make a co-development fund a reality.¨
Lukas Dzieciol of Opus Film, who worked with Jesper Morthorst of Denmark's SF Film Production on the competition film The Word after meeting at Producers on the Move in Cannes, added: ¨both countries have long film traditions and it would therefore make sense for the industries to work together.¨
So, producers from both countries will now have to lobby their respective national film institutions, the Polish Film Institute and the Danish Film Institute, to argue the case for the creation of such a fund.
Meanwhile, Wendorff-Ostergaard told Screen Daily that Platige Films, the newly created production division of VFX house Platige Image, has recently begun production on its first feature-length animation film Another Day Of Life, which is a hybrid between live action and animation, after four years in development and preparation.
The € 4.9m film, which is being produced with Spain's Kanaki Films and in co-production with Germany's Animationsfabrik and Wüste Film and Belgium's Walking The Dog, is based on war reporter Ryszard Kapuscinski's account of his experiences during the Angolan Civil War in 1975. Raúl de la Fuente and Damian Nenow are directing.
Poland's Next Film and Germany's Pandora Film are already onboard as theatrical distrubutors for the project which has attracted backing from Eurimages, FilmFörderung Hamburg Schleswig-Holstein, VAF, Screen Flanders, the Polish Film Institute and Spain's ICAA, among others.
Wendorff-Ostergaard also revealed that shooting will begin in Warsaw next month on Teddy Bear director Mads Matthiesen's new feature project Emma as a Danish-Polish co-production with Zentropa Entertainments.
HBO Europe committed to Polish production
Speaking in a masterclass on different approaches to project development between the Central European and US markets, Antony Root, Executive Vice President of Original Programming and Production at HBO Europe, reaffirmed his company's commitment to supporting local production, including feature films, in the future.
¨The local producers obviously help us build relationships with directors, authors, and actors,¨ he explained. ¨Any pitching of projects absolutely has to go through our local Polish office as we are localised for all editorial decisions in the original programming area.¨
In fact, two of this year's Main Competition films - Wojciech Smarzowski's The Mighty Angel and Magdalena Piekorz's Close-Ups - were co-produced by HBO Europe who also used the festival to promote its forthcoming mystery serial Wataha, produced with ATM, which airs from October 12.
Gdynia Film Centre to open in 2015
The Gdynia Film Centre is due to be ready next year to open its doors for the next edition of the Gdynia Film Festival in September 2015.
The building, which is currently in construction next to the city's Musical Theatre and had its topping out ceremony at the weekend, will house the Gdynia Film School (GSF) and the Pomeranian Film Foundation as well as three arthouse cinema screens, a film club, a restaurant and a multimedia shop.
¨The 40th jubilee of the Gdynia Film Festival in 2015 will have the full setting it deserves - to match the frequently repeated phrase 'Gdynia - the capital of Polish film',¨ Gdynia's mayor Wojciech Szczurek said about the plans for the Film Centre.
Documentaries in Warsaw
As the 39th edition of the Gdynia Film Festival was winding down, the Warsaw Film Festival (October 10-19) has started limbering up for its 30th anniversary by announcing the 15 titles selected for the Documentary Competition.
The line-up for 2014 will include:
The Authors by Janusz Mrozowski (Poland), about female prisoners having a play based on their own lives being performed by professional actors.


Crossroads by Anastasiya Miroshnichenko (Belarus/Sweden) portraying the talented, but homeless Belorussian artist Valery Lishkevich.


Breaking The Wave by Annie Canavaggio (Panama) about surfing Panamanians and what else life has to offer.


The Forest by Siniša Dragin (Romania/Serbia) about a young Romanian art critic's desire in the 1960s to photograph a painting by Ion Andreescu, which had been a gift from the Romanian authorities to Josip Broz Tito, President of Yugoslavia.


Dancing Before The Enemy: How A Teenage Boy Fooled The Nazis And Lived by Adam Bardach (USA), chronicling the extraordinary life of his father, the film producer Gene Gutowski.


Uncle Tony, Three Fools, and the Secret Service by mins.a Mileva and Vesela Kazakova (Bulgaria/UK), the controversial story of two talented caricaturists who defined trends in communist Bulgaria's animated cinema in the 1970s.
Focus on Georgia in Nyon
Georgia will be at the centre of the Focus section at next year's Visions du Réel festival (April 17-25, 2015), showing a selection of a dozen documentaries as part of the official programme and presenting five feature documentary projects (in development, production or post-production) from Georgia as part of the Focus Talk day.
This special day enable directors, producers and national film institutions from Georgia to meet with television commissioning editors, distributors and potential Swiss and European co-financers and discuss the potential for co-producing the five projects being pitched in Nyon.