Warner Bros' reboot leads on overall buzz and intent-to-view; Fox's latest X-Men outing excites ahead of release next week.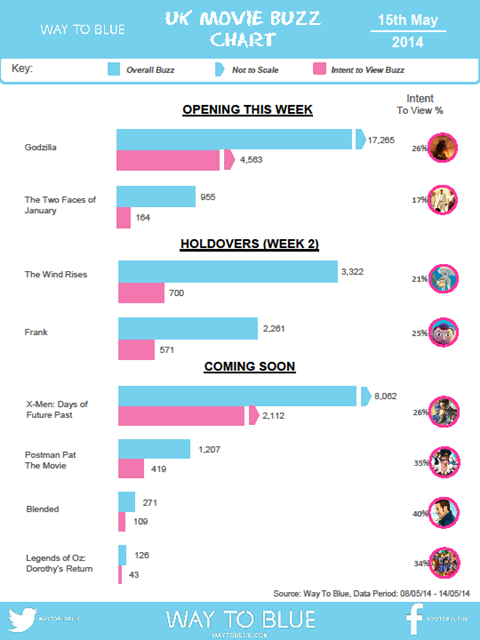 Godzilla is set to stomp on the competition this weekend at the UK box office, according to Way To Blue's buzz chart.
Warner Bros' reboot generated a mighty 17,265 mentions with 26% intent-to-view, ahead on both counts of StudioCanal's The Two Faces of January.
In terms of holdovers, both StudioCanal's The Wind Rises and Curzon Film World's Frank are set for decent second weekends with 21% and 25% intent-to-view, respectively.
Looking ahead to next week, Fox's X-Men: Days of Future Past is generating the most excitement with over 8,000 mentions and a 26% intent-to-view.
For an explanation of the Way to Blue chart and its methodology, which tracks 'overall buzz' and important 'intent to view' buzz, click here.
To view the chart in pdf format click here.