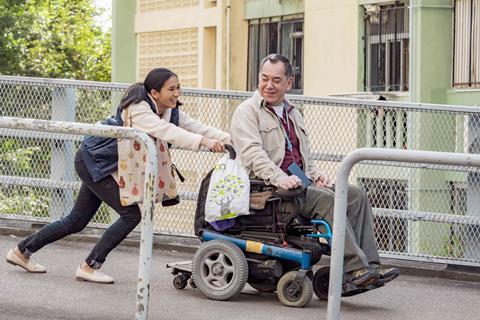 Hong Kong-based Golden Scene has picked up international rights to Still Human, produced by Fruit Chan and starring Anthony Wong, which it will start selling at Busan's Asian Film Market.
The feature debut of Hong Kong filmmaker Olivier Chan Siu Kuen, the film revolves around the friendship that develops between a paralyzed divorced man (Wong) and a Filipina domestic helper who has been hired as his caretaker.
Produced by No Ceiling Film Production, the film has been fully financed by the Hong Kong Film Development Council (HKFDC), as one of the winning projects in the third round of the government agency's First Feature Film Initiative (FFFI).
Previous films to emerge from the FFFI include Steve Chan Chi-fat's Weeds On Fireand Wong Chun's Mad World, which won best new director and best supporting actress at the 2016 Golden Horse Awards.
Still Human also marks the feature debut of Filipina actress Crisel Consunji, who is also the founder of a creative arts learning centre for children in Hong Kong. Scheduled for Hong Kong release in the first quarter of 2019, the film also stars Sam Lee (Made In Hong Kong) and Himmy Wong (Weeds On Fire)
Golden Scene has also picked up international rights to courtroom drama The Attorney, directed by Wong Kwok Fai (The Moment) and starring Alex Fong, Carlos Chan and Nina Paw.
Currently in post-production, the film follows a jaded attorney who reluctantly takes the case of a young man accused of murdering the daughter of Hong Kong's biggest tycoon. The film is produced by Top Entertainment Production with backing from ROC Film and Television Culture Media Company.
Golden Scene, which is joining Busan's Asian Film Market as an exhibitor for the first time this year, is also selling BIFF gala screening First Night Nerves, directed by Stanley Kwan; Ying Liang's A Family Tour, which screens in BIFF's A Window On Asian Cinema; and the three omnibus films, Ten Years Thailand, Ten Years Taiwanand Ten Years Japan.