Fox's adaptation records $4.9m (£3.1m) second weekend to lead chart as stablemate The Maze Runner posts UK bow of $3.3m (£2.04m), including previews, and Warner Bros' Annabelle scares up $3.1m (£1.93m).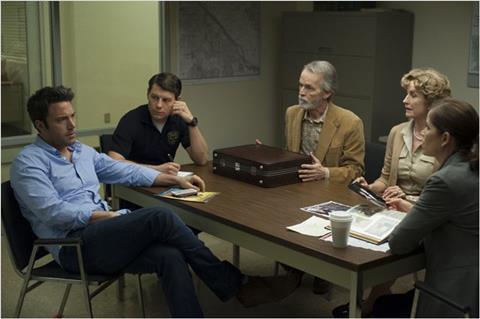 Falling just 16% (excluding previews), Gone Girl has retained top spot at the UK box office for a second straight week.
Fox's adaptation enjoyed a terrific second weekend of $4.9m (£3.1m) to reach $15.8m (£9.8m) after 11 days in play.
It's already David Fincher's fourth-best UK performer and Gone Girl could well become his second highest grosser by this weekend, overtaking The Social Network ($17.1m/£10.6m) and The Girl with the Dragon Tattoo ($19.3m/£12m).
It was also a literary one-two for Fox at the top of the chart this weekend as The Maze Runner raced to a UK bow of $3.3m (£2.04m) from its 493 sites, including just over $177,000 (£110,000) in previews.
That's more in the range of Twilight ($4m/£2.5m) rather than The Hunger Games ($7.9m/£4.9m), but it's the best opening salvo of a young adult adaptation this year ahead of Divergent's $2.8m (£1.8m) from 423 sites.
Also for Fox, Bang Bang fell 64% in its second weekend to add $259,000 (£160,531) for $1.6m (£989,182), while Pride stands at $5.7m (£3.5m) after five weeks in play.
WARNER BROS
Kickstarting a run of horror releases in the lead-up to Halloween, Warner Bros' Annabelle scared up a healthy $3.1m (£1.93m) from its 383 sites to chart third. Without The Maze Runner's previews, Annabelle would have charted second.
That's only narrowly behind The Conjuring's $3.5m (£2.16m) UK debut on its way to $16.9m (£10.5m). Without the critical support, Annabelle may not match that but the cursed doll will prove a formidable opponent to the likes of Icon's The Babadook [Oct 24], Lionsgate's Horns [Oct 29] and Universal's Ouija [Oct 31].
Also for Warner Bros, Dolphin Tale 2 posted a second weekend of $469,000 (£292,000) for $1.5m (£919,000) and now faces a tough task to match its predecessor's $3.9m (£2.4m) UK result.
Magic in the Moonlight stands at $1.3m (£828,000) after four weeks in play.
PARAMOUNT
Ahead of its nationwide release this coming Friday [Oct 17], Paramount's Teenage Mutant Ninja Turtles banked $2.2m (£1.35m) from its previews on Sat-Sun and remains on preview release in Scotland this week.
ARTS ALLIANCE
Screening only on Saturday and Sunday, One Direction: Where We Are took a strong non-final $1.6m (£1.02m) to chart fourth and become the highest grossing concert film in the Event Cinema sector, according to figures from Rentrak.
Arts Alliance expects the film to hit $1.9m (£1.2m) in the UK following its encore screenings (taking place w/c Oct 17), representing an excellent result for the independent Event Cinema distributor.
UNIVERSAL
With a drop of 51% in its second weekend, Dracula Untold rounded off this week's top five with $1.4m (£844,000) for a ten-day tally of $5.6m (£3.5m) through Universal.
Also for Universal, The Boxtrolls reached $10.9m (£6.8m) following a $925,000 (£525,000) fifth weekend. It will become Laika's best-ever UK performer by the end of its run, surpassing Coraline's $12m (£7.43m) result.
SONY
Crossing the £5m mark in its third weekend was The Equalizer with a $997,000 (£620,000) weekend. Sony's reboot is now up to $8.9m (£5.6m) in its quest to top King Arthur's $11.4m (£7.1m) result to become Antoine Fuqua's best-ever UK performer.
Also for Sony, The Calling posted a UK debut of $13,000 (£7,963) from its 99 sites, although it's worth noting not all of those would have been on full showings.
LIONSGATE
Dropping almost 50% in its third weekend, Lionsgate's What We Did on Our Holiday took a further $552,000 (£342,584) for a sturdy $4.6m (£2.9m) to date.
Narrowly behind on its UK debut for Lionsgate was The Rewrite with $523,000 (£324,856), including previews, from its 366 sites. That marks director Marc Lawrence's lowest ever UK bow, previously the $1.9m (£1.2m) of Did You Hear About the Morgans? from 399 sites.
STUDIOCANAL
LFF First Feature competitor '71 shot to a non-final $329,000 (£204,358) UK debut from its 123 sites through StudioCanal.
DISNEY
Guardians of the Galaxy is nearing the end of its excellent UK run and has now reached $45.6m (£28.33m) following a $122,000 (£76,000) weekend through Disney.
Also for Disney, Alexander and the Terrible, Horrible, No Good, Very Bad Day opened on 33 sites in Scotland for a result of $34,000 (£21,000). It opens nationwide on Oct 24.
EONE
For eOne, A Walk Among the Tombstones and Maps to the Stars have amassed $5.8m (£3.6m) and $535,000 (£323,094) after four and three weeks in play, respectively.
METRODOME
Following its delayed release, Effie Gray recorded a somewhat soft UK bow of $108,000 (£67,339) from its 103 sites through Metrodome. It failed to surpass Life and Lyrics' $154,000 (£95,724) debut from 70 sites as director Richard Laxton's best-ever UK opening.
UPCOMING RELEASES
This week sees saturation releases for eOne's The Best of Me [opens Oct 15], Paramount's Teenage Mutant Ninja Turtles (following its previews this weekend) and Warner Bros' The Judge.
Artificial Eye's CITIZENFOUR and Munro Film Services' Northern Soul both receive wide releases, while Metrodome's Palo Alto, Soda's My Name is Hmmm and Warner Bros' Black Butler are among the films receiving limited releases.