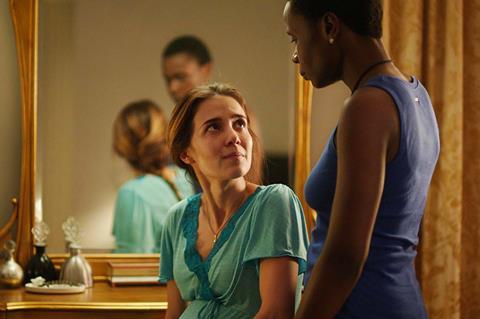 Good Manners, a horror-drama film in the spirit of Rosemary's Baby, dominated the awards ceremony of the 19th Rio International Film Festival.
Juliana Rojas and Marco Dutra's latest feature took five prizes on Sunday night in the Premiere Brasil section dedicated to showcase works by local filmmakers.
The story of two women preparing for the birth of a strange child collected best film, as well as best supporting actress (Marjorie Estiano) and best cinematography (Rui Poças). It also won the FIPRESCI Award and the Felix award for best film given to LGTB-themed entries. Previously, Good Manners had won the Locarno special jury prize.
Carolina Jabor's Liquid Truth, which discusses the role of social media relating to the case of a teacher accused of kissing a student, left with four awards. Daniel de Oliveira was chosen as best actor (shared with Murilo Benicio, for Friendly Beast), Marco Ricca was named best supporting actor, and Lucas Paraizo took the best screenplay prize. Liquid Truth, which premiered in Rio, also received the audience award for best film.
Paris Square earned two Redentor awards, a trophy that resembles the Christ Redeemer statue, made of 35mm film pieces. The film explores the bond between a psychoanalyst and her patient and earned Lucia Murat the best director prize and Grace Passo the best actress award.
This year's official jury comprised producer Antonio Saura (president), producer Caio Gulane, director Heloisa Passos, actress Leandra Leal and director Paz Encina.
PRIZES OF THE PREMIÈRE BRASIL OFFICIAL JURY
Best Film: Good Manners, dirs. Juliana Rojas and Marco Dutra
Best Documentary: Piripkura, dir. Mariana Oliva, Renata Terra and Bruno Jorge
Best Short: Borá, dir. Angelo Defanti
Honorable mention (short): Roberta Gretchen Coppola, for her performance in Profane Cow
Best Director, Fiction: Lucia Murat, Paris Square
Best Director, Documentary: Tatiana Lohmann and Roberta Estrela D'Alva, for Slam: Sworded Words
Best Actress: Grasse Passo, Paris Square
Best Actor: Daniel de Oliveira, Liquid Truth, and Murilo Benicio, Friendly Beast
Best Supporting Actress: Marjorie Estiano, Good Manners
Best Supporting Actor: Marco Ricca, Liquid Truth
Best Cinematography: Rui Poças, Good Manners
Best Editing: Caroline Leone, Something Like That
Best Screenplay: Lucas Paraizo, Liquid Truth
Special Jury Prize: Slam: Sworded Words, dirs. Tatiana Lohmann and Roberta Estrela D'Alva
PRIZES NOVOS RUMOS (NEW TRENDS)
Best Film: The Part Of The World That Belongs To Me, dir. Marcos Pimentel.
Best Short: Friction, dir. Diego Lima
Special Jury Prize: Motolove, dir. Marcus Faustini
PUBLIC AUDIENCE AWARDS
Best Film: Liquid Truth, dir. Carolina Jabor
Best Documentary: A Sore Spot, dir. Silvio Tendler.
Best Short: Profane Cow, dir. René Guerra.
Other festival awards
FIPRESCI Award: Good Manners, dirs. Juliana Rojas e Marco Dutra
FELIX Awards
Best Film: Good Manners
Best Documentary: Queercore: How To Punk A Revolution, dir. Yony Leyser.
Best short: Sandra Chamando, dir. João Cândido Zacharias
MOSTRA GERACAO Awards
Best film: On Wheels, dir. Mauro D'Addio
Honorable mentions: Haunted Tales: The Movie, dir. Victor-Hugo Borges; High Expectations, dirs. Pedro Antonio Paes and Alvaro Campos