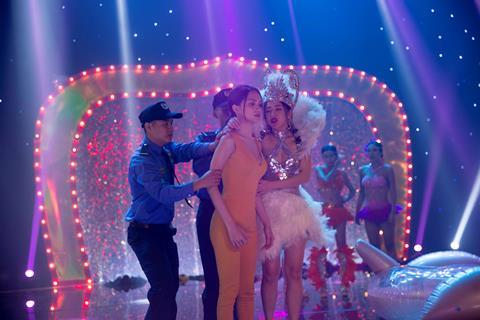 Hong Kong-based sales company Good Move Media has struck a deal with Ho Chi Minh City-based distributor Skyline Media to represent three Vietnamese titles at the EFM, headed by action comedy Drama Queen.
Directed by Kay Nguyen, Drama Queen follows a stuntman, on the run from the mob, who fulfils a lifetime wish to transition into becoming a woman. However, when she enters a beauty pageant to pay for her sick father's medical bills, the gangsters she was running away from make a reappearance.
The film, which stars real-life transgender beauty queen Huong Giang, was released in Vietnam on February 14. Huong Giang was the first ever Vietnamese winner of Thailand's biggest transgender pageant, Miss International Queen, in 2018.
Good Move is also working with Skyline on sales and festival representation for Trinh Dinh Le Minh's Goodbye Mother and Le Binh Giang's Kumanthong, both released in Vietnam last year.
Goodbye Mother, which played at last year's Busan International Film Festival, is about the heir of a Vietnamese clan who returns home from the US with his Vietnamese-American boyfriend, but finds it difficult to come out to his family. Kumanthong is a horror film based on the story of Vietnam's first serial killer.
Good Move is also selling two titles currently in post-production – Atsushi Sakahara's The Atonement, a documentary about the 1995 Tokyo subway sarin attack, and Yuya Ishii's All The Things We Never Said, a Hong Kong-Japan co-production starring Taiga Nakano and Ryuya Wakaba.