Prize winners revealed from 9th edition of festival.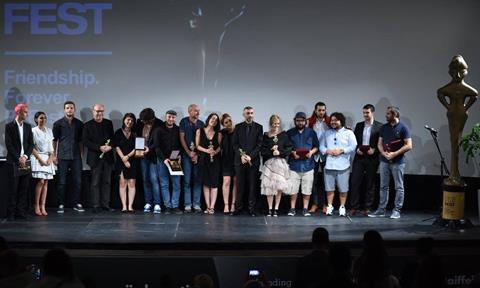 Croatian thriller Goran has won the best film award at the 9th edition of Kosovo's Pristina Film Festival (PriFest, July 13-20).
The film was produced by Danijel Pek and written by Norwegian writer Gjermund Gisvold. Director Nevio Marasevic was also given a special mention in the best director category.
Croatian filmmaker Hana Jusic won the best director award for Croatia-Denmark production Quit Staring at my Plate, while the film's star Mia Petricevic was presented with the best actress prize.
Best actor went to Caner Cindoruk, who won for his role in Turkish drama Ember (Kor). The film was written and directed by Turkish filmmaker Zeki Demirkubuz, his 11th feature.
The 2017 edition of the event was the largest so far, with more than 80 films screened.
Elsewhere, Crash writer-director Paul Haggis attended this year's festival to receive an honorary award for his service to word cinema.
Best European film was given to Mellow Mud, a Latvian picture directed by Renars Vimba. Mellow Mud was also handed the media jury award, which is awarded by journalists in the area.
Actress Adriana Matoshi won the international achievement of a Kosovan filmmaker award, while the special jury prize went to Chronicles Of Melanie, a Latvia-Czech Republic-Finland co-production directed by Viestur Kairish.
Th best documentary prize, new in 2017, went to Georgian feature See You In Chechnya. The film was directed by Alexander Kvatatashidze, his feature debut.
On the industry side, the best pitch prize went to Sirin, by Montenegro director Senad Sahmanovic.
Full list of winners:
Winner of Best Pitch 2017: Sirin, dir. Senad Sahmanovic (Montenegro)
Winner of Post-Production Award at Best Pitch 2017: Hive, dir. Blerta Basholli (Kosovo)
Winner of Green Film Project Award 2017: Let Us Breath, dir. Aria Bytyci
Winner of Best Middle-Length Film by Independent Students' Jury Award 2017: Le femme de la TGV, dir. Timo Van Gunten (Switzerland)
Winner of Media Jury Award 2017: Mellow Mud, dir. Renars Vimba (Latvia)
Winner of FIPRESCI Jury Award at PriFest 2017: Amok, Vardan Tozija (Macedonia)
Winner of Best Middle-Length Film Award at PriFest 2017: Naked, dir. Yoram Sachs (Israel)
Winner of Best Documentary Film Award at PriFest 2017: See You in Chechnya, dir. Alexander Kvatashidze (Georgia)
Special mention in the Best European Films Category at PriFest 2017: Hunting Flies, dir. Izer Aliu (Norway)
Special Jury Prize in the Best European Films Category at PriFest 2017: Chronicles of Melanie, dir. Viestur Kairish (Latvia-Czech Republic-Finland)
Best European Film Award at PriFest 2017: Mellow Mud, dir. Renars Vimba (Latvia)
PriFest Annual Award for the International Achievement of a Kosovar Filmmaker: Adriana Matoshi
Special Mention at the Best Balkan Film Category: Goran, dir. Nevio Marasevic (Crotia)
Best Balkan Actor Award at PriFest 2017: Caner Cindoruk from the film Ember (Turkey)
Best Balkan Actress Award at PriFest 2017: Mia Petricevic from the film Quit Staring at My Plate (Croatia)
Best Balkan Director Award at PriFest 2017: Hana Jusic from film Quit Staring at My Plate (Croatia)
Best Balkan Film Award at PriFest 2017: Goran, dir. Nevio Marasevic (Croatia)
Honorary Golden Goddess Award for Lifetime Contribution to World Cinema: Paul Haggis