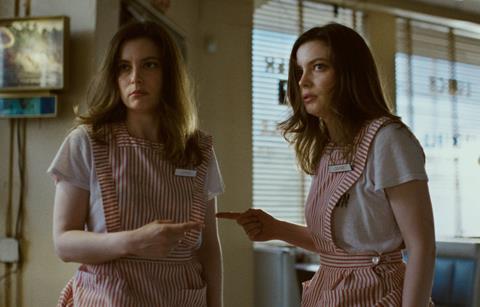 Great Escape, the Los Angeles-based sales division of Yale Entertainment, has boarded international sales for EFM on The Seven Faces Of Jane, the multi-director project starring in-demand Gillian Jacobs.
Roman Coppola produced the romantic comedy-drama and Jacobs (Community, upcoming Berlin-set romantic comedy and Europe-Canada co-production Any Other Night for One Two Films, Lithium Studios and Lemming Film) inhabits the titular role of a woman who tumbles through a gauntlet of surreal, beautiful and heartbreaking adventures.
Jacobs directed the first and last scenes of The Seven Faces Of Jane and the other directors include Gia Coppola, Boma Iluma, Ryan Heffington, Xan Cassavetes, Julian J. Acosta, The Hangover breakout Ken Jeong, and Alex Takacs.
Each filmmaker chose a narrative portion of the story, its characters and genre, and worked without knowing what the others were doing. Gravitas Ventures holds North American rights and released last month.
The supporting cast includes Joel McHale, Chido Nwokocha, Emanuela Postacchini and Breeda Wool. Producers are Allison Amon, Jason Baum, Sarah Park, Luke Ricci and Coppola.
The Seven Faces Of Jane marks the first feature endeavour to involve Superconductor, the creative services agency set up by Avengers franchise directors Joe and Anthony Russo and Fast And Furious franchise director Justin Lin.
Nick Donnermeyer brokered the deal for Great Escape with Amon on behalf of Superconductor.
Great Escape's EFM slate includes action title The Collective with Tyrese Gibson, Ruby Rose and Don Johnson; Italy-set thriller Electra starring Maria Bakalova, Abigail Cowen and Jack Farthing; and Bucky F*cking Dent directed by and starring David Duchovny.