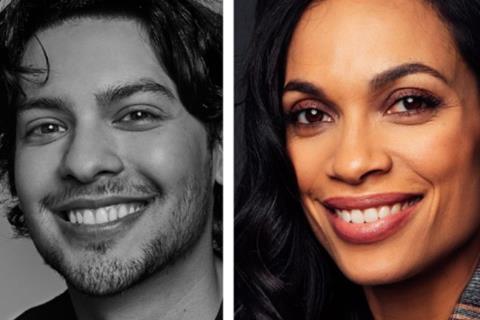 GuadaLAjara Film Festival (GLAFF) will honour Latinx star Xolo Maridueña and Rosario Dawson at this year's event in Downtown Los Angeles, running September 29-October 1.
Maridueña will receive the Arbol de la Vida Trailblazer Award on opening night for his achievements as an actor, breaking down barriers, and inspiring the next generation of Latin talent. He has played the lead in Netflix series Cobra Kai for the last five seasons.
Dawson will receive the Arbol de la Vida Artist and Advocacy Award on closing night in recognition of her activism and philanthropy work. Her credits include the Sin City franchise, Rent, and the series Dopesick on Hulu. Latina civil rights leader Dolores Huerta will present the award to Dawson as well as the Arbol de la Vida Lifetime Humanitarian Award to trans civil rights leader Bamby Salcedo.
The opening night film is Hugo Pérez's Omara, a portrait of Afro-Cuban icon and Buena Vista Social Club singer Omara Portuondo; the Centrepiece selection is animated feature Home Is Somewhere Else co-directed by Carlos Hagerman and Jorge Villalobos about Dreamers and undocumented immigrants in the United States; and the festival closes with the documentary Sansón And Me, about a young immigrant's journey from coastal Mexico to prison in California.
There will also be a special screening of Rodrigo García's Apple TV feature and recent TIFF world premiere Raymond And Ray starring Ethan Hawke and Ewan McGregor.
"The GLAFF 2022 programming is staying true to our mission of building bridges between Latin America and the US and using film as a way of opening dialogue about not only our experiences, but also, our place in the entertainment industry,'' said GLAFF executive producer Vanessa Perez.
"Our programming is representative of new voices whose personal experiences give them the empathy to tell delicate stories about the human condition such as is the case with Sansón and Me, directed by Rodrigo Reyes. GLAFF will continue to find these voices and showcase the abundant talent that exists in our community."
The festival, now in its 12th year, will also present works in progress under the banner of WIP Latino 7 focused on the topics of borders, migration, human rights and social and political themes centred on the Latino and Latinx community. The sidebar provides in-kind and cash support to Latin American and BIPOC filmmakers with projects in post-production.
GLAFF programming includes industry masterclasses and a networking brunch.