There are 27 features and documentaries amongst this year's festival selection.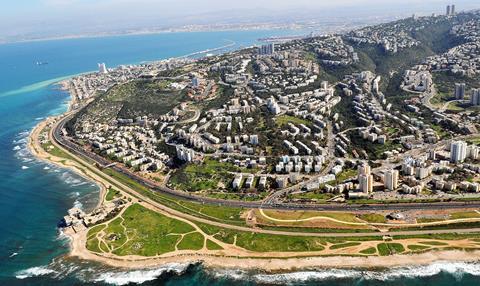 Haifa International Film Festival (Oct 15-24) has revealed the line-up of Israeli titles for its 32nd edition.
The programme will include 13 Israeli feature films, 14 Israeli documentary films, 48 shorts and animated films and 10 student and recent graduate films.
See the full list below, including synopses.
Full line-up of Israeli titles:
Israeli feature film competition:
(Synopses provided by festival)
Antenna, dir. Arik Rotstein (WP)
On a bright morning, Joshua, an 80-year-old Holocaust survivor, discovers that a cellular communications antenna has been installed on the roof of his home. It turns out that his neighbor has leased his part of the roof to a cellular company. Joshua feels that a terrible injustice was done. The radiation must be the cause for all his aches and pains. There is nothing for it - Joshua declares war on the offending neighbor and drags his wife Sarah and three adult sons with him.
Between Worlds, dir. Miya Hatav (WP)
Two women from two different worlds meet in a hospital, moments after a terror attack in Jerusalem. The two are hiding a secret. While waiting and praying for a miracle to come, they will get to know each other and learn about truth, fate and acceptance.
The Burglar, dir. Hagar Ben Asher (WP)
Mom leaves without saying a word. Her 17-year-old girl is left behind to deal with life on her own. Lonely, poor, and carrying a financial debt as big as her broken heart and as if to provoke reality, her house gets violently broken into, leaving nothing intact behind. But the abyss caused by this event sends her to quest forbidden territories where she finds life, passion, and love.
In Between, dir. Maysaloun Hamoud
Layla, Salma and Nour - Palestinian citizens of Israel - share a flat in hipster Tel Aviv; beyond the watchful gaze of family, clan or village in the heart of a "modern," "progressive" Jewish society that will forever define them as 2nd class citizens. Tel-Aviv's Palestinian "underground" is a lab for testing out one's physical and emotional boundaries.
In this chilling duality, between would-be conservatism and supposed liberalism, three stories come together to form a single shared fate. The illusory freedom the big city offers exacts a high price: independence or identity crisis?
A Quiet Heart, dir. Eitan Anner (WP)
In present day Jerusalem, a city increasingly dominated by religious fanaticism, Naomi, a secular young woman, seeks refuge from the pressure of her life in Tel Aviv as a concert pianist. Naomi quickly makes two unexpected connections - one with a musically gifted Ultra-Orthodox young boy who lives in her building and the other, with Fabrizio, a charismatic Italian monk and organist. While these relationships allow Naomi to reconnect with her love of music and sense of meaning, they also make her a target in her new community.
Through the Wall, dir. Rama Burshtein
Michal, 32, became religious 12 years ago, and only now is getting married. A month before the wedding the groom calls it off. Michal does not want go back to the endless course of matchmaking and does something completely out of character. With the force of her belief she goes on a month-long journey towards the planned wedding day: "I have the venue and the dress; God can easily come up with my groom."
Land of the Little People, Yaniv Berman
Four children, who live in a village of military officers' families, form a small gang. An old abandoned army base, located in a surrounding field, turns into their base camp.
War breaks, most of the men are drafted and the mothers are busy listening to the news. The kids, with no one to supervise them, returnto the camp only to find that two soldiers who've deserted from their units are using the camp as a hideout. They try to regain control of their territory but the soldiers hold their ground.
The 90 Minute War, dir. Eyal Halfon
Finally, after more than a hundred years of bloodshed, the Israeli-Palestinian conflict is about to be resolved. The ideal solution has been reached: a soccer game. One game that will decide who gets to stay in the holy land, and who must go. The 90-Minutes War follows the preparations, the crises and the drama leading to the fateful game from the meetings at the International Football Association in Geneva to the town in Portugal where the game will be played. Funny, sad, wild and politically incorrect, this political comedy kicks this exhausting conflict to the sidelines, where it belongs.
Home Port, dir. Erez Tadmor (WP)
Aaron, a veteran seaman, returns to land after 30 years at sea. He accepts an administrative position at the Ashdod Port and soon finds himself in confrontation with Rahamim Azoulai, a working class leader who tries to protect the world he's built for himself and his men. Home Port is a sun drenched social drama inhabited by strong-headed men and determined women. It is a story of a city, a port, a need to build a life even on shaky ground.
Personal Affairs, dir. Maha Haj
Nazareth, today. An old couple lives wearily to the rhythm of daily routine. On the other side of the border, in Ramallah, their son Tarek wishes to remain an eternal bachelor, their daughter is about to give birth, while her husband lands a movie role and the grandmother loses her head. … Between checkpoints and dreams, frivolity and politics, some want to leave, others want to stay but all have personal affairs to resolve.
Israeli documentary competition:
Jesus Has No Motorbikes, dir. Eytan Harris
In Aebleen, an Arab village in the Galilee, the two families enjoy excellent relations and their sons, Rageb and Ward, are best friends. One night, during an argument, Rageb kills Ward's brother.
Sulha, a unique Arab peacemaking procedure with ancient roots and strict rules, is the only way to stop the coming bloodshed. The film allows us a rare glimpse into a society where an internal system of law governed by honor exists alongside the law of the land.
Dinj, dir. Arthur Abramov
The director follows Shalev from age 10 to 15. Shalev's parents immigrated to Israel from the Caucasus. He is torn between his need to remain a child and his father pushing him into manhood.
Shalev's father fights for his son to have a better future than his and teaches him values in unorthodox yet creative ways. The mother, who left her husband is now requesting to regain contact with her children. Although Shalev prefers living with his father, he moves to his mom and his relationship with his father becomes distant until he disappears completely.
Born Again, dir. Tzipi Baider
Last March, while Amir Guttman Fryszer is in the midst of rehearsals for the High
Five Band reunion, he feels unwell. After a month of medical examinations, he receives the worst news of all: he has lymphatic cancer and his chances of recovery are slim.
A week before Amir is scheduled for bone-marrow transplant he receives a response from a pathology expert in the US saying they did not recognize cancer. His life is turned over again and Amir embarks on a new journey to discover the truth - does he indeed have cancer?
Ultra-Orthodox 3.0, dir. Levi Zini
Experts predict that the Ultra-Orthodox community - religious, anti-Zionist and insular - is on its way to becoming the largest sector in Israel within several decades. The documentary Ultra-Ortodox 3.0 brings us face-to-face with members of the community who waver between isolation and the realization that they may be the future leaders of the Zionist State. The scene: Beit Shemesh, a city turning ultra-Orthodox. The time: the municipal council elections campaign. The questions: What does the future hold for the third generation of ultra-Orthodox society, which puts a premium on religious study?
The Eightiesters, dir. Lina Chaplin
A transaction is taking place / the better is being exchanged for the worse / But wait, I'm a smart, intelligent Jewess! / How come I miscalculated so badly? / Why did I let myself be fooled? / How did I allow such slackness? / What made me accept such a bad deal? (Julia Wiener).
Lately, suddenly, I realized that I, too, have let myself be fooled. Old age has become central to my life and I am longing to explore this phenomenon closer.
Praise the Lard, dir. Chen Shelach
The story of the pork industry in Israel, an industry that has raised ethnic tensions and heated struggles over the country's short history. Sitting firmly between Israel's most essential identity issues and the fundamental right to freedom of choice, how did the unsuspecting pig turn into such a central taboo in the Jewish tradition and one of the secular state's most prominent symbols?
Praise the Lard is a film about the Zionist movement's attempt to create a "new Jew" in the land of Israel, unbeholden to old traditions, and about this new identity's struggle to survive in the face of fierce resistance from religious and observant Jews. Praise the Lard presents a sharp take on the outsized role one farm animal came to play in the Holy Land.
Lillian Levi, Poetess, dir. Ilan Peled, Yair Qedar
Lilian Levi was a radical and great poetess who was not recognized in Israel, gained success in Paris and died in Milan. This is the fantastic story of the imaginary or perhaps realistic Lilian Levi.
From Russia With Love, dir. Shiri Shahar
With rare candor, adoptive parents speak about the process from the beginning and as they advance, in an intimate, honest and thought-provoking manner. Three stories of journeys with moments of optimism and falls, fear and elation. The film consists of video clips taken by parents during the process. The footage reveals rare and intimate moments, including a peek into the children's homes in Russia, their first meeting with the child, , arrival to Israel, the meeting with the extended family, and life itself.
The parents share their brave introspective thoughts with the camera with the perspective of years as a family with the child that joined.
Women of Freedom, dir. Abeer Zeibak Haddad
Women of Freedom follows the stories of women who were murdered in the name of honor killing, women whose lives are under threat, women who survived murder attempts, even that of a killer expressing remorse.
The documentary tries to unravel the social and political circumstances that have led to this custom. The murder of a young woman in my hometown of Nazareth 43 years ago has left me agitated. In order to investigate the causes for this enduring phenomenon, I embark on a physical and emotional journey through Israel and the Palestinian Authority.
Seduction Ltd., dir. Anat Vovnoboy
If you ever thought that love and attraction between a man and a woman are spontaneous and irrational, think again. An entire industry of books, workshops and tutorials is teaching men how to be successful with women and how to become 'Seduction Artists'.
The film follows the story of three young men that have become part of the seduction industry in Israel. When the search for human connection becomes a competition over achievements, men who take part in this exploitative contest may find that they have become even lonelier.
Palestinians on the Net, dir. Anat Tel Mendelovich
Hundreds of thousands of Palestinians posts every day on Facebook, some of them write against occupation and some speak about peace. But the violent reality is rising, the extremism and the insanity are taking over the social net.
Cast-Offs, dir. Vered Yeruham, Oren Reich
What happened to the worn sofa we discarded after our visit to Ikea? What became of the kitchen dishes we left by the dumpster? Cast Offs depicts the journey of discarded items from the heart of consumerist Israel to the periphery and the Palestinian Authority, where they come back to life. The film exposes an underworld that exists alongside our consumer reality – a transparent existence of transparent people whose livelihood depends on the objects we discard offhand, without even giving a thought to their fate.