Back in Israel for the fourth time to serve as the president of the Haifa Film Festival jury, Mohsen Makhmalbaf is fully conscious of the simmering anger he provokes among the authorities of his native Iran.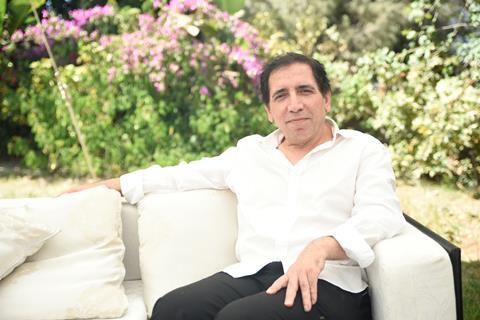 Once the hero of the revolution against the Shah, sharing a prison cell with some of the most prominent future leaders of the country, today he is an exile living with all his filmmaking family in London.
He was the target of repeated attempts on his life but seems oblivious of the danger, insisting in every interview and masterclass he gives on the same messages of love and peace, which concern not only filmmaking but also a political attitude that couldn't possibly please the Tehran regime.
Born into a poor family, prevented by his kindly grandmother from seeing films, for that "would doom him to Hell, from listening to music for that would deafen his ears to the sounds of paradise and never look at a woman, for that was an unpardonable sin", he started taking menial jobs when he was 12 to help provide for the family and by the age of 15 he was already at the head of a revolutionary cell fighting to throw over the monarchy, persuaded, he says, that once the revolution will come, all the evils of poverty will disappear from the face of the earth.
"When I was 17, I was arrested for trying to grab a policeman's gun and go out to shoot the Shah", he reminisced in his Haifa masterclass, talking to an audience that had earlier that day seen his film A Moment of Innocence in which recounted the incident.
Instead, he was shot in the back, thrown into jail, cruelly tortured day and night for six months and kept in prison for the next four years, until the revolutionary government took over and released him.
"Films like The Peddlar or The Cyclist come from my own life experience", he confirms, adding "nowadays I see too many young people without enough experience. They went to school, then to university, then they start making films but when they talk about poverty or politics, you feel they don't really know much about these things".
While in jail, he spent all his time reading every single book he could lay his hands on, on whatever subject in the world, at least a book a day, sometimes more, using the time behind bars to acquire the education he had never had the chance to get before.
From guns to culture
Once a free man, convinced that guns are not a solution and observing his former cellmates fighting and killing each other, he chose to dedicate himself to cultural activities.
"I started to work at a radio station, but Khomeini, just like my grandmother at the time, decided music should be banned. Not entirely but never longer than two minutes segments. During those two minutes, I was supposed to write a text for the announcer to read once the music was over. That's how I became a writer".
For him, the definition of "writer" is the person who writes. As for how good that writing is, it all depends on the writer's own qualities.
Iranian cinema
Looking back at his country's cinema, Makhmalbaf points out that "before the revolution, Iranian cinema was thriving, we were making close to 70 feature films a year. But two years before the revolution, Iranian cinema suddenly died. The reason was very simple. Hollywood movies had entered the country and two months later, no more Iranian cinema.
"Instead of producing one film, distributors could import 10 commercial ones to that much more profit. I am not supporting censorship, but we need some kind of limitation for the rubbish Hollywood and Bollywood are filling the markets with.
"Many national industries have keeled over under their attack. Immediately after the revolution, censorship affected all arts but in a way, it helped Iranian cinema grow up again".
"For a while Iranian filmmakers believed they could show reality, steeped as they were in the poetical traditions of their country, for lack of visual ones. Their films became popular and appreciated abroad not only because of the West's curiosity to find out what's happening behind the closed curtains of the Iranian regime but also because these films, unlike the false glitter of Hollywood and the depressing moods of European non-communication cinema, offered hope and trust in human nature.
"The support we had at the time from no less than 50 different cinema magazines, some of them weeklies, others monthlies, there was even a daily one, played an important role, both for promoting the films and educating our audience to watch them".
"But the Iranian government, jealous of the success of their artists, couldn't accept that. How come the world speaks badly of the regime but applaud the films they make? Not to mention that the kind of reality we were showing in our films was not the kind they liked.
"While they preferred to cheat the audience, we were trying to use cinema as a mirror and show society what's wrong with it and how responsible they were for the kind of government they have".
This is not necessarily the best way to be a popular filmmaker, not only in the eyes of the government, but also for an audience.
"Tell people what they want to hear, they will clap and say you're a great artist and you'll tell them they're a lovely audience". But, resorting to an example referring directly to his Haifa listeners, he added "if you want to have peace in your country, it is not only your government that is responsible for it but every one of you as well".
That, he says, was one of the points he tried to convey in his most recent film, The President.
Reality and surrealism
While he defines his cinema today as a blend between reality and surrealism, he insists on the responsibility of every filmmaker.
"Making films is not an end in itself. This is one of the worst propositions I have ever heard. I think we can change the world with our films by making a cinema that is honest, deep and responsible. Let's say the average life nowadays is 80 years.
"Suppose you're watching films every single minute of your life, you'll be watching something like 292,000 films. In other words, if my film reaches an audience of 300,000, this equals the life one person. This means that we have the responsibility not to waste other people's lives.
"I believe that before everything else, we are human beings, and only then Iranian, Israeli, Moslem or Jewish and there is no reason why we should constantly make war and kill each other.
"If you ask me, there are only three things that really count: health, happiness and friendship. They matter much more than national identity and certainly more than cinema.
"Every film I make, I am asking myself, do I tell these things to my audience or do I incite it against them."
Three principles
As for his role as jury president, Makhmalbaf has very clear and well-defined principles.
"The first thing is films that should not be boring. They have to be attractive, interesting. Even if it makes the filmmaker feel he is a great artist who needs a few million dollars to show how important he is, if he bores you, all the rest doesn't matter.
"Second, films should have a meaning, you should feel you learned something in the course of the two hours you spent in a dark theater. I believe meaning is more important in life than food and security.
"Finally, the third thing is magic. True, it is very difficult to achieve in a film, but we keep trying".