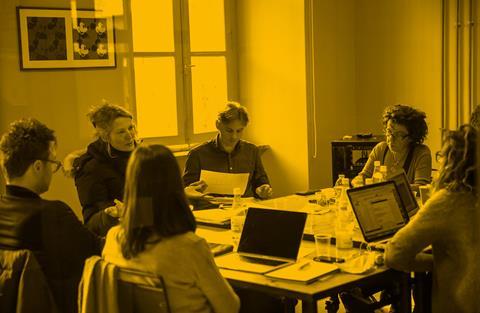 The TorinoFilmLab (TFL) has announced the 20 new projects selected for the 2018 ScriptLab. 50% of this year's projects have female directors (ten will be directed by women, nine by men, and one co-directed by a man and a woman).
The ScriptLab is a nine-month scriptwriting programme hosted by the TorinoFilmLab, involving a number of feature films at an early stage of development. Composed of two week-long residential workshops, one in Greece (March) and one in France (June), the ScriptLab also feeds in to TorinoFilmLab annual industry event the TFL Meeting (this year running on the 23-24 November, as usual in parallel to the Torino Film Festival).
"We noticed a new yearning for genre cinema" comments TorinoFilmLabartistic director Matthieu Darras. "Several of these projects either explore the recent past, the 90s or early 2000s, or an imagined near future in various sci-fi survival stories"
With a strong emphasis on new talents, among the 20 projects selected for the ScriptLab are 15 debuts: "Not any single project is content with ticking the expected boxes of what independent cinema is supposed to look like, but all propose genuinely original - and often surprising, proposals" add Darras.
In its 11-year history TFL has built a reputation in finding new talents and nurturing them through their first films.
Three movies to be premiered in this year's Berlinale have been developed through the TFL. Marcello Martinessi's The Heiresses, which will be in Competition, participated to Script&Pitch in 2014 and then to FrameWork in 2015. Similarly, Adina Pintilie's Touch Me Not was developed in the 2007 Script&Pitch and then went through FrameWork in 2011. Both of them won a Production Award during the TFL Meeting Event. The third film, Land by Babak Jalali, is featured in Panorama and participated in 2012 FrameWork, winning the Production Award at the 2012 TFL Coming Soon.
Filmmakers participating in the 2018 ScriptLab will be helped by five story editor trainees: Claudia Bottino (Italy), Natalie Difford (United Kingdom), Mmabatho Kau (South Africa), Marcin Łuczaj (Poland), Matthijs van der Veer (Netherlands). In addition they can also rely on 5 tutors: Nadja Dumouchel (France), Giacomo Durzi (Italy), Pierre Hodgson (United Kingdom), Răzvan Rădulescu (Romania), Franz Rodenkirchen (Germany).
The 20 selected projects are:
Alcarras by Carla Simón (Spain)
After winning a Goya Award for Best New Director thanks to Summer 1993, Carla Simon now tells a story of rurality, farmer's pride and justice with a family film.
An Endless Sunday by Alain Perroni and Giulio Pennacchi (Italy)
Pennacchi is the youngest participant of the edition, while Alain Parroni saw his last short film premiered at the Venice Film Festival. Together they are exploring the lives of millennials in Rome's periphery.
A Piece of Sky by Michael Koch (Germany/Switzerland)
An intense love story set in a remote mountain village of the Grison, which also deals with accepting the natural cycle of life through sickness. This is Michael Koch second feature film after premiering in Locarno with Marija.
Azra Nadine by Sara Kern (Slovenia)
Two sisters and a fractured childhood leading towards a confused maturity, Sara Kern' debut is a coming of age attending both the ScriptLab and the Cinéfondation residence.
Dandelion Seed by Ru Kuwahata and Max Porter (Japan / USA)
Coming from two of the most important countries for animation, this duo already has managed to get nominated to the Oscars for Best Animated Short with Negative Space. Their first feature film is a stop motion story of a 16-year old girl coming to a californian private school from her native Japan in the early 90s.
Grand Ciel by Akihiro Hata and Jérémie Dubois (Japan / France)
Paranoia is the mood selected by Akihiro Hata and Jérémie Dubois to investigate the phenomenon of social invisibility affecting migrants in European megalopolises.
Life in a Spiral by Rama Thiaw (France/Senegal)
Rama Thiaw's The Revolution Won't be Televised premiered in 2016's Berlinale and now the director from Senegal is coming back with an adaptation of Abasse Ndione's eponymous novel set in '70s in which a group of friends heads to Casamance looking for weed.
Mignon by Sofia Georgovasili (Greece)
Actress turned director Sofia Georgovasili is debuting with a portrait of two lively teenagers in the '90s, during the peak of Greece's economic growth.
Our Life in the Forests by Magali Magistry (France)
A naturalist science fiction film is the way Magali Magistry has decided to adapt Marie Darrieussecq's novel about survivors and resistance during a catastrophic future.
Pareidolias by Katarzyna Gondek (Poland)
After seeing her shor movies selected at festivals around the world such as the Sundance, Katarzyna Gondek is debuting with an odd detective story, in which a judge is exiled to a town where a tree takes all of the crucial decisions.
Petrichor by Esther May Campbell (United Kingdom)
In a post-apocalyptic future that calls for action, hope and self leadership, artist and activist Esther May Campell sets her second film after premiering in Venice in 2015 with her debut Light Years.
Success in Circuit Lies by Redmond Entwistle (United Kingdom)
There's both a love story between a chinese girl and an american middle-aged man, and the story of the demise of the American dream and the building of the Chinese ascendancy through the microchip industry in the mid 2000s, in this drama from visual artist Redmond Entwistle.
Thanatos by E. del Mundo (Philippines)
One day in the life of a teenage kid who gets recruited in a volunteer group headed to a 58 people massacre is the subject, inspired by true events, of the debut film from the Los Angeles-based Filipino director E. Del Mundo.
The Accident by Bruno Carboni and Marcela Bordin (Brazil / Italy)
A psychological thriller sprung out of a traffic collision. Bruno Carboni has co-written with Marcela Bordin his debut feature film in which an obsessive investigation brings the lead character to encounter her enemy.
The Caravan by Zuzana Kirchnerová Špidlová and Kristina Májová (Czech Republic)
To liberate herself Ester, a 40-year old unconventional mother, needs a mental disabled trip to south, heading to the shores of Italy. Zuzana Kirchnerova Spidlova, who is also co-writing together with Kristina Majova, has already won a Cinéfondation award.
The Landscapes That You Seek by Juanita Onzaga (Colombia)
The search for her disappeared brother brings Laura far from her city Bogota, to a village in the middle of El Choco jungle. Juanita Onzaga debut feature film tells this journey in a mysterious and evocative way.
The Photo Camera by Viktor Van Der Valk and Jeroen Scholten van Aschat (Netherlands)
Currently post-producing his feature debut Nocturno, Viktor van der Valk is already working on his second film, sharing the same thrilling and mysterious storytelling technique, this time to expose the dramatic process of social Darwinism in today's Netherland.
The Squirrel by Markus Lehmusruusu (Finland)
In a future told with a deadpan humor, a workaholic robot designer finds the last real squirrel in the world and promises to himself to take care of it, without knowing that the animal is depressed. Markus Lehmusruusu is debuting in feature film after a carrier in directing tv series.
The Succession by Martin Kalina and Axel Damian Cherniavsky (Argentina)
From a child's perspective Martin Kalina, co-founder of the Primo Content advertising company, wants to tell the story of a small family with the aim of reflecting on the larger realities of Argentina. Doctor of philosophy Axel Cherniavsky is co-writing the script.
Therefore, I was by Wregas Bhanuteja and Daud Sumolang (Indonesia)
A middle-aged man working at a flea market is coerced into undergoing a name-changing ceremony by his own family. Indonesian director Wregas Banjutela has co-written this script with Daud Sumolang, and started developing it in Next Step, a programme of the Critic's Week, where he premiered his short In The Year Of The Monkey.