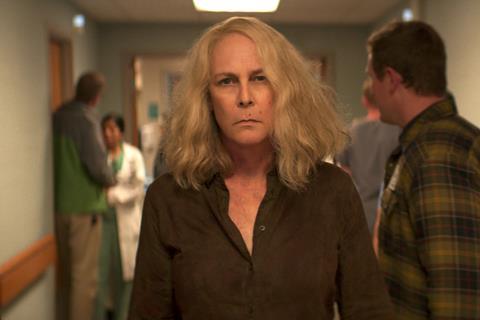 Amid signs of ongoing recovery at the box office for the right property, Universal/Blumhouse's Venice out of competition premiere Halloween Kills opened top of the table in North America on an estimated $50.4m – a significant result given that NBCUniversal also debuted the film simultaneously on its Peacock platform.
Hollywood studios are falling over themselves to declare new records each week however the best day-and-date launch of the pandemic – beating $31.6m set by Godzilla vs. Kong in March when it debuted through Warner Bros in cinemas and on HBO Max – carries some weight in light of ongoing hesitancy among audiences to return to cinemas.
Halloween Kills opened in 3,705 sites and also scored the best three-day theatrical debut of the pandemic since A Quiet Place Part II and is the highest-grossing horror opening weekend since It Chapter 2 in September 2019.
Tellingly the bulk of the audience were young people who typically feel more confident about venturing into cinemas than older audiences. Some 44% of those who bought tickets were aged below 24 years and 73% were below 35. David Gordon Green directed Halloween Kills and franchise stalwart Jamie Lee Curtis stars.
Eon/MGM's No Time To Die slipped a respectable 56% to second place via UA Releasing in its second weekend and added $24.3m to reach $99.5m. Combined with the international running total 007 is generating a solid number, however with production and marketing costs understood to be in the region of $350m it will struggle to recoup on theatrical receipts alone.
Elsewhere 20th Century Studios' The Last Duel, another Venice out of competition premiere, flopped. Ridley Scott's Medieval drama starring Matt Damon, Adam Driver, Jodie Comer and Ben Affleck opened on $4.8m in 3,065 sites and ranks fifth. Some 50% of the audience were aged 35 and over, while 80% were over 25.
Columbia Pictures' Venom: Let There Be Carnage earned a further $16.5m for $168.1m in North America to rank third and has held well over its three weekends. The Addams Family ranks fourth through UA Releasing and stands at $42.3m.
Noomi Rapace mystery Lamb, which last weekend scored the highest debut for an Icelandic film in North America, has crossed $2m after slipping a respectable 45.7% and adding $543,000 following an expansion into 865 sites. The film is released by A24 and ranks ninth.
Next week brings the launch of Warner Bros' sci-fi Dune from Denis Villeneuve – yet another tentpole that launch out of competition at Venice – and Searchlight Pictures' Cannes premiere The French Dispatch from Wes Anderson.