EXCLUSIVE: UK sales outfit to handle Venice-bound thriller starring Richard Dormer.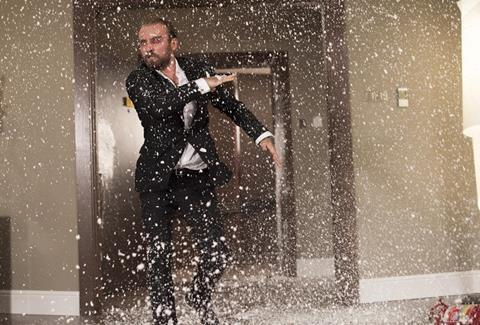 London-based Hanway Films is to handle sales on Jerzy Skolimowski's Venice-bound thriller 11 Minutes, starring Richard Dormer (Good Vibrations, Fortitude).
The Poland-Ireland co-production is Skolimowski's fourth film to play in competition at Venice and follows the same 11 minutes in the lives of several different characters: young and old, prosperous and destitute.
Dormer plays the lead role of a film director in the English and Polish-language production, alongside Agata Buzek, Beata Tyszkiewicz and Mateusz Kościukiewicz.
Skolimowski's wife and regular producer Ewa Piaskowska produces for the duo's Skopia Film with Andrew Lowe and Ed Guiney co-producing for Element Pictures.
The Irish Film Board and Element Pictures are among backers of the project after previously collaborating on the director's most recent outing, Essential Killing.
Essential Killing was also repped by HanWay and played at Venice in 2010, where it picked up the Special Jury Prize, CinemAvvenire Award and a Volpi Cup, Best Actor award for lead Vincent Gallo.
Skolimowski's career spans six decades as writer, director and actor. Among early feature screenplays was Roman Polanski's 1962 Oscar-nominated drama, Knife in the Water, and he has also had cameos in Joss Whedon's The Avengers and Tim Burton's Mars Attacks!.
Blue-chip sales outfit HanWay will also be in Venice with Charlie Kaufman stop-motion Anomalisa, which will also play in Toronto.
Anticipated Ben Wheatley drama High-Rise has yet to be announced for a festival but Toronto and London are considered potential berths for the JG Ballard adaptation starring Tom Hiddleston.