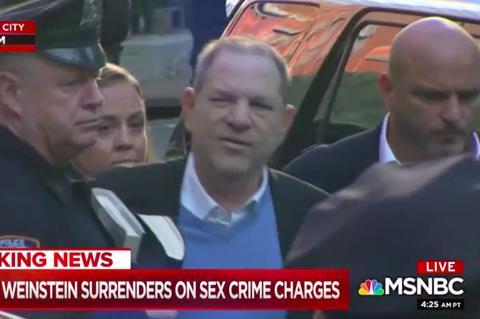 Harvey Weinstein has surrendered to authorities at a New York police station and been charged with rape (25 May).
According to the New York Police Department, the disgraced former Hollywood mogul "was arrested, processed and charged with rape, criminal sex act, sex abuse and sexual misconduct for incidents involving two separate women".
Appearing in court, prosecutor Joan Illuzzi said Weinstein "used his position, money and power to lure young women into situations where he was able to violate them sexually".
He entered the 1st Precinct stationhouse in Manhattan at around 7:30am ET, and was taken to Manhattan Criminal Court for the formal presentation of charges. He was later released on $1m bail.
Weinstein's lawyer Ben Brafman said, "We intend to move very quickly to dismiss these charges. We believe that they are constitutionally flawed. We believe that they are not factually supported by the evidence."
Actress Asia Argento, who has accused Weinstein of rape, reacted to the news on Twitter. "Today Harvey Weinstein will take his first step on his inevitable descent to hell," Argento said. "We, the women, finally have real hope for justice."
Investigation
Weinstein has been under investigation by the Manhattan District Attorney's office and the New York Police Department for alleged sexual impropriety.
The various investigating authorities have been under pressure to bring the first set of charges in light of dozens of allegations of rape, sexual assault, and sexual harassment.
On Wednesday it emerged that federal investigators in New York were looking into the claims. Separately, detectives in Los Angeles and London have been reviewing allegations against the co-founder of Miramax and The Weinstein Company since claims first appeared in the New York Times last October.
Weinstein denies "unequivocally" any claim of non-consensual sex.