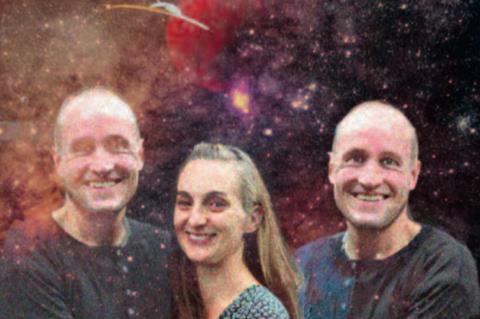 The new project from Out of Nature director Ole Glaever was one of the hottest projects pitched at Haugesund's Nordic Co-Production and Finance Market today.
My Wife, My Replica and I is planned as an 8 x 30 minute TV series, with a budget of $3m (2.6m Euros).
Glaever, whose third feature From The Balcony premiered at Berlinale 2017, will also star in the new TV show (as he did with Toronto 2014 hit Out of Nature, infamous for its naked man running poster).
The director called it "a fun but smart sitcom in space." The story follows a married couple returning home from a trip to Mars; the man learns he isn't healthy enough to survive the trip so he decides to clone himself in a 3D printer; but then he has to live in close quarters with his wife and his clone.
"Humour is core of this TV series but it has great potential for existential dialogue and dilemmas," Glaever said. "What kind of moral conflicts will you have with your clone? What will loneliness look like if there are two of you?"
The industry audience in Haugesund – formed of co-producers, financiers, distributors and festival programmers – gave a rousing response to a low-tech teaser that Glaever shot last week.
Maria Ekerhovd from Norway's Mer Film produces and the team is looking for co-producers and distributors.
Another strong co-production pitch was for Sweden's $3.5m (Euros 3m) Breaking Surface, a "primal survival journey" story directed by Joachim Heden about two sisters on a diving expedition who have to survive an underwater rockslide.
Nordisk film will distribute in Scandinavia and TrustNordisk will handle sales; producers plan to shoot in Norway and are seeking a Norwegian co-producer.
The industry audience was also charmed by the pitch of Finnish producers Tuffi Films' ensemble comedy Games People Play, about thirtysomething friends who reunite for a holiday weekend and start to act like they are 18 again.
Producer Venla Hellstedt said director Jenni Toivoniemi's film has "a wicked, naughty, dark sense of humour." Director Toivoniemi is headed to the Toronto Talent Lab.
At script stage, Danish filmmaker and NYU graduate Puk Grasten pitched her compelling second feature, War, What If? Based on the novel by Janne Teller, a 1984-style story about a boy whose family is torn apart by a modern war started by neo-nationalism. She won the best pitch prize for her presentation.
"With this film I want people to truly feel like what it would be a refugee, now is the time this could be our future." She hopes to shoot the film in 2018 with LevelK handling sales; Grasten's debut film 37 won best film at Moscow.
The most buzzed about genre pitch was David Sandreuter's Eleanor, a character-driven psychological horror film, about a woman who is haunted by her psychologically abusive late husband. Denmark's Profile Pictures (Shelley, Rams) produces.
The festival is also hosting Work in Progress sessions for 20 films that Screen will cover in a separate report.
The full list of Nordic Co-Production projects presented were:
The Abduction of Europe, dirs Tatjana Muhlbayer, Audrius Juzenus; prod Artur Veeber (Est-Uzb-Lith)
Drama to shoot in autumn 2018 about a 40-year-old woman who meets a young artist from Iran.
Breaking Surface, dir Joachim Heden, prods Jonas Sorensson, Julia Gebauer (Swe)
Suspense drama to shoot in early 2018, about two half sisters who have to survive after a rockslide.
Brooklyn King, dir Olli Koivula, prods Sidney Chiu, Laura Laaksonen (Fin/Can)
Drama to shoot in summer 2018 about a boxing coach in Brooklyn who becomes involved in the Black Lives Matter movement.
The Crystal Ark, dir Agneta Fagerstrom Olsson, prod Anna Bjork (Swe)
Drama to shoot in March 2018 about two sisters who fall under the spell of a young preacher.
The Empty House, dir Rati Tsiteladze, prod Nino Varsimashvili (Geo)
An 11-year-old girl in post-Soviet Georgia in the early 1990s is regunted with her father who gets out of prison. Set to shoot in 2019.
Games People Play, dir Jenni Toivoniemi, prod Venla HEllstedt and Elli Toivoniemi (Fin).
This ensemble comedy is about a group of old friends who have a reunion at a villa, where unfulfilled loves are awakened.
Gooseboy 3, dirs Wikke & Rasmussen, prod Jakob Langkjaer (Den)
SF Studios will produce this family film about a boy obsessed with computer games who tries to help a hurt goose.
The Human Part, dir Juha Lehtola, prods Misha Jaari and Mark Lwoff of BUFO (Fin)
This drama-comedy is about a middle-aged man who needs to confess to his family that he isn't a successful businessman, after his god-daughter is in an accident.
The Huntresses of Kalmar, dir Magnus Hedberg, prod Helene Granqvist (Swe)
A drama, to shoot in spring 2018, about a female crew of young misfits "who party like there is no tomorrow."
Ibraham's Journey, dir Shaker T Tahrer, prod Peter Krupenin (Swe)
A middle-aged an who has been living in exile in Sweden returns to his homeland secretly.
The Little Things, dir Kivanc Sezer, prod Soner Alper (Tur)
As their stresses mount, a middle-aged couple start to fight about the little things in their daily lives in this comedy-drama.
Morningbird and Murmelton, dirs Annette Saugestad Helland, Yngvild Sve Flikke, prods Lise Fearnley and Tonje Skar Reiersen (Nor)
An adventure story for pre-schoolers about a 5-year-old girl who meets two tiny creatures on summer holiday.
My Life As A Comedian, dir Rojda Sekersoz, prod Martin Persson (Swe)
A popular comedian tells funny stories from his 1970s childhood, but he has to go home to deal with his past.
My Name Is Olivia…And I Can't Do Anything About It, dir Anne de Clerq, prods Burny Bos, Eefje Smulders (Neth)
Family drama/comedy about an 11-year-old whose mother died and who has trouble connecting with her father.
My Wife, My Replica and I, dir Ole Glaever, prod Maria Ekerhovd (Nor)
A married man has to clone himself to save his own life – drama mixed with "light existentialism and strong comic relief."
The Northwoods, dir Emma Higgins, prod Jeff Pangman (Can)
Horror drama about Norwegian sisters who encounter human and creature enemies while hiking in a national park.
Riptide, dir Christian Alvart, prods Sigi Kamml and Natasha Semone Vassell (Ger-Can)
An Afro-German doctor is mistaken for a refugee when he is swept out to the open see and manages to board a boat with African migrants.
Nordic Genre Boost
In the Nordic Genre Boost development initiative, run by the Nordic Film & TV Fond, these genre films were pitched:
CAR:Y, wr/dir Olivier Guerpillon, prods Guerpillon, Frida Hallberg (Swe)
A designer gives a prototype pet robot to his mother who lives in the Swedish countryside; she becomes attached to the robot but thinks it might have secret intentions.
Cold, dir Thora Hilmarsdottir, prod Eva Sigurdardottir (Ice)
Sci-fi about a family that starts to implode as the sun mysteriously dies and the planet is plunged into darkness.
Eleanor, wr David Sandreuter, dir Jacob Jarek (Den)
A woman is haunted by the ghost of her psychologically abusive late husband.
Lamb, dir Vladimar Johannsson, prods Hronn Kristinsdottir, Sara Nassim (Ice)
Drama-fantasy film about a childless couple of Icelandic sheep farmers who have a ewe that gives birth to an offspring that seems to be a hybrid between sheep and human. Bela Tarr will act as executive consulting producer.
Prayer, dir Ulrika Bengts, prods Merja Ritola and Essi Haukkamaa (Fin)
Set in the near future, two young people are living on an island between two battlegrounds, who create imaginary worlds.
Pukk, dir Oyvind Holtmon, prod Kristoffer Sindre Vitterso (Nor)
This dark dystopian comedy is about a quarry worker who discovers dark secrets at his factory.
The Sex Trap, dir Marie Kristiansen, wr Sofia Lersol Lund, prod Stian Tveiten and Christian Fredrik Martin
Thriller/drama inspired by true events, about two young women who trick men into sextraps to blackmail them for money; one pickup goes badly wrong.
The following writers also pitched their scripts for producers and film funds:
Checkmate, wr Karsten Fullu (Nor)
Freyja, wr Kristofer Dignus (Ice)
The Last of the Vikings, wr Edvard Normann Ronning (Nor)
Midnight Sun's Daughter, wr Karen Anne Buljo (Nor)
Seili – Island of Souls, wrs Satu Rasila and Mikko Kouki (Ice)
War, What If, wr Puk Grasten (Den)