Professor Stephen Hawking helped launch the Cambridge Film Festival with a Q&A broadcast to 70 cinemas nationwide and messages from Sir Richard Branson, Morgan Freeman and the cast of The Big Bang Theory.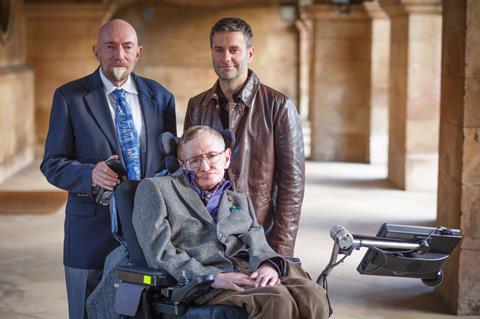 The 33rd Cambridge Film Festival (CFF) opened last night [Sept 19] with a special gala screening of Hawking presented by the documentary's subject, Professor Stephen Hawking.
The gala Q&A was broadcast live by Vertigo Films to 70 Picturehouse, Everyman, Empire, Vue and independent cinemas across the UK and Ireland after the screening of the film, making it the first CFF event to have a live Q&A broadcast nationwide.
The film about the life and work of the world's most famous living scientist is told in Hawking's own words and by those closest to him.
Special guests at the opening night gala included his sister Dr. Mary Hawking: physicist Kip Thorne; Walt Woltosz, the founder of Word+ who developed the computer software that enabled Hawking to communicate; as well as the film's director Stephen Finnigan and producer Ben Bowie.
Channel 4 News presenter Krishnan Guru-Murthy hosted the Q&A with Professor Hawking and guests. Special messages were sent from Sir Richard Branson, Morgan Freeman and the cast of US comedy The Big Bang Theory.
Hawking thanked his doctors, nurses, and carers – "without whom I wouldn't be here today" – before he added: "It is somewhat strange to make a film about one's own life, but I hope you found my story in some way inspiring, because that was the whole point."
The documentary opens in cinemas today and is also available online on iTunes, Sky, Blinkbox, Filmflex and Virgin Movies.
The Cambridge Film Festival runs until Sept 29 with guests including cult German director Roland Klick, musician and producer, Thomas Dolby, and director Kevin Macdonald.