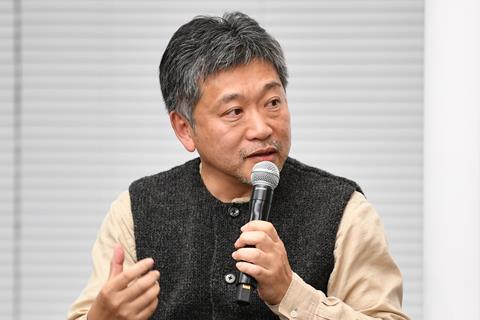 Award-winning filmmaker Hirokazu Kore-eda has praised the opportunities offered by streaming giants such as Netflix on a panel at the Tokyo International Film Festival.
The Japanese director of Shoplifters, which won the Palme d'Or at Cannes in 2018, said streamers were offering more freedom to creatives.
"When I'm making films, I have to balance my creative desires with enough popular elements to be able to recoup, to be able to make the next film," said Kore-eda. "It feels as if streaming services offer more chances at the moment."
Also on the panel was Kaata Sakamoto, content acquisition director for Netflix, who said the streaming giant is interested in a diverse range of films, not just mainstream hits.
"We have a wide range of users, so it's important for us to have a diverse line-up, to have something for everyone," said Sakamoto.
But Kore-eda revealed his concern over the closure of increasing numbers of arthouse theatres in Japan and rallied for the future of cinemas in the country.
"You don't notice this if you live in Tokyo, but the number of arthouses around Japan are decreasing," he said. "Streaming helps bring more films to places in Japan without arthouses, and helps breed more filmgoers and filmmakers. But I also hope movie theatres will continue and diversify."
Theatrical releases are "precious"
The discussion, titled 'The Future of Cinema and Streaming', was part of TIFF's Asia Lounge series of panels and also included filmmakers Isao Yukisada and Lim Kah-Wai as well as producer Mitsunobu Kawamura and Toho managing director Hiroyasu Matsuoka.
Yukisada, whose River's Edge played in Panorama at the 2018 Berlinale and won the Fipresci prize, shared his recent experience with streaming.
His latest feature, Theatre: A Love Story, had been set for a nationwide release in 280 cinemas, but the pandemic forced a rethink. The director explained that while Amazon Prime Video offered to carry the film, he was not satisfied with a streaming-only release.
"I'm a film director, so ideally I want my films to be seen on the big screen," said Yukisada.
Eventually, a compromise was struck: the film would be released on Amazon and in 20 arthouse cinemas simultaneously in a day-and-date release, which are still relatively rare in Japan.
"I'd always thought of theatrical releases as matter of course," said Yukisada. "This experience made me realise how precious they really are."
However, it also opened his eyes to the power of streaming. The director said his goal was for Theatre to play to at least 1 million viewers – but Amazon informed him that the total audience was at least 10 times that number, as it was made available to viewers outside Japan.
"When I heard that, it was like a lightbulb went on in my head," he said. "There were more reviews and comments on social media than any film I've made before… I think streaming is a good chance for Japanese films to expand their footprint abroad."
Expanding international reach
Lim Kah-Wai, a Japan-based Malaysian director, agreed that the Japanese film industry should turn the pandemic into an opportunity to expand its international footprint. Kah-Wai spent a good portion of the year in Malaysia, which had a strict lockdown period that lasted more than two months.
"I watched a lot of Netflix during that time, but aside from anime, nothing from Japan appeared on the 'Top 10' for the day," he said. "Thanks to Netflix, people in Malaysia are now watching more content from places other than Hollywood, but Japan doesn't seem to be making that much content that can reverberate abroad yet."
Panellists clashed when asked to define exactly what constitutes a film in the streaming age. Toho managing director Matsuoka offered the definition devised by the Motion Picture Producers Association of Japan, also known as Eiren: something shown exclusively in theatres in its initial release.
But Kawamura, CEO of independent production company Star Sands, pushed back.
"By that definition, Yukisada's [Theatre] isn't a film," said Kawamura. "It feels like that definition produces winners and losers."
While some of the panel bristled against the idea that a feature that debuts on streaming is not a film, they also sided with Kore-eda over the importance of cinemas remaining open going forward.