Warner Bros' climactic Hobbit outing hits £20m as it retains top spot; StudioCanal's Paddington holds off newcomers to stay in second with $3.9m (£2.5m).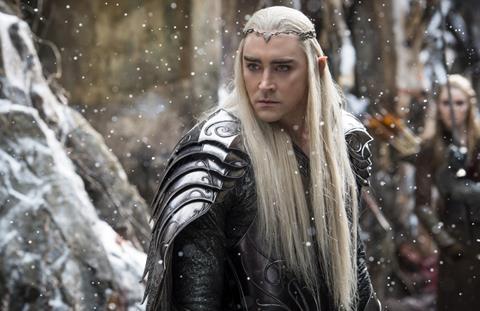 Replicating its predecessors, The Hobbit: The Battle of the Five Armies has retained top spot at the UK box office for the second straight week.
Warner Bros' climactic Hobbit outing fought its way to a further $8.4m (£5.4m) as it crossed the £20m mark after just ten days in play to stand at $31.7m (£20.3m).
At the same stage in their runs, The Desolation of Smaug stood at $31.3m (£20.01m) and An Unexpected Journey stood at $37m (£23.7m), although the latter had an extra day of release due to opening previews.
Its total at the end of the year will give a clearer indication where The Battle of the Five Armies in relation to The Desolation of Smaug's and An Unexpected Journey's final results of $67.4m (£42.9m) and $81.2m (£51.7m), respectively.
Also for Warner Bros, Get Santa added $571,000 (£366,000) for $2.8m (£1.8m) ahead of a final Christmas push for the film, while Interstellar crossed the £20m mark in the UK as a $187,000 (£120,000) weekend saw it reach $31.3m (£20.1m).
Horrible Bosses 2 has taken $5.7m (£3.6m) after four weeks in play.
STUDIOCANAL
Falling a slim 14% in its fourth weekend, Paddington held off all newcomers to remain in second place with $3.9m (£2.5m).
StudioCanal's big screen outing for the marmalade-loving bear is now up to a terrific $28.3m (£18.1m) and, with schools now closed for the festive period, will start to see a boost in its midweek takings which should see it past £20m just after Christmas at the very latest.
Also for StudioCanal, The Imitation Game is up to a strong $20.8m (£13.3m) following a $574,000 (£367,643) sixth weekend.
FOX
This week's highest new entry came in the form of Night at the Museum: Secret of the Tomb with a UK debut of $2.9m (£1.9m) from its 516 sites seeing it chart third.
Fox's threequel posted the lowest opening of the series to date, some way behind the previous low of Night at the Museum 2's $6.5m (£4.2m) debut from 515 sites which included $1.4m (£883,213) in previews.
Both previous Night at the Museum outings hit £20m in the UK, a target that looks unlikely for the third film unless it enjoys a bumper festive period.
Also for Fox, Penguins of Madasgascar fell a slim 27% on its way to a third weekend of $1.1m (£723,635) for $6.5m (£4.2m) to date. It won't match any of the Madagascar performances in the UK, and even faces a challenge to surpass fellow spin-off Puss in Boots' $22.5m (£14.43m) UK result.
The Pyramid and Gone Girl stand at $662,000 (£423,719) and $34.8m (£22.29m), respectively.
UNIVERSAL
Charting narrowly behind Night at the Museum in fourth was Dumb and Dumber To with a UK bow of $2.8m (£1.8m) at a site average of $6,160 (£3,944).
Universal's comedy sequel achieved the second highest UK debut for the Farrelly brothers behind There's Something About Mary's $3.2m (£2.1m) from 315 sites, which also went on to become their best performer in the UK at $24.9m (£15.9m).
Back in 1995 (so not an entirely fair comparison), Dumb and Dumber landed with $2.3m (£1.5m) from 313 sites before going on to gross $15m (£9.6m), according to figures from Rentrak.
LIONSGATE
Now in its fifth week of release, Lionsgate's The Hunger Games: Mockingjay Part 1 grossed a further $1.1m (£673,208) for $44.7m (£28.6m) to date.
Catching Fire stood at $47.3m (£30.3m) at the same stage in its run, which would suggest that Mockingjay Part 1 will fall just short of that film's $53.4m (£34.2m) UK result. However, Mockingjay Part 1 did post a better hold in its fifth weekend than Catching Fire with a 36% drop compared to a 43% drop.
EONE
Receiving a festive bump of 15% in its sixth week was eOne's Nativity 3: Dude, Where's My Donkey?! which took an additional $688,000 (£440,385) for a running total of $9.9m (£6.4m).
It will need to make the most of the next couple of days as, like Get Santa, it's sure to face steep drops post-Christmas.
DISNEY
Falling 34% in its second weekend, Disney's Tinker Bell and the Legend of the NeverBeast added $411,000 (£263,000) for $1.2m (£784,000) to date.
ENTERTAINMENT
St. Vincent added $64,000 (£41,222) for $1.5m (£948,856) after three weeks in play in the UK through Entertainment.
SODA PICTURES
Released in 33 sites through Soda Pictures, Kon-Tiki recorded a UK bow of $31,000 (£19,957).
UPCOMING RELEASES
Boxing Day sees saturation releases for Fox's Exodus: Gods and Kings, Entertainment's Big Eyes and Universal's Unbroken. Sony's Annie has been previewing since Saturday [Dec 20] and goes on official release on Boxing Day.
New Year's Day sees saturation releases for Universal's The Theory of Everything and eOne's The Woman in Black: Angel of Death. Fox's Birdman receives a wide release, while Curzon Film World's Enemy is among the films receiving a limited release on Jan 2.