eOne's The Divergent Series: Insurgent takes strong $4.4m (£2.9m), including previews, on debut.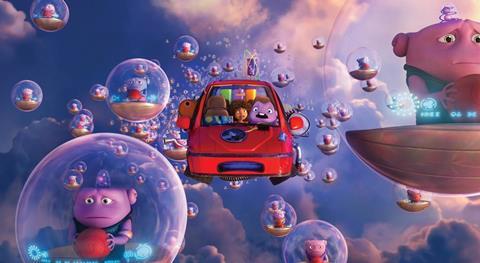 FOX
Home posted a superb $9m (£6m) chart-topping debut from its 531 sites, including $3.9m (£2.6m) in previews. It's worth noting that the animation would have topped the chart solely on its Fri-Sun tally of $5.1m (£3.4m).
Excluding sequels, the debut ranks as one of the best for DreamWorks Animation in the UK ahead of the likes of Madagascar ($8.1m/£5.43m from 505) and The Croods ($8m/£5.37m from 521), and behind only Shark Tale ($11.2m/£7.5m from 504) and Kung Fu Panda ($11.6m/£7.8m from 446).
Home will hope to fend off family competition this weekend with the arrival of the SpongeBob sequel, and will look to prosper over the upcoming Easter school holidays to push it towards the £20m mark in the UK.
Also for Fox, The Second Best Exotic Marigold Hotel fell 52% on its way to a $990,000 (£664,216) fourth weekend for $20m (£13.4m) to date. It's now tracking behind its predecessor which stood at $20.7m (£13.9m) at the same stage in its run.
Kingsman: The Secret Service shot to an extra $197,000 (£132,290) for $23.9m (£16.1m) after eight weeks in play.
EONE
It may have missed out on the top spot, but The Divergent Series: Insurgent is off to an excellent start in the UK.
eOne's sequel posted a $4.4m (£2.9m) bow, including just under $596,000 (£400,000) in previews, from its 497 sites. That marks a 66% uptake on the $2.6m (£1.8m) bow of Divergent from 423 sites.
Divergent went on to take $9.8m (£6.6m) in the UK, and Insurgent is well-set to challenge both that and potentially the £10m mark.
Also for eOne, Suite Francaise fell 47% on its way to a $400,000 (£268,607) second weekend for $1.9m (£1.3m) after ten days in play. The drama is likely to take more midweek given its older-skewing audience.
PARAMOUNT
Ahead of its release this Friday [March 27], Paramount's The SpongeBob Movie: Sponge Out of Water banked $1m (£680,000) from its 481 sites during previews on Saturday and Sunday.
The SpongeBob SquarePants Movie posted a $1.9m (£1.25m) opening in 2005 from 440 sites without previews, and the sequel is now all-but guaranteed to surpass that.
WARNER BROS
Falling a respectable 36% in its fourth weekend, Warner Bros' Focus grossed an additional $732,000 (£490,317) for a sturdy $9.7m (£6.5m) to date.
Also for Warner Bros, Run All Night dropped over 50% on its way to a second weekend of $520,000 (£348,638) for a ten-day tally of $2.5m (£1.7m).
STUDIOCANAL
The Gunman rounded off this week's top five with a soft non-final $605,000 (£405,934) from its 400 sites. StudioCanal's action thriller recorded a debut of less than half the $1.7m (£1.17m) bow of Pierre Morel's Taken from 396 sites.
Also for StudioCanal, The Tale of Princess Kaguya grossed $103,000 (£69,234) from its 45 sites, with one site still to report on Sunday. That's up on From Up on Poppy Hill's $49,000 (£33,087) debut, albeit from less sites at 23, but just behind Arrietty's $113,000 (£75,584) from 61.
Shaun the Sheep Movie has now amassed $19.2m (£12.9m).
CURZON FILM WORLD
Expanding slightly to 239 sites, Curzon Film World's Still Alice posted a $380,000 (£255,105) third weekend for a healthy $2.5m (£1.7m) to date.
UNIVERSAL
Fifty Shades of Grey is now up to $51.3m (£34.4m) following a $349,000 (£234,089) sixth weekend through Universal. Barring a dramatic drop, the raunchy adaptation will hit £35m in the next couple of weeks.
LIONSGATE
Wild Card failed to hit the jackpot on its UK bow, taking a soft $226,000 (£152,034) from its 229 sites through Lionsgate.
That marks both the lowest UK debut for director Simon West behind Stolen's $297,000 (£199,798) from 187, and one of the weakest openings for a Jason Statham solo outing behind the likes of War ($308,000/£207,091 from 182) and Hummingbird ($307,000/£206,731 fro 262).
DISNEY
Oscar winner Big Hero 6 added $198,000 (£133,000) for $28.8m (£19.33m) to date through Disney, who will be hoping the upcoming Easter holidays give it one last push towards £20m.
SONY
Now in its third weekend, Sony's Chappie could only add $178,000 (£120,000) to lift its running tally to a disappointing $3.5m (£2.37m).
ARROW FILMS
Released in 117 sites through Arrow Films, The Voices recorded a $176,000 (£118,170) UK debut, including $4,300 (£2,903) in previews, with a couple of sites still to report Sunday figures.
The opening marks one of the biggest for the distributor, behind Love is All You Need's $302,000 (£202,176) from 131 sites, according to figures from Rentrak.
KOCH MEDIA
Falling 45% in its second weekend, Koch Media's X + Y grossed a non-final $86,200 (£57,807) for $441,000 (£295,780) to date.
METRODOME
Xavier Dolan's critically acclaimed Mommy enjoyed a $86,100 (£57,761) UK debut, including previews, from its 24 sites through Metrodome. It marks Dolan's best-ever opening, but it's also worth noting that it received the widest opening too.
VERTIGO FILMS
A Second Chance took just $7,500 (£5,031) from 25 sites through Vertigo Films, one of the lowest UK bows for director Susanne Bier.
UPCOMING RELEASES
This week sees saturation releases for Paramount's The SpongeBob Movie: Sponge Out of Water, Disney's Cinderella and Warner Bros' Get Hard.
Universal's Seventh Son and Soda Pictures' The Face of an Angel both receive a wide release, while Curzon Film World's Wild Tales and Dogwoof's Dior and I are among the films receiving a limited release.