This year's event features an unprecedented increase in women directors and a new work-in-progress lab.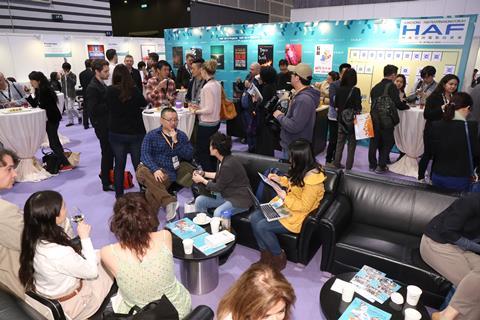 The Hong Kong-Asia Film Financing Forum (Mar 13-15), which has its 15th edition this year, has revealed its lineup of 25 projects.
Unprecedentedly, nearly half of the projects are from female directors, about a third are by first-time directors and two rarely seen genres at HAF are included - science fiction and gothic thriller.
As with previous editions, Hong Kong has a strong presence with five projects, including Derek Chiu's No.1 Chung Ying Street, a drama about the 1967 riots in Hong Kong; Sobel Chan's The Goddess, a tribute to classic 1930s Chinese films; new director Sunny Chan's Man On The Dragon, a comedy-drama about five middle-aged men who take part in a dragon boat competition; new director Tom Chung-sing's Impossible Split, about a bowling athlete who becomes a world champion despite a fatal disease, produced by She Remembers, He Forgetsdirector Adam Wong; and Forget You, Still Love You? about a couple in a troubled marriage by co-directors Kenneth Lai and Paul Sze.
Women directors shine at this year's HAF, including Japanese documentary filmmaker Kyoko Miyake's first narrative feature Femme Fatale, a dark comedy about two women whose parallel lives collide; Rubaiyat Hossain's Made In Bangladesh as the first-ever HAF project from Bangladesh; new Taiwanese director Chen Yi-Jung's Pawns With No Return, a touching story of an old man and a young boy; Honey B Singh's I Am A Banana!, an East-meets-West romantic comedy; and Rainbow Mountain by Degena Yun, about two Mongolian women from different generations.
Another two documentaries are also by women directors: Ying Weiwei's The Grassland Of Narangerel, about the environment challenges in Inner Mongolia, and Israeli-German co-production Leftover Women by co-directors Shosh Shlam and Hilla Medalia.
While most of the films are family-driven projects that touch on contemporary social issues, two genres not usually seen previously at HAF are included this year. Shashwati Talukdar's The New Wife is a Himalayan gothic thriller about a young bride who discovers the secrets of her new family. Robert Hloz's Restore Point is a science-fiction murder mystery, which is also the first sole Czech Republic project at HAF.
This year, South East Asia is well-represented with three projects from Singapore (JD Chua's Rocks Of Hua Lamphong, M Raihan Halim's La Luna and Honey B Singh's I Am A Banana!), plus Malaysia-based Japanese director Yasu Tanaka's Upside Down and Filipino director Sigrid Andrea Bernardo's I'm Perfect.
In addition to 24 HAF projects, the full lineup of 25 (down from last year's 31) includes one recipient of the HAF/Fox project award. Drifting Lives, a suspense murder mystery, by first-time Chinese director Danlly Li, will receive a cash award of $10,000 and a development contract with Fox.
A total of 10 awards will be presented this year, amounting to approximately $161,000 in cash and value in-kind. A new sponsor is mm2 Entertainment Hong Kong, which will offer a cash prize of $12,800 to a Chinese-language project.
Other award sponsors include iQIYI, Bucheon International Fantastic Film Festival, China Film Foundation – Wutianming Fund for Young Talents, G2D, Paris Coproduction Village, White Light Studio and Wouter Barendrecht Film Foundation.
HAF has also announced a new work-in-progress laboratory as part of its initiative to help filmmakers secure post-production funds. The shortlisted projects, which will be revealed in February, will be invited to present their work during HAF (Mar 13-15).
HAF 2017 full lineup:
The Asadas (Japan)
Dir. NAKANO Ryota
Producer: OGAWA Shinji
Production Company: Bridgehead Inc.
Chantou (Australia)
Dir. Grant SCICLUNA
Producer: Jannine BARNES
Production Company: Happening Films Pty. Ltd.
Femme Fatale (Japan)
Dir. MIYAKE Kyoko
Producer: Guillaume DE SEILLE
Production Company: Arizona Productions
Forget You, Still Love You? (Hong Kong)
Dir. Paul SZE Pak-lam, Kenneth LAI Siu-kwan
Producer: TIN Kai-man, LAU Wing-tai
Production Company: Vow Production Limited
The Goddess (Hong Kong)
Dir. Sobel CHAN Ka-lok
Producer Sobel CHAN Ka-lok
Production Company: Union Luck Culture Media Limited
The Grassland Of Narangerel (China)
Dir. YING Weiwei
Producer: ZHOU Hongbo
Production Company: Yunqiang Pictures
I AM A BANANA! (Singapore, Canada)
Dir. Honey B SINGH
Producer: Mona SINGH
Production Company: Honeylove Films
I'm Perfect (The Philippines)
Dir.: Sigrid Andrea BERNARDO
Producer: Alemberg ANG
Production Company: VYAC Productions, Ekweytor MC
Impossible Split (Hong Kong)
Dir.: TOM Chung-sing
Producer: Adam WONG
Production Company: Picturethat Limited
La Luna (Singapore)
Dir.: M. Raihan HALIM
Producer: Asra AMAN
Production Company: Papahan Films Pte. Ltd.
Leftover Women (Israel, Germany)
Dir.: Shosh SHLAM, Hilla MEDALIA
Producer: Hilla MEDALIA, Shosh SHLAM, Jürgen KLEINIG
Production Company: Medalia Productions, Shlam Productions, Celluloid Fabrik
A Life Lost and Found (working title) (India)
Dir.: Prateek SRIVASTAVA
Producer: Nitin UPADHYAYA
Production Company: ODDBALL Motion Pictures
Made In Bangladesh (Bangladesh)
Dir.: Rubaiyat HOSSAIN
Producer: Rubaiyat HOSSAIN, François D'ARTEMARE
Production Company: Khona Talkies, Les Films de l'Après-Midi
Man On The Dragon (Hong Kong)
Dir.: Sunny CHAN
Producer: Joe MA, Jacqueline LIU
Production Company: One Cool Film Production Limited
Untitled (Japan)
Dir.: Ida PANAHANDEH
Producer: KAWASE Naomi
Production Company: Nara International Film Festival Organizing Committee
The New Wife (India)
Dir.: Shashwati TALUKDAR
Producer: Anjali PANJABI
Production Company: Four Nine and a Half Pictures, Inc., Marvi Films
No.1 Chung Ying Street (Hong Kong)
Dir.: Derek CHIU Sung-kee
Producer: Derek CHIU Sung-kee
Production Company: Boundary Film Production Limited
The Patient (China)
Dir.: YANG Long
Producer: ZHOU Jia
Production Company: Shenzhen Surprise Movie Co., Ltd.
Pawns with No Return (Taiwan)
Dir.: CHEN Yi-Jung
Producer: LIN Jing-Jie
Production Company: Hana Studio de Création Audiovisuelle Indépendant
Rainbow Mountain (China)
Dir.: Degena Yun
Producer: ZHANG Yang
Production Company: Beijing Mailisi Film & Culture Co., Ltd.
Restore Point (Czech Republic)
Dir.: Robert HLOZ
Producer: Jan KALLISTA
Production Company: Film Kolektiv
Rocks Of Hua Lamphong (Singapore)
Dir.: JD CHUA
Producer: Juan FOO
Production Company: Taipan Films Pte. Ltd.
Ten Thousand Happiness (China, Canada)
Dir.: Johnny MA
Producer: WANG Jing, WU Xianjian
Production Company: Image X Productions
Upside Down (Malaysia)
Dir.: TANAKA Yasu
Producer: TANAKA Bea
Production Company: 42nd Pictures Sdn. Bhd.
HAF/FOX Project Award Winner:
Drifting Lives (China)
Dir.: Danlly LI
Producer: Ray CHAN
Production Company: Kozmo Production Company Limited, YNTV Motion Magic Digital Studios Co., Ltd.