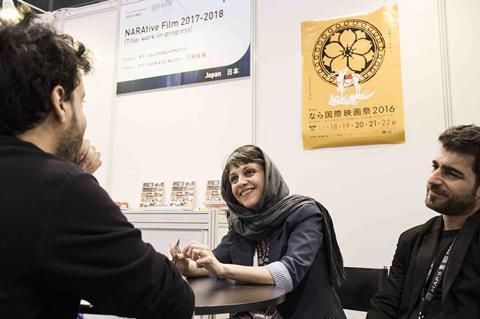 The Hong Kong Asia Film Financing Forum (HAF) has announced this year's line-up of 25 projects, which includes new titles from Liu Jian, E J-yong and Arvin Chen.
Chinese filmmaker Liu Jian, whose Have A Nice Day premiered in competition at the Berlinale last year, is attending HAF with his third animated feature, Art College, revolving around two art students in the 1990s.
Critically-acclaimed Korean director E J-yong (Bacchus Lady) is bringing The Big Picture, about a lawyer who kills a man and steals his identity, while Taiwan's Arvin Chen (Au Revoir Taipei) will present Naïve Melody about an introverted young man who falls into a relationship with a brothel's mama-san.
The line-up also includes new projects from China's Emily Tang, Japan's Tomina Tetsuya and three Indonesian filmmakers – Loeloe Hendra, Edwin and Eddie Cahyono.
Three countries will be represented at HAF for the first time – Cambodia with Jake Wachtel's suspense drama In The Next Life; Mongolia with Baasanjargal Orgodol's Twist Of Fate, about a woman who marries twin brothers; and Russia with two projects that explore love, marriage and betrayal – Maxim Dashkin's Far Frontiers and Nigina Sayfullaeva's Revnost.
HAF has also selected five Hong Kong projects – including suspense drama Deadline from Kiki Chow (A Complicated Story, Ten Years); Chan Ying-wai's coming-of-age drama I Promised; Yuen Han-yan's documentary Love In The Valley Of Daughters; O Sing-pui's romantic comedy-drama Sex Is Guilt; and Leung Ming-kai's comedy While You Were Working.
This year's HAF awards include the mm2 Asia cash prize of $13,000 (HK$100,000) and awards from the Wouter Barendrecht Film Foundation, Wutianming Fund, White Light Studio, G2D Co and the Network of Asian Fantastic Films (NAFF).
HAF will also present a Work-in-Progress Lab, with shortlisted projects to be announced in February. This year's HAF takes place March 19-21 at the Hong Kong Convention and Exhibition Centre.
HAF 2018 LINE-UP:
Art College (China)
Director: LIU Jian
Producer: YANG Cheng
Production Company: Nezha Bros. Pictures, Lightriver Culture & Media
The Big Picture (South Korea)
Director: E J-yong
Producer: Jason CHAE, BAE Ja-hee
Production Company: Mirovision
Deadline (Hong Kong)
Director: Kiwi CHOW
Producer: Jacqueline LIU, Kiwi CHOW
Production Company: Photon Films (HK)
A Family With Troubles (China)
Director: YAN Xiaolin
Producer: YANG Cheng
Production Company: Nezha Bros. Pictures, Lightriver Culture & Media
Far Frontiers (Russia)
Director: Maxim DASHKIN
Producer: Anna von DZIEMBOWSKA, Denis KOVALEVSKIY, Ilann GIRARD
Production Company: Victoria Films
I Promised (Hong Kong)
Director: CHAN Ying-wai
Producer: Jessinta LIU Fung-ping
Production Company: At Odds Workshop
I Want to Sleep for 3000 Years (working title) (Japan)
Director: YAMANAKA Yoko
Producer: MIZOGUCHI Moeko
Production Company: PIA Film Festival
IMAH (working title) (Indonesia, France)
Director: Eddie CAHYONO
Producer: Ifa ISFANSYAH, Isabelle GLACHANT
Production Company: Fourcolours Films, Shasha & Co Production
In the Next Life (Cambodia)
Director: Jake WACHTEL
Producer: Valerie STEINBERG
Production Company: Valerie Steinberg Productions
Love in the Valley of Daughters (Hong Kong)
Director: YUEN Han-yan
Producer: Eric POON, Ruby YANG, YUEN Han-yan
Production Company: Singing Cicada
A Man Used to Stay at My Room (China)
Director: Emily TANG
Producer: WU Jueren, LI Liangwen
Production Company: Beijing Yoshow Film & TV Production, Shanghai Raging Fire Film & TV Culture
A Mountain Splits (Japan)
Director: TOMINA Tetsuya
Producer: HATANAKA Mina
Production Company: TETSUYA to MINA Film
Naive Melody (Taiwan)
Director: Arvin CHEN
Producer: Aileen LI
Production Company: Filmagic Pictures
On High Ice (South Korea, Israel)
Director: Gary KAM Byung-seok
Producer: Naama PYRITZ
Production Company: Ingenue Production
Ordinary People (Taiwan, China)
Director: HUANG Xi
Producer: HOU Hsiao-Hsien
Production Company: 3H Productions, Luminous Pictures
Revnost (Russia, France)
Director: Nigina SAYFULLAEVA
Producer: Pavel ODYNIN, Guillaume DE SEILLE
Production Company: Droog Drooga, Arizona Production
Saving One Who was Dead (Czech Republic)
Director: Václav KADRNKA
Producer: Václav KADRNKA
Production Company: Sirius Films s.r.o.
Seven Days and Nights (China)
Director: YAO Tian
Producer: ZHANG Yang, ZHAO Jin, CAO Liuying
Production Company: PARALLAX FILMS
Sex is Guilt (Hong Kong)
Director: O Sing-pui
Producer: O Sing-pui
Production Company: Zero Image Production House
The Shepherdess And The Seven Songs (India)
Director: Pushpendra SINGH
Producer: Sanjay GULATI, Ajit Singh RATHORE
Production Company: Crawling Angel Films
Stonewalling (China)
Director: HUANG Ji
Producer: OTSUKA Ryuji
Production Company: Yellow-Green Pi
Tale of the Land (Indonesia)
Director: Loeloe HENDRA
Producer: Siska RAHARJA
Production Company: Elora Production
Twist Of Fate (Mongolia)
Director: Baasanjargal Orgodol
Producer: Usukhbayar Batsaikhan
Production Company: Wild Vision
Vengeance Is Mine, All Others Pay Cash (Indonesia)
Director: Edwin
Producer: Meiske TAURISIA, Muhammad ZAIDY, Lorna TEE
Production Company: Palari Films
While You Were Working (Hong Kong)
Director: LEUNG Ming-kai
Producer: Teresa KWONG, Kate REILLY, CHUN Siu-chun
Production Company: JABES Most Company