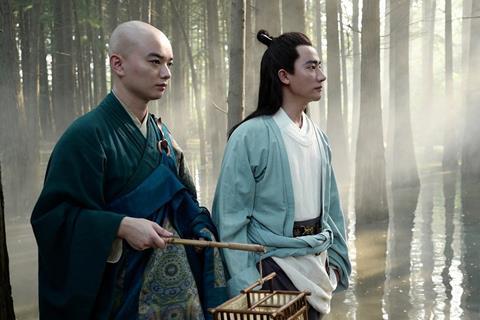 Chen Kaige's lavish period drama Legend Of The Demon Cat racked up the most nominations for this year's Asian Film Awards, with six nods in all, including best director.
The co-production between Hong Kong, China and Japan was also nominated for best supporting actress (Kitty Zhang Yuqi), cinematography, costume design, production design and visual effects. However, the film wasn't nominated in the best film category.
Three films scored five nods apiece and were all nominated for best film – Vivian Qu's Angels Wear White and Feng Xiaogang's Youth, both from mainland China, and Japanese filmmaker Hirokazu Kore-eda's The Third Murder.
Rounding out the best film category are Newton from Indian filmmaker Amit V. Masurkar and The Day After from South Korea's Hong Sangsoo, which both racked up three nominations each. Newton also picked up a best actor nod for rising Indian star Rajkummar Rao, while The Day After scored a best actress nomination for Kim Min-hee's performance.
Feng Xiaogang and Hong Sangsoo are also competing with Chen Kaige for best director, along with Sylvia Chang for Love Education, Ann Hui for Our Time Will Come and Ishii Yuya for The Tokyo Night Sky Is Always The Densest Shade Of Blue.
Hong Kong director and action choreographer Ching Siu-tung has been appointed president of this year's Asian Film Awards jury, which comprises nine film industry professionals and also includes Hong Kong actress Carina Lau.
The Excellence in Asian Cinema Award will be presented to Hong Kong actress Kara Wai Ying-hung.
This year's Asian Film Awards will take place at The Venetian Macao on March 17, 2018.
The 12th ASIAN FILM AWARDS NOMINATIONS LIST
BEST FILM
Angels Wear White (China, France)
Newton (India)
The Day After (South Korea)
The Third Murder (Japan)
Youth (China)
BEST DIRECTOR
CHEN Kaige, Legend of the Demon Cat (Hong Kong, Japan, China)
Sylvia CHANG, Love Education (China, Taiwan)
Ann HUI, Our Time Will Come (Hong Kong, China)
HONG Sang-soo, The Day After (South Korea)
ISHII Yuya, The Tokyo Night Sky Is Always the Densest Shade of Blue (Japan)
FENG Xiaogang, Youth (China) 
BEST NEW DIRECTOR
Vivian QU, Angels Wear White (China, France)
Anucha BOONYAWATANA, Malila: The Farewell Flower (Thailand)
HUANG Hsin-yao, The Great Buddha + (Taiwan)
DONG Yue, The Looming Storm (China)
Derek HUI, This Is Not What I Expected (Hong Kong, China)
KISHI Yoshiyuki, Wilderness (Japan)
BEST ACTOR
KIM Yun-seok, 1987: When the Day Comes (South Korea)
Sukollawat KANAROT, Malila: The Farewell Flower (Thailand)
Rajkummar RAO, Newton (India)
Louis KOO, Paradox (Hong Kong)
DUAN Yihong, The Looming Storm (China)
BEST ACTRESS
AOI Yu, Birds Without Names (Japan)
Sylvia CHANG, Love Education (China, Taiwan)
Marsha TIMOTHY, Marlina the Murderer in Four Acts (Indonesia, France, Malaysia, Thailand)
KIM Min-hee, The Day After (South Korea)
ZHOU Dongyu, This Is Not What I Expected (Hong Kong, China)
BEST SUPPORTING ACTOR
YOO Hae-jin, A Taxi Driver (South Korea)
GENG Le, Angels Wear White (China, France)
TIAN Zhuangzhuang, Love Education (China, Taiwan)
Eddie PENG, Our Time Will Come (Hong Kong, China)
YANG Ik-joon, Wilderness (Japan)
BEST SUPPORTING ACTRESS
CHOI Hee-seo, Anarchist from Colony (South Korea)
SUGISAKI Hana, Blade of the Immortal (Japan)
Kitty ZHANG Yuqi, Legend of the Demon Cat (Hong Kong, Japan, China)
Estelle WU, Love Education (China, Taiwan)
HIROSE Suzu, The Third Murder (Japan)
BEST NEWCOMER
ZHOU Meijun, Angels Wear White (China, France)
Chutimon CHUENGCHAROENSUKYING, Bad Genius (Thailand)
LIM Yoon-a, Confidential Assignment (South Korea)
LING Man-lung, Tomorrow Is Another Day (Hong Kong, China)
KINOSHITA Akari, Wilderness (Japan)
ZHONG Chuxi, Youth (China) 
BEST ACTION FILM
Along With the Gods: The Two Worlds (South Korea)
Blade of the Immortal (Japan)
Brotherhood of Blades II: The Infernal Battlefield (China)
Paradox (Hong Kong)
The Thousand Faces of Dunjia (Hong Kong, China)
BEST SCREENPLAY
HWANG Seong-gu, Anarchist from Colony (South Korea)
Tanida HANTAWEEWATANA, Vasudhorn PIYAROMNA, Nattawut POONPIRIYA, Bad Genius (Thailand)
Sylvia CHANG, YOU Xiaoying, Love Education (China, Taiwan)
Mayank TEWARI, Amit V MASURKAR, Newton (India)
YAN Geling, Youth (China)
BEST EDITING
LI Nien-hsiu, mon mon mon MONSTERS (Taiwan)
Mary STEPHEN, KONG Chi-leung, Our Time Will Come (Hong Kong, China)
SHIN Min-kyung, The King (South Korea)
KORE-EDA Hirokazu, The Third Murder (Japan)
ZHANG Qi, Youth (China)
BEST CINEMATOGRAPHY
CAO Yu, Legend of the Demon Cat (Hong Kong, Japan, China)
Yunus PASOLANG, Marlina the Murderer in Four Acts (Indonesia, France, Malaysia, Thailand)
KIM Ji-yong, The Fortress (South Korea)
NAKASHIMA Nagao, The Great Buddha + (Taiwan)
TAKIMOTO Mikiya, The Third Murder (Japan)
BEST ORIGINAL MUSIC
JO Young-wook, A Taxi Driver (South Korea)
WEN Zi, Angels Wear White (China, France)
HISAISHI Joe, Our Time Will Come (Hong Kong, China)
LIN Sheng-xiang, The Great Buddha + (Taiwan)
IWASHIRO Tarô, Wilderness (Japan)
BEST COSTUME DESIGN
SHIM Hyun-sup, Anarchist from Colony (South Korea)
Rama RAJAMOULI, Prashanti TIPIRINENI, Baahubali 2: The Conclusion (India)
MAEDA Yuya, Blade of the Immortal (Japan)
CHEN Tongxun, Legend of the Demon Cat (Hong Kong, Japan, China)
Shirley CHAN, The Thousand Faces of Dunjia (Hong Kong, China)
BEST PRODUCTION DESIGN
LEE Mok-won, Along With the Gods: The Two Worlds (South Korea)
TU Nan, LU Wei, Legend of the Demon Cat (Hong Kong, Japan, China)
Frans PAAT, Marlina the Murderer in Four Acts (Indonesia, France, Malaysia, Thailand)
TANEDA Yohei, The Third Murder (Japan)
Ben LUK, This Is Not What I Expected (Hong Kong, China)
BEST VISUAL EFFECTS
JIN Jong-hyun, Along With the Gods: The Two Worlds (South Korea)
Ankur SACHDEV, Baahubali 2: The Conclusion (India)
KOBAYASHI Shingo, Gintama (Japan)
ISHII Norio, Legend of the Demon Cat (Hong Kong, Japan, China)
HUANG Mei-cing, PAO Cheng-hsun, mon mon mon MONSTERS (Taiwan)
JANG Seong-ho, PARK Young-soo, SON Ohh-young, The Thousand Faces of Dunjia (Hong Kong, China) 
BEST SOUND
WANG Gang, Brotherhood of Blades II: The Infernal Battlefield (China)
Khikmawan SANTOSA, Marlina the Murderer in Four Acts (Indonesia, France, Malaysia, Thailand)
TU Duu-chih, WU Shu-yao, Tu Chun-tang, mon mon mon MONSTERS (Taiwan)
CHOI Tae-young, The Fortress (South Korea)
TU Duu-chih, WU Shu-yao, The Great Buddha + (Taiwan)