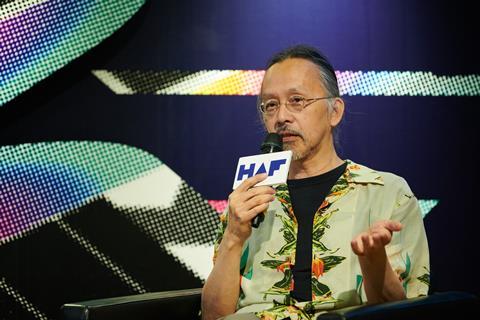 The Hong Kong International Film Festival Society (HKIFFS) is bringing all its industry initiatives under one umbrella, HKIFF Industry, as it gears up for a physical edition of its festival and projects market in 2022.
HKIFF Industry will oversee the Hong Kong-Asia Film Financing Forum (HAF), which now includes both development and work-in-progress (WIP) programmes; HAF Goes to Cannes; HAF Film Lab; HKIFF Collection, and the facilitation of third-party co-productions.
Jacob Wong, previously HAF director, has assumed the role of director, HKIFF Industry.
HKIFFS has also recently launched HAF Film Lab, which along with HAF's WIP programme supports projects seeking post-production and completion funding. HKIFF Collection is the festival's promotion and distribution initiative, supporting the festival and sales career of select titles that have participated in HAF.
HAF has opened project submissions for its physical 20th edition, which is scheduled to take place March 14-16, 2022, in conjunction with Filmart. As a result of the Covid-19 pandemic, HKIFFS moved all its industry-related events online this year and last.
"Through HKIFF Industry, we aim to provide more efficient and coordinated support across our platforms to help independent filmmakers oversee the creative evolution and life cycle of their projects, covering every aspect from financing to promotion," Wong said.
Wong acknowledged that the pandemic has posed huge challenges for the industry and accelerated the need to recalibrate HKIFFS' various industry initiatives. Due to budget constraints and the need for better resource management, next year's HAF will only cover feature-length fictional in-development and work-in-progress projects.
"We will accept in-development fictional projects from today (August 31) until November 1 and in-progress fictional projects from November 2 to December 20," Wong said. "Despite the disruption caused by the pandemic to the global film community, we are confident in upholding the high standards of our industry initiatives."
The most recent edition of HAF Film Lab wrapped on August 28 with awards for three projects – Jun Li's I Might Write About Us, Colleen Kwok's The Stars The Sun The Moon and Lim Han Loong's Maybe Today, If Not Today, Maybe Tomorrow.
Projects from recent editions of HAF include Han Shuai's Summer Blur, Zhao Liang's I'm So Sorry, Edwin's Vengeance Is Mine, All Others Pay Cash and Qiu Jiongjiong's A New Old Play, which have screened at festivals including Berlin, Cannes and Locarno this year, winning several awards.