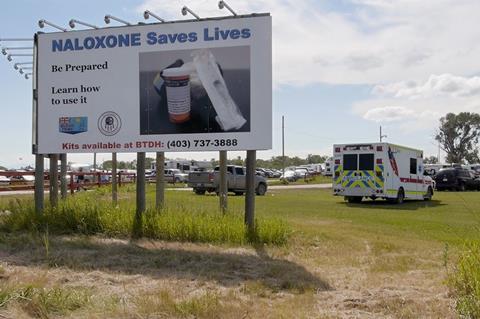 Hot Docs 2021 top brass on Monday (May 10) announced audience and competition winners as well as prize recipients in Hot Docs Forum, where Cécile Embleton and Alys Tomlinson were among those selected for their UK project Mother Vera.

In the Rogers Audience Award, five Canadian filmmakers each received a cash prize of $10,000 CAD (USD $8,240). They are: Fanny: The Right To Rock (dir. Bobbi Jo Hart ); Kimmapiiyipitssini: The Meaning Of Empathy (pictured, dir. Elle-Máijá Tailfeathers); Someone Like Me (dirs. Steve J. Adams, Sean Horlor): Still Max (dir. Katherine Knight); and Hell Or Clean Water (dir. Cody Westman).
In the first look pitch prizes at Hot Docs Forum, Vicky Du's Light Of The Setting Sun (USA) won first prize and 50,000 CAD (USD $41,200). The film centres on a Taiwanese-American filmmaker who confronts her family's silence over the violence that has persisted since the Chinese Communist Revolution of 1949.
The second prize of $35,000 CAD (USD $28,840) went to Mother Vera (UK) from directors Cécile Embleton and Alys Tomlinson, which weaves together the inner world of an unusual Orthodox nun with the community that saved her life.
The third prize of $25,000 CAD (USD $20,600) went to Fire Of Love Canada/USA from Sara Dosa, about the love between two intrepid scientists who die in a volcanic explosion.
Lisa Valencia-Svensson, Hot Docs' acting industry programmes director, said the 22nd edition of Hot Docs Forum was a "bold and powerful mix of cinematic artistry and journalism"
The inaugural Sunny Side Of The Doc Pitch Prize went to Made In Ethiopia (Canada) from Xinyan Yu and Max Duncan, about three trailblazing women who navigate the expansion of the biggest Chinese industrial park in Ethiopia. The winner receives a complimentary pass to the event in June.
Hot Docs Forum saw a total of 20 Forum projects representing 16 countries and 36 additional selected projects take part in more than 850 virtual Hot Docs Deal Maker pitch meetings with key funders, filmmakers, and prize juries.
Select official competition winners appear below:
Best Canadian Feature Documentary Award
Emanuel Licham for zo reken (Canada)
Emerging Canadian Filmmaker Award
Elle-Máijá Tailfeathers for Kimmapiiyipitssini: The Meaning Of Empathy
Best International Feature Documentary Award
Svetlana Rodina and Laurent Stoop for Ostrov – Lost Island (Switzerland)
Emerging International Filmmaker Award
Annabel Verbeke for Four Seasons In A Day (Belgium, Norway, Croatia)
Best International Short Documentary Award
Elahe Esmaili for The Doll (Iran)
Best Canadian Short Documentary
Betty Youson Award for Ain't No Time For Women (Canada)
Lindalee Tracey Award
Cailleah Scott-Grimes for Between Us (Canada)
Don Haig Award
As previously announced, the recipient is Toronto-based producer Lalita Krishna for Bangla Surf Girls.
Hot Docs ran from April 29-May 9 and opened with A.rtificial I.mmortality. Overall 222 films from 66 countries were streamed on the festival platform.