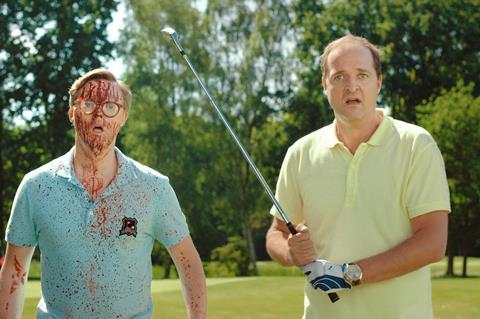 The success at the Chinese box office of the low-budget Dutch horror film Prey has shown the opportunities now available to international independent films in the Chinese market.
Prey, retitled Violent Fierce Lion for China, was released by Star Alliance Movies on 4,000 screens on Friday (March 22). It grossed an impressive $5m to become the sixth biggest film at the Chinese box office in the week March 18-24. It This far-outpaced the €231,548 it took at the Dutch box office in 2016.
Directed by Dutch horror director Dick Maas, Prey is about a runaway killer lion terrorising the citizens of Amsterdam. It was produced by the Netherlands' Shooting Star Film Company with Parachute Pictures and is the first Dutch film to secure a wide theatrical release in China.
Incredible Film, the Amsterdam-based international sales agent, sold Prey to China and Hong Kong-based Star Alliance in an all- rights deal for a flat fee. Negotiations began at the Berlinale in 2018, according to Danielle Raaphorst, the director and founder of Incredible.
Raaphorst believed the film would enjoy a TV and VoD release but after six months negotiating the deal Star Alliance revealed it was planning a limited 400-screen theatrical release for the film.
However just before the release date the company increased the number to 4,000. "I said 'Are you sure?' Isn't that a zero too much?'" Raaphorst recalled. "They said, 'No, it really is 4,000 because there is a huge amount of interest'."
Star Alliance's marketing campaign for the high-concept release had begun in earnest in January with a wave of teaser trailers and original art work for the Chinese market including huge posters of the lion running amok.
According to Raaphorst, the aim was to market Violent Fierce Lion as a 'Jaws-like' horror movie.
"The horror aspect in combination with some humour works for the Chinese market," Raaphorst said. "The feedback I got from China was about the lack of these films coming out of their own territory. They don't create these kind of films in China."
No other Dutch movie - and few European ones - have ever been released on this scale. Some Dutch titles (for example, Paul Verhoeven's Black Book) have surfaced in China, but have been given only very small theatrical releases.
Incredible Films is now planning to use the Chinese success to secure further sales on the film and Prey will be back on Incredible's slate at Cannes.