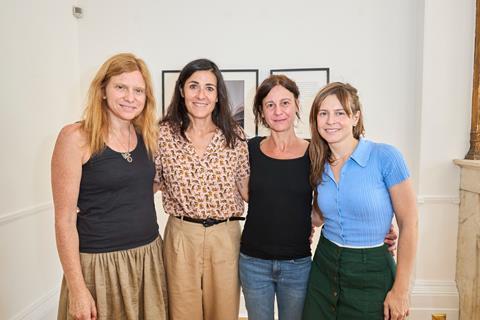 Four Italian directors came together in London last week to call for greater support for female film directors in Italy's male-dominated industry.
Films by female directors comprised just 13% of the total films produced in Italy in both 2019 and 2020, according to data released by Cinecittà, Italy's largest production studio. However, this is a significant gain on the 2% figure of 2010.
"There is a cultural problem at the root of all this. I realised it when I tried to get my first film done," said Susanna Nicchiarelli, of her debut fiction feature Cosmonaut, released in 2009, "Relationships with producers are more difficult to build as a woman, and contacts more difficult to make. Somehow, men are considered 'more' within this industry."
Nicchiarelli has gone on to make Nico, 1988 and the English-language Miss Marx, starring Romola Garai, which both premiered at Venice in 2017 and 2020 respectively.
"Italian society is patriarchal and cinema reflects society," said Maura Delpero, whose debut feature Maternal, about motherhood in a Catholic refuge in Argentina, debuted at Locarno in 2019. "The cinema industry, particularly fiction, is a battleground for power, so it's not coincidence that women gravitate towards documentaries. It's changing, but much still needs to be done."
Nicchiarelli and Delpero were joined by Michela Occhipinti, and Chiara Bellosi at the screenings showcase titled The Wave, organised by Cinecitta's cinema promotion department Filmitalia and held at the Cine Lumiere. A similar event took place in Berlin in April this year.
"[Film] is a sector where men have traditionally dominated," said Occhipinti. "In terms of female achievements it's still early days, as aside from Susanna, all other well-known contemporary [female] directors are still at their first or second film."
International recognition is key to change at home, Bellosi suggested, pointing to the work of Alice Rohrwacher, Delpero and Occhipinti, as well as Nicchiarelli.
"The scene is [now] characterised by young, dynamic filmmakers that have achieved international attention and made the difference, and this has overhauled the system."
The Italian industry started to make an effort to redress the gender imbalance in 2017 with the introduction of extra points awarded to films applying for funding through the Culture Ministry that have women in key roles.
"Given that female directors are starting from so far behind, it's good to force the system," Bellosi said.
"Normally, I would be against quotas but in this instance they are necessary," Occhipinti said. "The quotas have changed the dynamics, and are still very much needed. I hope this isn't the case in five years' time, we need to get to a point that women are selected automatically as a result of the quality of their work."
Key new films
The Wave opened with Bellosi's Swing Ride, a tale of adolescent, contemporary love in an Italian province that premiered at the Berlin Film Festival this year. They also included Nicchiarelli's debut Cosmonaut, set during the US-USSR space race, and Nico, 1988, Alice Rohrwacher's Heavenly Body, about a young Italian teenager's return to Italy's deep south after having spent the early years of her life in Switzerland, and Happy as Lazzaro. The two films premiered at the 2011 and the 2018 Cannes Film Festival. In addition, the screenings included Delpero's Maternal, Laura Bispuri's directorial debut Sworn Virgin, on the reality of transgender life and Occhipinti's Flesh Out, the portrait of a Mauritanian woman rebelling against arranged marriage. The latter two films premiered at the 2015 and 2019 Berlinale respectively.
Further screenings included Emma Dante's A Street In Palermo about female interaction in Sicilian society, which debuted at the 2013 Venice Film Festival, and Adele Tulli's Normal, on gender identity which premiered in Berlin in 2019.
"Slowly, more and more women have started to emerge. A few years ago, in 2018, we looked and saw that goodness, there were quite a few," said Filmitalia CEO Carla Cattani. "Since then, it's been onwards and upwards."
Classics from iconic Italian female directors including Lina Wertmüller, Elvira Notari, and Liliana Cavani were also screened as part of The Wave.
"Many women don't consider directing to be an option, so it is our duty to show it can be done by showing ourselves and proving that women can do it," Nicchiarelli said. "Many women may think having children and getting married is not compatible with this kind of career."
She believes initiatives such as The Wave are vital.
"We are doing something together with The Wave that makes women visible. We talk about what we have done and communicate in an attempt to transmit courage, and this lets others come forward," Nicchiarelli said.
"It's much more effective to join forces rather than fight this individually," added Occhipinti.
The Wave's London edition was organised by Cinecittà with the support of the Italian Cultural Institute in London.