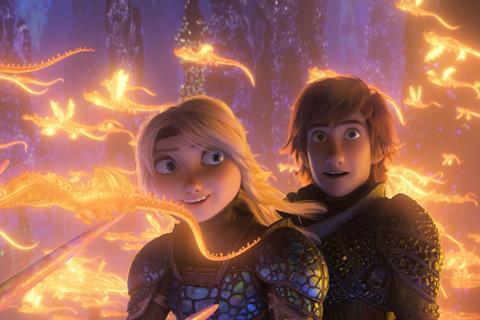 FEBRUARY 25 UPDATE: With all eyes on tonight's 91st Oscars show, DreamWorks Animation's How To Train Your Dragon: The Hidden World delivered a franchise-best debut to rule North America on a confirmed $57.5m, crowning an otherwise undistinguished and typically modest Oscars weekend.
This was an encouraging start for what has been called the finale in DreamWorks Animation's acclaimed trilogy. The Hidden World reportedly cost $129m to make excluding marketing costs, and has already soared to $275m worldwide including the commendable $217.5m international running total.
The family animation's Friday-Sunday result from 4,259 theatres beat the opening weekend of its predecessors, which arrived on $43.7m in March 2010 ($50.5m when adjusted for inflation) and $49.5m in June 2014 ($52.3m when adjusted for inflation.) Those films finished in North America on $217.6m, and $177m, respectively.
Alita: Battle Angel remains troubled in North America, despite gathering pace internationally where it impressed in its Chinese debut this weekend. Robert Rodriguez's cyborg adventure fell 56.7% and one slot to number two in its second session to reach $61m.
It cost around $170m to produce, excluding P&A spend. The early worldwide running total stands at $263.4m, so there is a considerable way to go before it breaks even and should that point come, it will not be due to the North American performance.
Besides The Hidden World, the only other stand-out from the top 10 was a 37-place surge from 41 to number four by Stephen Merchant's wrestling drama Fighting With My Family. MGM expanded the film from four to 2,711 theatres and it raised the running total by $7.8m to $8m in the second weekend.
Prior to Sunday's Oscars show, eventual best picture winner Green Book fell 26.3% and one place to number 11 and raised the running total by $2.1m to $69.6m after 15 weekends. The Favourite, which began the show tied with ROMA on a field-leading 10 nominations, experienced an even more modest 13.6% drop in its 14th session, held firm at number 22 on $557,000 for $32.1m through Fox Searchlight. Netflix/Participant Media's ROMA is currently playing in 90 US theatres, of which 30 are new. Meaningful box office data is unavailable.
Kevin Hart comedy remake The Upside is a day or two away from $100m and the comedy starring the man who was briefly in line to host tonight's Oscars ceremony before he lost the gig ranks ninth on $99.7m after seven weekends. Roadside Attractions teen drama Run The Race debuted at number 10 on $2.2m from 853 sites.
Bollywood adventure comedy Total Dhamaal starring Anil Kapoor, Madhuri Dixit and Ajay Devgn arrived at number 14 through FIP on $989,387 in 202 venues.
Disney's Mary Poppins Returns in 32nd place has overtaken director Rob Marshall's Chicago ($170.7m) to become the fourth all-time highest musical on $170.9m to date. This means that Marshall has directed two of the top five musicals at the North American box office.
Box office for the top 12 earned $114.6m in a 4.9% gain over last weekend. The aggregated haul fell 36.3% against the year-ago session, when Black Panther was crossing $400m in its second weekend. The Oscars took place on March 4 last year. Compared to the March 2-4 2018 Oscar weekend session, which generated $137.2m, this weekend fell 16.5%.
This week's wide releases are: Lionsgate's Tyler Perry's A Madea Family Funeral; and Neil Jordan's thriller Greta starring Isabelle Huppert and Chloe Moretz through Focus Features.
Confirmed top 10 North America Feb 22-24, 2019
Film (Dist) / Conf wkd gross / Conf total to date
1 (-) How To Train Your Dragon: The Hidden World (Universal) Universal Pictures International $55m $57.5m
2 (1) Alita: Battle Angel (Fox) Fox International $12.3m $61m
3 (2) The LEGO Movie: The Second Part (Warner Bros) Warner Bros Pictures International $9.7m $83.3m
4 (41) Fighting With My Family (MGM) MGM $7.8m $8m –
5 (3) Isn't It Romantic (Warner Bros-New Line) Warner Bros Pictures International $7.1m $33.4m
6 (4) What Men Want (Paramount) Paramount Pictures International $5.2m $45.1m
7 (5) Happy Death Day 2U (Universal) Universal Pictures International $4.9m $21.5m
8 (6) Cold Pursuit (Lionsgate) Studiocanal $3.21m $26.9m
9 (7) The Upside (STX) STX International $3.18m $99.7m
10 (-) Run The Race (Roadside Attractions) $2.2m