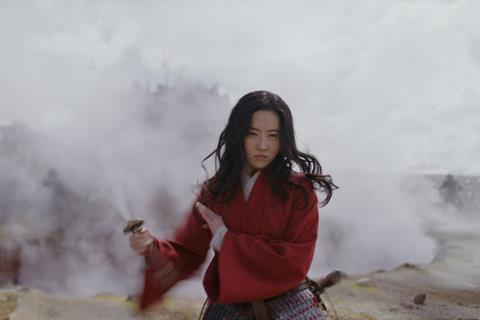 The exhibition community has slammed Disney's decision to move Mulan straight to PVoD in many territories, which was announced yesterday by CEO Bob Chapek.
The move will see Mulan offered to Disney+ subscribers in the US, Canada, New Zealand and "a number of countries" in Western Europe, including the UK, for a price of $29.99.
In a statement, Phil Clapp, chief executive of UK Cinema Association (UKCA), said: "With cinemas across the UK now continuing to reopen and welcome back their customers, the decision by Walt Disney Studios yesterday to put Mulan on their Disney+ service and not into cinemas will be seen by many as hugely disappointing and mistimed.
"In doing so, the studio is bypassing the opportunity to entertain audiences out of home and when they need it most. Rather than playing a great new family film in the best place possible to see it, the cinema theatre, audiences are instead being encouraged to stay home and pay a premium price to watch it.
"For many this will seem a step backwards rather than forward. A trip to the cinema to see one of the event family films of the year would have been hugely popular, successful and a welcome escape for many after months of restrictions on out of home entertainment. It would also have provided a much needed boost for both audiences and cinemas who need a supply of new films after Christopher Nolan's Tenet hits cinemas at the end of August.
"While there may be continued issues in parts of the US with the reopening of cinemas, in other markets around the world, including the UK, cinemas are open and ready both for new films and the audiences that want to watch them."
While Disney has yet to publically confirm Mulan will bypass UK cinemas, Clapp said when contacted by Screen: "That is the basis of our understanding following a conversation with Disney last night and separate communications with our members."
Screen has reached out to Disney's UK office for comment.
Separately, European cinema trade associations body UNIC (International Union of Cinemas) released a statement titled 'Survival of cinemas at stake' that criticised distributors, although it did not single out Disney by name.
"While many on the distribution side have indicated that 'we are all in this together', recent events make it clearer than ever that this sentiment must be backed by actions as well as words," said UNIC.
"Specifically, new content must be released in cinemas first and observe a significant theatrical window, both elements being essential for the survival and health of every part of the European (and indeed global) cinema industry.
"A 'cinema first' strategy for film releases – accompanied by a significant period of theatrical exclusivity – is a proven business model, and crucial for ensuring that audiences can enjoy a diverse range of films. This system was the foundation for a record-breaking 2019, with 1.34 billion admissions and €8.7 billion earned at the box office in Europe alone.
"The entire sector faces unprecedented challenges. More than ever, decisions across the industry need to be made with a long-term perspective. If our studio partners oblige cinemas to wait until the sector emerges from the crisis in the US before supplying new content, it will prove too late for many European cinemas and their dedicated workforce. All who depend on the success of the film industry should commit to ensuring the future health of the whole sector."
On last night's conference call, Chapek denied that the premium VoD (PVoD) plan for Mulan marked a company-wide move away from theatrical releasing.
"We're looking at Mulan as a one-off as opposed to trying to say that there's some new business windowing model," Chapek stressed. "That said, we find it very interesting to be able to take our premiere access offering to consumers and learn from it and see what happens, not only in terms of the uptake, the number of subscribers that we get on the platform, but the actual number of transactions that we get on that PVoD offering."