World premiere to be held on November 10.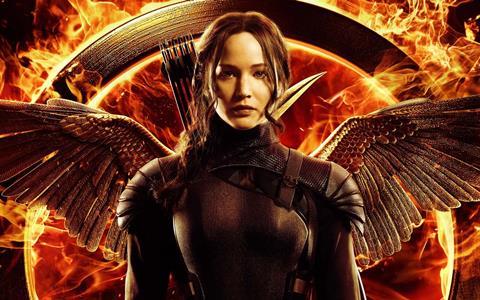 Lionsgate has unveiled release plans for The Hunger Games: Mockingjay – Part 1 in the UK, Asia and North America.
The film, the third in the global blockbuster Hunger Games film franchise, opens in theatres worldwide on Nov 21 and will hold its world premiere in London on Nov 10.
Beginning in Beijing, the cast including Jennifer Lawrence, Josh Hutcherson, Liam Hemsworth, Sam Claflin, director Francis Lawrence and producers Nina Jacobson and Jon Kilik, will embark on a world press tour with stops in Seoul, London, New York and Los Angeles.
Elizabeth Banks, Julianne Moore, Natalie Dormer, Stanley Tucci and Donald Sutherland will join the delegation in London for the film's UK world premiere in Leicester Square.
All of the cast will reconvene for the Los Angeles premiere, which will take place on Nov 17 at the Nokia Live Theater.
The first Hunger Games film generated nearly $700 million at the worldwide box office. The second film in the franchise, The Hunger Games: Catching Fire, was the number one domestic film of 2013 and the 10th highest-grossing North American release of all time, grossing more than $860 million around the world and bringing the combined global box office of the first two films to over $1.5bn.
The Hunger Games: Mockingjay - Part 1 finds Katniss Everdeen (Lawrence) in District 13 after destorying the games. Under the leadership of President Coin (Moore) and the advice of her trusted friends, Katniss fights to save Peeta (Hutcherson) and the nation.
The film is directed by Francis Lawrence from a screenplay by Peter Craig and Danny Strong, from an adaptation by Suzanne Collins and produced by Nina Jacobson's Color Force in tandem with producer Jon Kilik.
The novel on which the film is based is the third in a trilogy written by Collins that has more than 65 million copies in print in the US alone.