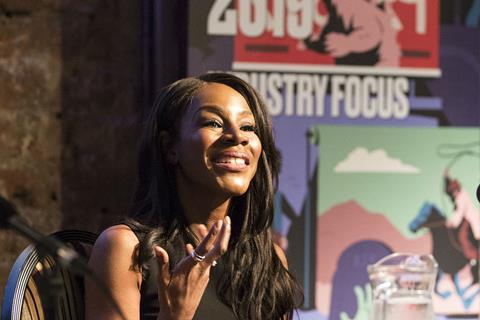 UK writer-director Amma Asante, whose credits include Belle and A United Kingdom, has told an audience of rising writers and directors at the Glasgow Film Festival to make films for themselves, not a potential future audience.
"It's about telling the stories that do for you what you hope to do for an audience, knowing that you can't hope to please all the people all of the time. You just can't," said Asante.
"There is saying on social media 'Who asked for this?' And I am like, 'I am not McDonalds. This is not a drive-in and you don't get what you order'," she said. "As an artist, your job is to challenge yourself as well as putting something out there that is hopefully something challenging to the culture and to the society. If you are only giving people what they are asking for, it is going to be derivative to a certain extent."
"I am not thinking about the audience [when I am writing]," she continued. "I think that is for the marketers and the financiers and that's for people who are professionals at that. And I am not. If I try and write something for you, I would get it wrong."
Asante won a Bafta for best British newcomer with her debut feature A Way Of Life in 2004. She went on to direct the period romantic drama Belle, which starred Gugu Mbatha-Raw as the real life Black aristocrat Dido Elizabeth Belle Lindsay and was an independent box office hit in 2013, and A United Kingdom, starring David Oyelowo and Rosumund Pike, about the King of Botswana, Seretse Khama, and his marriage to a white British woman, Ruth Williams in the 1950s. It opened the London Film Festival in 2016.
Asante's latest film is Where Hands Touch which stars Amandla Stenberg, Abbie Cornish and George MacKay and is a passion project she tried to get off the ground for nearly 15 years. It debuted at the Toronto International Film Festival in 2018 and will be released theatrically in the UK later this year via Spirit Entertainment. The film has garnered a mixed critical reaction for its depiction of a the love affair between a teenage biracial girl (whose father was a Senegalese soldier who fought for France in the First World War and was stationed in Germany after the war, and whose mother is a white German woman) and a reluctant member of the Hitler Youth.
"In the end, do what feels right and then it's none of your business after that," Asante urged the Glasgow audience. "You have to move on to the next one. I know you are judged on your previous movies, that is true but again if you allow that to govern you, you are on a hiding to nothing because you are writing or directing through fear. I don't know that that's a good place to come from."
Asante is now set to direct the Cold War thriller A Billion Dollar Spy for Walden Media, based on the novel by David E Hoffman and adapted by Benjamin August.