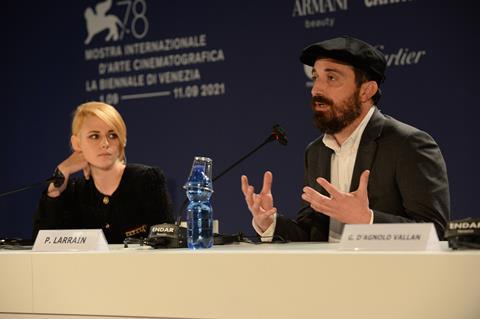 Chilean director Pablo Larrain joined his star Kristen Stewart on the Lido on Friday (Sept 3) to talk about what drew him to the character of Princess Diana for his Venice Film Festival competition title Spencer.
"I wanted to make a movie that my mother would like. I have made so many movies that she didn't like at all," said Larrain, whose credits include Ema, Neruda and Jackie. "Diana, of course, was very, very beautiful on many different levels… I was also very curious to know why someone like her, who came from such privileged circumstances, being linked to the royal family and aristocracy, was someone so normal.
"The more I looked into her, the more I realised she carries enormous amounts of mystery," he continued. "That mystery, combined with the magnetism she had, creates the perfect elements for a movie."
Spencer is set over three days of Christmas in 1991 when Diana is with the royal family at Sandringham in Norfolk. In Larrain's film, she is near to a nervous breakdown and her marriage was under severe strain.
"Diana felt so isolated and so lonely," Stewart suggested of Diana during this period. "She was just desperate to reveal some truth in an environment that is steeped in the energy of… the stiff upper-lipped mentality."
The actor paid tribute to Diana's powers of empathy and her generosity: "She sticks out as so sparkly, just a house on fire."
But she pointed to the paradox of a woman who could make others "feel so good" and yet felt "so bad" herself. "She couldn't hide. She wore her heart on her sleeve," said Stewart.
Stewart said she had her own experience of having her life and relationships scrutinised and sometimes misrepresented. "You know the story on the street is just wrong and there is no way to correct it," Stewart noted of how easy it is to feel "backed into a corner" by an intrusive public and media. "At some point, you're going to bare your teeth.
"The movie doesn't offer any new information," Stewart explained. "It doesn't profess to know anything. It imagines a feeling. There is nothing salacious about our intention."