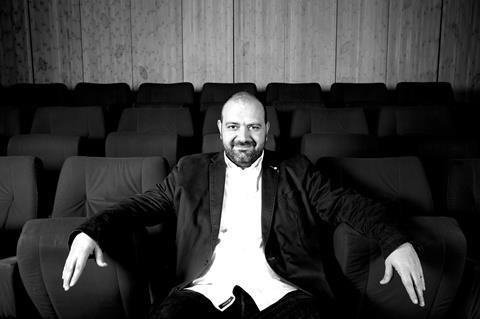 International Documentary Festival Amsterdam (IDFA), opens with the world premiere of Aboozer Amini's Kabul, City In The Wind today (November 14), and is the first festival to start reporting on how it is measuring up to the gender pledge it signed earlier this year.
The pledge, organised by French initiative 5050x2020, commits the festival to equal representation for women and men across the festival and is a key goal of new festival director Orwa Nyrabia. "It is a very serious commitment," says Nyrabia.
"It is a big issue that our industry is constructed around male 'auteurs', he continues. "A very important element here is to recognise and celebrate women 'masters' and to pay tribute to the female leaders of the profession, not only the male."
Acting on this, IDFA is honouring Czech filmmaker Helena Třeštíková with a retrospective of her work, including the screening of her 2008 documentary Rene.
"I believe she is one of the world's greatest filmmakers", says Nyrabia.
Třeštíková will also talk about her 10 favourite films in a public discussion and the films, which include Milos Forman's The Fireman's Ball, will also screen at the festival.
Nyrabia is also determined to address the gender balance in the festival's organisation, among programmers and administrators and throughout all its funds.
Errol Morris, Zhang Yang and Naomi Kawase
IDFA is showcasing new films from some of the world's biggest documentary filmmakers. Regular attendee Errol Morris is back with his latest feature, American Dharma, which offers a Fog Of War-style portrait of Donald Trump's controversial campaign strategist, Steve Bannon. (Nyrabia confirms Bannon himself has not been invited to the festival.)
Another prominent figure due at IDFA this weekend is Chinese director Zhang Yang, the filmmaker behind such fictional hits as Spicy Love Soup, Shower and Quitting. Zhang is presenting his new feature documentary, Up The Mountain, which tells the story of Shen Jianhua, an artist originally from Shanghai, who has been living in a small, remote village in Yunnan Province.
Up The Mountain is being handled in the market by newly resurgent sales agent, Fortissimo Films, led by general manager Gabrielle Rozing. It is one of three new feature docs set in Yunnan Province which Fortissimo is handling. The other two are Mao Mao Cool and Voice Of Dali, both in post-production.
Also attending IDFA is Japanese director Naomi Kawase whose work features prominently in the special festival sidebar, Me, focusing on personal and autobiographical documentary works.
The Forum
IDFA's annual project event The Forum for documentary works of all stripes looking for partners and financing takes place from November 18-21. Interesting features being presented include Senseless, the new feature from Guy Davidi, who was Oscar-nominated for Five Broken Cameras in 2013, exploring the toll that obligatory military service takes on young Israelis.
It is being handled by Autlook Film Sales which is also pitching Rene Sascha Johannsen's The Rise And Curse Of Lukas Graham. Produced by Sarah Stockmann of Sonntag Pictures, the film will tell the story of singer-songwriter Lukas Forchhammer, the lead singer of Danish group Lukas Graham whose hit song 7 Years was the seventh most successful song worldwide of 2016.
As he reflects on his first full programme, Nyrabia points out several trends. "There is a polarisation in stylistic approach," he suggests. "When a filmmaker is making an activist film, their sense of aesthetics is much, much lower."
He also points to the number of films dealing with the rise of extreme right wing groups, including Jan Gebert's When The War Comes, Eszter Hand's Hungary 2018 as well as Morris' American Dharma.
As for Netflix and Amazon, Nyrabia welcomes their support of documentaries.
"What is good about having Netflix and Amazon is that they put a challenge to the industry status quo," he says. " We need the other players, in particular the public broadcasters, to stand up and defend themselves."