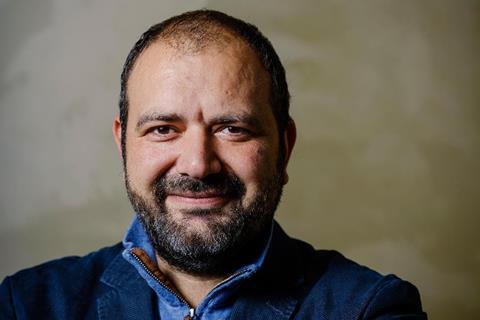 The International Documentary Festival Amsterdam (IDFA) is reporting an 18-fold increase in visitors to its 'IDFA Online Collection' webpage which aggregates links to some 800 films and new media projects from past editions.
Between March 14 and April 14 this year - amid the Covid-19 global lockdown - the festival reported 1.3 million visitors to the webpage, against 70,000 in the same period in 2019.
"We've seen close to 1.5 million visits over a four-week period, with tens of thousands of finishes, meaning people watched films to the end, which is always a big indicator for VOD and streaming platforms," IDFA chief Orwa Nyrabia told Screen.
Key territories visiting the webpage included the Netherlands, Turkey, the US, UK, Germany and Taiwan and France. "It's an interesting case study," says Nyrabia.
The IDFA Online Collection was created in 2007 (under the initial banner of IDFA.tv) as a way to collate and promote links to past IDFA titles when they are put online by their filmmaker, producer or distributor rights-holders, either for free or with a screening fee. Its offering currently features links to some 300 works made available free-of-charge and another 500 titles, which are available on platforms like YouTube, Vimeo, Netflix and iTunes for a small fee.
"It's interesting in that it doesn't operate on IDFA servers but rather embeds links put online by the right-holders, so any fees go directly to them. It was a strong concept from the team, who have 'stubbornly' continued to work on it even if the numbers of visitors was relatively small until now," says Nyrabia.
As a non-profit body IDFA does not charge the rights-holders for the service or the promotion it does around their works.
Visits to the IDFA collection page began to surge during the lockdown after documentarians, festivals and cinema websites started talking about the offering on social networks. "After the influential Turkish 'Altyazı' cinema magazine wrote about it we saw a spike in visitors out of Turkey. It has been fascinating to look at how viewership has taken off in different places around the world," adds Nyrabia.
The rise in visitors has spurred IDFA staff to redesign the page. Rather than simply presenting the offering alphabetically, it now spotlights titles along thematic lines, dubbed "film tips", such as "On The Road", "Secluded, but shortly" and "Solidarity in times of distancing". It also features a selection of interactive works championed by the festival's new media DocLab programme such as Alma, A Tale Of Violence, Notes On Violence VR and Follower.
A team of five IDFA staffers is now working regularly on the initiative, meeting virtually twice a week to discuss ways to keep the momentum going. Nyrabia says they have become more proactive in contacting filmmakers to enquire whether they will make their films available for the page, which has resulted in some interesting collaborations.
"There was a beautiful film from our 2017 edition called El Mar La Mar, which we thought would be perfect for the travel-focused strand 'On The Road'," he recounts. The meditative feature-length work by US documentarians Joshua Bonnetta and J.P. Sniadecki's film captures the stories of Mexican migrants who try to cross into the US via the harsh Sonoran desert. "We wrote to the filmmakers and said we would like to make it available. The filmmakers said they would be happy to but made a simple request that any revenue go to the World Health Organisation. They asked if we could mediate the process, which we did."
Nyrabia said these experiences had given the IDFA team food for thought on how to connect with new audiences as well as on what the festival can do to support filmmakers during the pandemic and its aftermath. "It has shown us that there are wider audiences out there for the sorts of films we show at IDFA and we believe this is a good sign for the future. We're also starting to formulate ideas around how we support filmmakers, who are very vulnerable right now. By providing an effective window for their older films, we may be able to help generate some income."
Looking forward to IDFA's 2020 edition, which is scheduled to take place in Amsterdam from November 18 to 29, Nyrabia says he and the festival team are already developing plans on how to hold it amid the "new normal" of living with Covid-19, until an effective vaccine is developed. In 2019, some 3,200 documentary professional guests attended IDFA and its industry programme including the Docs for Sale market and the Forum co-financing meeting, while the event as a whole registered a record 295,000 visits. Nyrabia acknowledges that physical attendance will likely be lower in 2020 due to a combination of social distancing measures and fewer international professionals making the trip to Amsterdam.
"We don't know what will happen exactly. We hope for the best but we know it's highly unlikely that we'll be packing out the Tuschinski 1 or the Carré," he said referring to the 800-seat main theatre of key IDFA venue the Tuschinski cinema and Amsterdam's Royal Theater Carré, which has hosted the opening night in recent years.
"We hope that professionals who live in neighbouring countries at least will be able to travel to Amsterdam. We also usually have a lot of guests from North America and one of our key priorities is filmmakers from the Global South. These two groups of attendees are likely to be a lot smaller," he said.
The IDFA team is currently mulling how the festival's flagship activities could be modified to fit the Covid-19 era. The IDFA Summer School, for example, is already in the process of being reconfigured, following the cancellation of its physical edition which was due to have taken place in Amsterdam between June 29 and July 4. "We're seriously thinking, what is it that we can do this year that would be meaningful to the industry and to filmmakers and to our audiences, even if that means many new programmes, and many of the old programmes being put on hold for a year," said Nyrabia.
The best case scenario, he said, was that the 2020 edition would be able to go ahead as a hybrid event combining physical screenings and industry events with online events for professionals who cannot attend. "Our hope would be to maintain some of the theatrical and in-person activity in such a way that safeguards health, because we still believe this is the core of our business," he added.
Nyrabia said he and the team had been taken stock of how other documentary festivals such as CPH:DOX and Visions du Réel had persevered with their 2020 editions after being forced to cancel physical events at the eleventh hour due to the pandemic. "CPH:DOX, Visions du Réel and a few others were heroic in the way that they managed to quickly adapt and survive this in a very successful smart manner. Of course, we're looking at what they did and trying to learn lessons even if we don't know exactly what the situation will be in November."