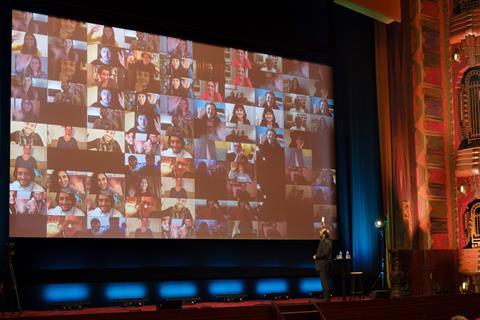 Documentary filmmakers from around the world digitally joined the opening of International Documentary Film Festival Amsterdam (IDFA) last night (November 18) for an emotionally charged ceremony. Their faces were projected in tiny squares on the big screen of the Tuschinski cinema in Amsterdam where artistic director Orwa Nyrabia launched the festival's 33rd edition, in a near-empty auditorium.
Along with Nyrabia, some of the filmmakers made speeches as did Dutch Minister of Culture Ingrid van Engelshoven, who attended in person to announce support measures for the sector.
"I am incredibly happy that IDFA is able to go ahead," she said. "I understand how difficult its is to carry on working at the moment and how much uncertainty the pandemic is causing…that is why I am doing my very best to keep the film sector and the cultural sector as a whole on its feet."
The minister said the Dutch Government is providing more than $1.75bn (€1.5bn) in extra funding for the cultural sector during the crisis. "Thanks to that investment, we have been able to help many film institutions and film professionals."
She confirmed that the pilot programme for supporting high-end TV series through the Netherlands Production Incentive was being extended with an additional $7m (€6m).
"And I am giving a further €6 million to cover the costs that film producers are facing due to the measures to combat COVID-19. And, in addition, €10million will be made available to cover the risk run by insurers of film production during the pandemic," van Engelshoven stated.
Solidarity
"We truly hope our offer this year at IDFA will help create a little distance between all of us and the immediate health crisis that we are going through," Nyrabia said in his opening remarks, before gesturing at the screen behind him where dozens of directors with films in the festival then appeared.
"Our filmmakers this year come from 72 countries. We are certainly proud of that," he declared. "Our filmmakers and their films come from every corner of earth. They together are with us now. Some are in early morning, some are in very late evening. Some are in autumn, some are in spring."
Canadian director Jennifer Abbott, whose new doc The Magnitude Of Things is in official selection, addressed viewers: "The pandemic has turned everything on its head. There has been so much grief, so much loss and so much tragedy," she said. "At the same time, it is a moment of reckoning, a moment of reflection. The pandemic has showed us our humanity. It has showed we are not what neo-liberalism has defined us as for the last 40 years - competitive, singular, isolated, individuals just trying to get what we can. We have shown ourselves as having a capacity for deep altruism."
"While we cannot be there in person, our imaginations can bring his together in solidarity."
Abbott was followed by Japanese director Yoichiro Okutani, Zooming in on a weak wi-fi signal at 4am Japanese time. Okutani's new feature documentary Odoriko, about Japanese striptease dancers, is the first Japanese film in IDFA's main competition in almost two decades.
Okutani praised IDFA for its commitment to stage physical as well as online screenings. "It means everything to a filmmaker," he said. "The pandemic has caused us to distance ourselves from the world, to cut physical interaction with people, to deprive us of our horizontal ties, our face to face connection with the people around us. In these times, I want to think about vertical ties, our ties to the past and the future, to the people who have come before and will follow us. The cinema experience is our ally in this."
The festival then kicked off with the online screening of its opening film, Nothing But The Sun from Paraguayan director Arami Ullón.
Cinemas in the Netherlands are allowed to open from midnight tonight (November 19). IDFA will now be showing all films in Amsterdam cinemas with social distancing measures in place and audiences of a maximum of 30 people.