Picture about Danish artist Per Kirkeby opened CPH:DOX.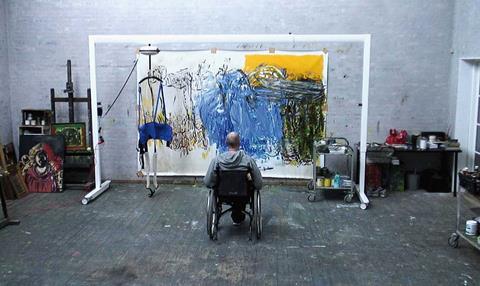 Paris-based documentary specialist Wide house has picked up world rights to Anne Wivel's Man Falling, about renowned Danish artist Per Kirkeby's struggle to paint again after a debilitating accident, which opened CPH:DOX at the beginning of November.
Wide House chief Anais Clanet said she acquired the film at the Toronto International Film Festival but launched sales at IDFA.
Following its CPH:DOX premiere, the work has been playing in IDFA's Sounds Real section, devoted to the use of sound in documentary.
Clanet was also at IDFA with Danish Lea Glob's upcoming solo feature documentary Apolonia, Apolonia which was presented at the festival's co-financing event, the Forum.
It is described in the Forum catalogue as "a coming of age story and existential voyage into the mind of a young woman's thoughts on sexuality, art, idealism and love", revolving around the figure of Apolonia who has moved from Denmark to Paris to pursue a career as an artist.
Glob co-directed Olmo And The Seagull – about a young acting couple on the cusp of parenthood - which is also playing at IDFA.
Clanet was also working on sales of Johan Grimonprez's Shadow World based on Andrew Feinstein's book about the international arms trade, which was launched in a Forum pitch in 2012.
"It's finally finished and we've started sending out to the festivals," said Clanet who is hoping for an early 2016 premiere.
The film pre-sold to Sweden (SVT), Denmark (DR), Australia (SBS) and Israel (YES) and co-produced with ITVS in the US. "We are actively looking for pre-sales during IDFA," says Clanet, who will be able to show the film to potential buyers.
In other Wide House news, the company is also celebrating an Emmy win in the arts programming category for The Man Who Saved The Louvre, about the museum director Jacques Jaujard who prevented several of its masterpieces from falling into Nazi hands during World War Two, which is in its catalogue.