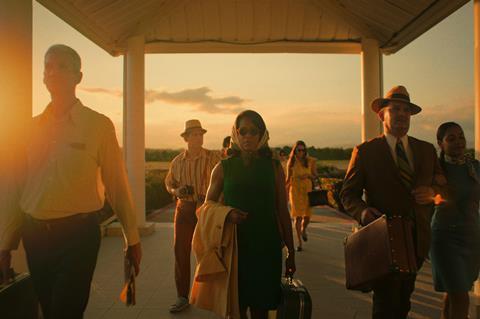 If Beale Street Could Talk was named best feature at Saturday's (23) 34th Film Independent Spirit Awards as the drama's best director winner Barry Jenkins delivered an impassioned plea urging Hollywood to champion more female filmmakers.
Jenkins noted how his star Regina King – who claimed the best supporting female prize – had remarked how women make up four percent of studio directors, yet accounted for 44% of directors at Sundance, and six percent of directors nominated for the Spirit Award
"I want to look at this room, all these producers, all these directors, all these financiers, my reps, all these lawyers," said Jenkins, "and say – if even just 30% of us agree with Regina to [over] the next 18 months […] produce or finance a film directed by a woman, that 4% will become the 8%, will become the next 12%, will become the 16%."
Jenkins, whose breakout feature Moonlight won best feature and best director at the Spirit Awards in 2017 (not to mention the best film Oscar at the climax of that year's infamous show), also paid tribute to Lynne Ramsay, noting how his fellow best director nominee (for You Were Never Really Here) took him under her wing when he met her as a student at Telluride 2in 002.
The director rounded off by thanking Annapurna Pictures head Megan Ellison. "Black authors have not been adapted the same way as their white peers because financiers do not put their money behind black authors," he said. "So Megan Ellison, thank you for your money, my dear. James Baldwin thanks you."
On the eve of the Oscars, the Spirit Awards struck a blow for some of the season's most lauded films and performances. Academy Award front-runner Glenn Close brought her dog on stage when she collected her best female lead prize for The Wife, while Ethan Hawke, who is not in the running for an Academy Award on Sunday, claimed the best male actor prize for First Reformed.
Can You Ever Forgive Me? earned two prizes on the night. An "astonished and emotional" British indie veteran Richard E. Grant was a popular winner in the best supporting male category, and Nicole Holofcener and Jeff Whitty earned the screenplay award.
ROMA, a heavyweight Oscar contender on Sunday, was named best international film, and Won't You Be My Neighbor? won the documentary category.
Among other winners, Bob Burnham's indie darling Eighth Grade won the best first screenplay award, Boots Riley took home best first feature honours for Sorry To Bother You, and Suspiria earned two rare awards for Luca Guadagnino's horror remake in the form of best cinematography for Sayombhu Mukdeeprom, and the Robert Altman ensemble cast award.
Film Independent Spirit Awards 2019 winners:
Best feature
If Beale Street Could Talk
Best director
Barry Jenkins, If Beale Street Could Talk
Best female lead
Glenn Close, The Wife
Best male lead
Ethan Hawke, First Reformed
Best supporting female
Regina King, If Beale Street Could Talk
Best supporting male
Richard E. Grant, Can You Ever Forgive Me?
Best screenplay
Nicole Holofcener, Jeff Whitty, Can You Ever Forgive Me?
Best editing
Joe Bini, You Were Never Really Here
Best documentary feature
Won't You Be My Neighbor?
Best cinematography
Sayombhu Mukdeeprom, Suspiria
Best first feature
Sorry To Bother You
Best first screenplay
Bo Burnham, Eighth Grade
John Cassavetes Award
En El Séptimo Día
Robert Altman Award
Suspiria
Best international film
ROMA, Mexico
Producers Award
Shrihari Sathe
Someone To Watch Award
Alex Moratto, Sócrates
Truer Than Fiction Award
Bing Liu, Minding The Gap
Bonnie Award
Debra Granik