Career development initiative selects 2017 group.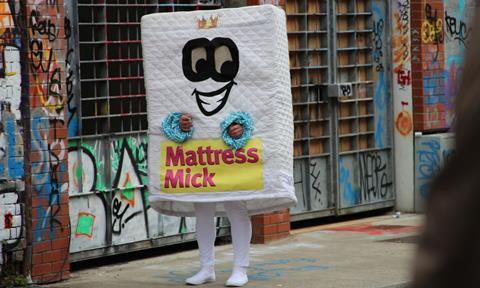 Scroll down for list of participants
The participants for the 2017 edition of Screen Leaders, the Creative Europe and Irish Film Board (IFB) backed career development programme, have been revealed.
Participants this year are companies in Austria, Belgium, Germany, Hungry, Ireland, Luxembourg, Norway, Portugal and Spain. They will converge in Ireland for the first module of the programme in June.
Of the companies selected, four are from Ireland: Speers Film, Giant Animation, Calico Pictures and El Zorrero Films (the company behind 2016 comedy doc Mattress Men, pictured).
The initiative assists attendees with operating in the international marketplace.
Andy Mason, co-CEO of Altitude Films, who tutors on the programme, said: "Screen Leaders is a really well thought-out program and even though the level of experience and competence of the chosen participants is extremely high, the main benefits to them are gaining access to additional tools and insight to help them navigate their companies through the ever changing environment of film and television."
Screen Leaders programme director Helen McMahon added: "We are delighted to have secured a group of top international executives onto the 2017 programme and we look forward to working with them on the strategic development of their companies.
"We aim to provide the participating companies with the skills they need to build sustainable businesses in a complex and ever-changing international marketplace and the opportunity to focus on and invest in their own personal leadership and their companies' evolution."
The participants for 2017 are:
Speers Film, Ireland
Jonny Speers, Managing Director/Producer
Clare Connolly, Manager/Producer
De Mensen, Belgium
Ivy Vanhaecke, Head of Production/Exec Producer
Jean-Christophe Massart, Finance Manager
Hungarian National Film Fund, Hungry
Dr Ivett Szimics, Head of the Legal Department
György Ráduly, Head of the Film Archive Department
Amour Fou, Luxembourg/Austria
Alexander Dumreicher-Ivanceanu, Managing Director
André Fetzer, Line Producer
Giant Animation, Ireland
Alex Sherwood, Creative Director
Jonathan Clarke, Head of Production
Garden Films, Portugal
Hemi Fortes Criado, Owner/Producer
Bruno Moraes Cabral, Owner/Producer
Calico Pictures, Ireland
Kate McColgan, Managing Director/Producer
Annie Barclay, Producer
Cinenord, Norway
Silje Hopland Eik, CEO/Producer
Terez Hollo-Klausen, Producer
El Zorrero Films, Ireland
Ciarán Deeney, Managing Director/Head of Development
David Clarke, Managing Director/Head of Production