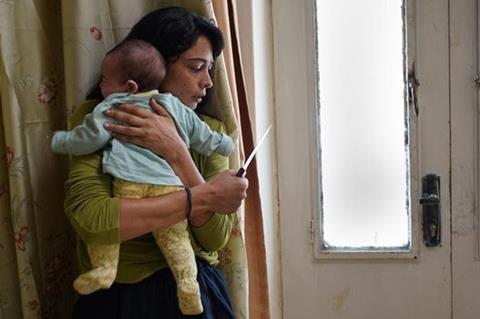 IFC Films has picked up North American rights from Memento International to Hany Abu-Assad's upcoming Toronto world premiere Huda's Salon.
The filmmaker's (Paradise Now, The Mountain Between Us) latest feature follows Reem, a young mother married to a jealous man, who goes to Huda's salon in Bethlehem for a haircut and an attentive ear.
What should be an ordinary visit turns sour when Huda puts Reem in a difficult spot and blackmails her into betraying her people and working for the secret service of the occupiers. Ali Suliman, Maisa Abd Elhadi and Manal Awad star.
Abu-Assad wrote the screenplay. Producers are Amira Diab, Mohamed Hefzy, and Abu-Assad from H&A Productions and Film Clinic, and co-producers are Mad Solutions, Lagoonie Film Production, KeyFilm, Cocoon Films, and Philistine Films in Association with Doha Film Institute. Memento's Emilie Georges and Mathieu Delaunay served as executive producers.
IFC Films is planning a 2022 release in 2022. Company president Arianna Bocco and director of acquisitions Aijah Keith brokered the deal with Memento International on behalf of the filmmakers.
Abu-Assad's Paradise Now was the first Palestinian film to be nominated for the foreign language Oscar in 2006. Six years later his Cannes special jury prize winner Omar also became his country's submission to the Academy Awards.