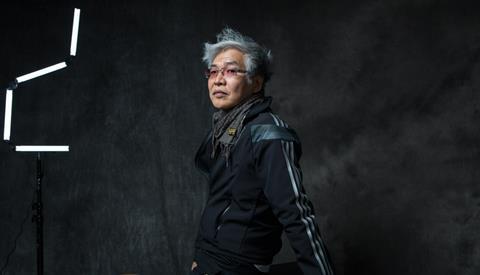 Korean director Im Sang-soo (The Housemaid) is set to make his Hollywood feature debut with a film adaptation of art world crime novel Soho Sins by Richard Vine.
Donna Smith's 2W Network in the US is producing the US-Korea co-production with newcomer Yulmae Entertainment in Korea.
Im's latest feature, Heaven: To The Land Of Happiness, was selected for the Cannes 2020 'The Faithful' category and is waiting for an appropriate time for release in the pandemic. He made previous outings to Cannes with films such as The President's Last Bang, The Housemaid and The Taste Of Money.
Former head of production and post-production at Universal Pictures, Smith was the first woman to be in such a role at a major Hollywood studio. Her numerous credits from Universal and in other iterations include The Terminator, Schindler's List, The Matrix, LA Confidential and Crouching Tiger, Hidden Dragon.
Im told Screendaily: "I was working on a script with Yulmae Entertainment about artist Nam June Paik to shoot in the US, and while researching American gallery society, found Richard Vine's Soho Sins, which was published in the US and Korea. It's a page-turner. It was something I thought I could do a good job adapting to screenplay and directing as a film, and could probably go into production with more quickly than with the Nam June Paik film."
Managing editor of Art In America, Vine wrote Soho Sins based on his experiences as an art critic. 2W Network had previously acquired film rights to the novel.
The story revolves around the murder of a woman – one half of a golden couple in the New York art scene – whose husband confesses to shooting her despite dubious circumstances. The couple's friend and art dealer Jackson Wyeth sets out to solve the mystery with a private detective and ends up uncovering dangerous and ultimately shocking secrets hidden beneath the surface of Manhattan's posh and decadent art world.
"I like Im Sang-soo's work. This is very much a niche type of film-to-be and he has that interesting quality that matches the words on the page right now, so we wanted to work with him. His eye and skill matches what I hope the script to be. His style of directing is exotic – I care very much about the pictures on the screen – and I think he has a good eye," said Smith talking to Screendaily, adding the film will have a "noir flavour."
The budget is set for about $30m with aims to have it released as a studio film.
Im and Vine are to work on the script with plans to go into pre-production this July and start shooting by the end of the year.
"We will get a good script. But the film has to take place in New York and until we know the nature of the health of the country, nothing can begin," said Smith, referring to coronavirus pandemic restrictions.
Im previously directed a short in the Rio, I Love You anthology, which was part of the Paris, je t'aime and New York, I Love You franchise. Soho Sins is set to be his first English-language feature film.