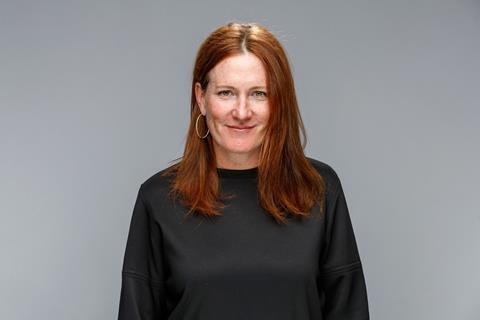 Megan Colligan will step down from her role as president of Imax Entertainment at the end of April.
The respected executive has been with Imax for four years and will depart after CinemaCon (April 23-27), the company's annual CEO Forum and first quarter earnings report.
During her tenure Colligan helped develop the Filmed For IMAX and IMAX Live initiatives, established strong ties with independent studios and expanded the company's move into local-language content.
She also played a role in implementing Covid safety measures prior to the reopening of cinemas during the pandemic.
Prior to Imax Colligan served as president of worldwide marketing and distribution at Paramount Pictures.
Imax CEO Rich Gelfond said, "We are grateful for Megan's contributions to the company during her tenure and wish her all the best of luck in her next chapter. IMAX is off to a very strong start in 2023 and we look forward to appointing a new president of IMAX Entertainment who will harness our momentum this year and beyond."
Internal memos circulated by Gelfond and Colligan today (March 16) appear below.
Team,

I am writing to let you know that Megan Colligan, our President of IMAX Entertainment, has decided to move on from IMAX. Megan will stay with the company through the end of April — helping see us through a busy period that includes our annual CEO Forum, CinemaCon, and our first quarter earnings report — while we complete a search for her replacement.

The four years that Megan has been with us were among the most unique and challenging in the history of IMAX. Her advocacy for the brand is among the many reasons IMAX didn't just survive the pandemic; we are thriving — poised for a record year of box office and significant network growth across our expansive global footprint.

Megan helped create our Filmed For IMAX camera program, which continues to bring a new, diverse collection of filmmakers in our fold. On Megan's watch, IMAX further expanded into local language blockbusters and strengthened its partnerships with independent studios, putting the power of our platform behind their films. And, of course, Megan helped launch our IMAX Live strategy, which we continue to test across our more than 250 connected locations worldwide.

Megan is a true lover of film, and that passion has always shown through in her time here — whether she was working with filmmakers, developing new IMAX experiences, strategizing around our film slate, or decoding box office results. Through her work with the Academy's Board of Governors and beyond, I know she will continue to be a positive force in this business, and I look forward to seeing what she does next.

I hope you will join me in thanking Megan for her contributions to IMAX and wishing her all the best of luck in her next chapter.

Best,

Rich
Dear Colleagues,

When I came to IMAX four years ago, I had a big dream and an even bigger mandate: take a world-class brand and create new growth initiatives to drive even greater success. Thanks to your hard work and dedication, we did just that – while facing arguably the greatest challenge the movie business has ever seen.

Today, as I get ready to leave IMAX next month, our brand is stronger than ever, we finished 2022 especially strong, and 2023 is off to a fantastic start.

Our relationship with filmmakers and our audience has never been better, and I am especially proud of our Filmed For IMAX program and the success it brought to the company. From Dune to Top Gun: Maverick to Creed III, the program has enabled so many filmmakers to realize their creative visions in IMAX and create an even richer experience for the audience.

I want to thank our International and Playa Vista teams for their incredible work in building a robust local language strategy. IMAX is now a best-in-class global platform for local language blockbusters around the world. This is an opportunity that was important to me when I joined the company, and that many of us believed would help grow our global footprint.

Finally, with our focus on pushing the boundaries of technological innovation and giving our creative partners new tools, we developed IMAX Live. Since the end of 2021, we've started delivering live events for almost every studio from Disney to A24, and created experiences around a wide variety of artists, from Drake to Halsey to Brandi Carlisle. And just this December we reached a major milestone in connecting 250 theatres worldwide. I'm very grateful to our teams in Sheridan Park for their excellence and partnership in building out this network.

Along the way, I've been fortunate to work with some of the most talented and passionate people in entertainment — people who live and breathe this great brand and care deeply about giving our audiences experiences that transcend the ordinary. I want to especially thank Rich, my team in Playa Vista, and the Senior Management team for their support and friendship. I can't wait to see what IMAX does next.

Sincerely,

Megan