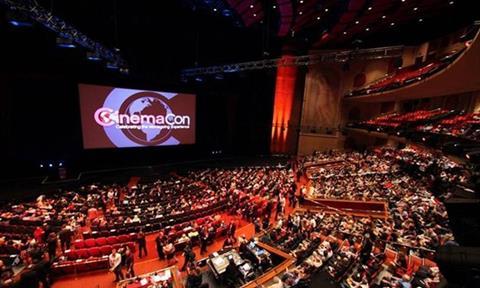 CinemaCon, this week's big exhibition convention in US tourist mecca Las Vegas, is being viewed by attendees as "a sign of the beginning of the recovery process" for the global industry, says John Fithian, president and CEO of the National Association of Theatre Owners (NATO).
The event, which runs August 23-26, will also be an opportunity to talk about issues including "how we get back to release models that have theatrical windows or exclusive periods for theatrical release," Fithian says. And the ongoing windows discussion, the trade organisation head hints, might eventually take in the possibility of a US industry-wide standard on the contentious issue.
Originally set for April 26-29 but rescheduled last November, NATO's official convention has this year drawn about 2,000 attendees, well down on the 3,500 or so that attended the pre-pandemic 2019 show (the 2020 edition was cancelled altogether).
Most of the decline is due to international executives being unable to travel to the US, which still bans visitors from the Schengen countries of Europe, the UK, China, India and Brazil. A few Europe-based executives have made it to the convention by combining their trips with two-week business visits to countries from which travel is not banned, or by having US passports. There are small contingents from Asia and Latin America, Fithian reports.
CinemaCon attendees must provide proof of full Covid-19 vaccination or of a negative test within 48 hours of picking up credentials and must wear masks in the event's public spaces.
No attendees had tested positive by mid-afternoon on the event's first day, though a few potential visitors cancelled before setting out for Las Vegas because of positive tests. "We've had some people who did not come because of our test policy," says Fithian, "and that's the way it's supposed to work. All the protocols in place are working."
Executives from Sony Pictures Entertainment (which had not attended CinemaCon since 2018 and reportedly surprised the convention with a screening of Ghostbusters: Afterlife), MGM/United Artists Releasing, Warner Brothers Pictures, Universal Pictures/Focus Features, Paramount Pictures, Lionsgate and Neon are set to present their upcoming slates at the event. Disney is not sending executives but will screen Marvel Studios' Shang-Chi And The Legend Of The Ten Rings for attendees.
Windows hot topic
Theatrical windows will be a hot topic on the CinemaCon convention floor and in panel discussions after the studios' recent experiments with shortening the traditional 90-day US window to 45 days, 17 days or, through simultaneous streaming and theatrical launches, nothing.
"I don't think anybody thinks that window lengths are going back to what they were before the pandemic," Fithian suggests, "but it's also the case that they won't stay what they were during the pandemic. Finding out what that new period of exclusivity looks like going into 2022 is what everybody's going to be discussing."
A number of exclusivity agreements have recently been negotiated between individual cinema chains and studios, but the US has never had an industry-wide understanding on windows similar to the agreements in some international markets.
"Right now the windows issues are being negotiated individually," says Fithian. "There may come a time where it's possible to have a broader industry understanding. But stay tuned on that."
Delta surge
Film supply and the Delta variant Covid surge will also be on the minds of CinemaCon attendees. US releases of several studio films have recently been rescheduled or re-thought and Fithian concedes that surveys have shown consumer comfort levels about going to cinemas dipping over the past couple of months.
But the NATO head insists there is still optimism about the studios' upcoming release slates and their likely effect on cinema attendance: "We're getting very good signals about the fall," he says, "with some very, very big movies."
Another issue on NATO's radar is vaccine requirements for cinema screenings and other public activities, which are in force or expected soon in US cities including New York and Los Angeles.
"In the short term vaccine mandates hurt because you lose some ticket sales," says Fithian of the effect on exhibitors. "But vaccine mandates also drive vaccines, which in the long term is extraordinarily helpful to us."
NATO's approach has been to try to influence how the mandates are being implemented, Fithian explains: "Most importantly we'd like a sunset provision, because once vaccinations in a certain region reach the desired level then the rules should go away. We're lobbying for those types of implementation rules even though we're not opposing the mandates generally."