At the height of the 74th Venice Film Festival, a group of European and international filmmakers joined co-hosts Screen International and Diane Kruger for a lunch on September 6 at the San Clemente Palace Kempinski Hotel.
Based on a private island in the Venetian lagoon, the luxury hotel owned by Turkish entrepreneur Emir Ayar this year launched a festival-long series of events through their partners Il Salotto del Cinema, with the aim of bringing filmmakers, actors, publicists and producers together with figures from the art, business and social media worlds.
Among the attendees at the lunch were two directors with films playing in Venice competition: Vivien Qu (Angels Wear White), who was accompanied by her producer Sean Chen, and Xavier Legrand (Custody), in attendance with his producer Alexandre Gavras. Legrand went on to win the Venice Silver Lion for best director at Venice.
Other guests joining Screen and Kruger included Damien Manivel and Kohei Igarashi, co-directors on Venice Horizons title The Night I Swam; Francois Troukens, co-director of Above The Law; Iranian filmmaker Alireza Khatami and Dominique Welinski, director and producer of Horizons title Oblivion Verses.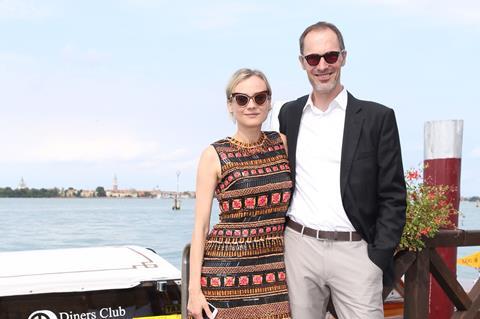 The event was arranged in collaboration with US fashion designer and philanthropist Tory Burch.