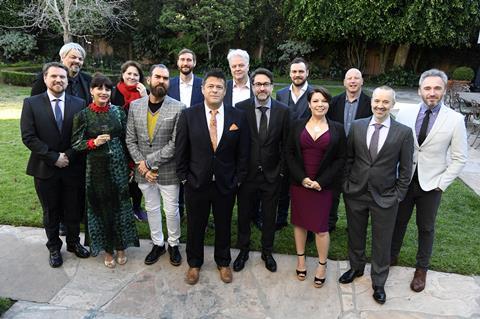 Michael Howells, British Consul General in Los Angeles, and Screen International, hosted an afternoon tea to celebrate this year's British Oscar nominees ahead of the Academy Awards on Sunday (24).
The We Are UK Film event was held at the British Consul General's residence on Friday (22) with an illustrious guest list that included Richard E. Grant, Oscar-nominated for his performance in Can You Ever Forgive Me? (and an emotional best supporting actor winner at Saturday's Film Independent Spirit Awards), Film4 chief Daniel Battsek, and The Favourite co-writer Deborah Davis.
Besides Grant, this year's British acting nominees are Olivia Colman (lead) and Rachel Weisz (supporting) for The Favourite, and Christian Bale (lead) for Vice. Six of the eight best picture nominees feature UK talent on-camera or behind the scenes. Besides the actors in Vice and The Favourite they include A Star Is Born (Lynette Howell Taylor, one of the producers, and best song co-writer Mark Ronson for 'Shallow'); Black Panther sound mixing; BlacKkKlansman film editor Barry Alexander Brown; Davis for The Favourite; and Bohemian Rhapsody producer Graham King.
Battsek's Film4 was responsible for 13 Oscar nominations this year powered by The Favourite and Oscar-nominated director Pawel Pawlikowski's Polish foreign-language nominee Cold War. Both those films also received support from the British Film Institute (BFI).
Howells praised the UK film and TV industry, whose leading lights include not just household names from the large and small screen, but an array of talent behind the camera including those working in the UK's powerhouse VFX sector.
BFI's annual statistics report released earlier this month painted a healthy picture of the UK production sector, despite uncertainty over the impact of Brexit. The level of money invested in film and prestige TV production in 2018 reached $4bn (£3.1bn), while film spend attained its second highest ever level on $2.5bn (£1.9bn).