Roskam's third feature The Racer And The Jailbird starring Matthias Schoenaerts will be among the line-up.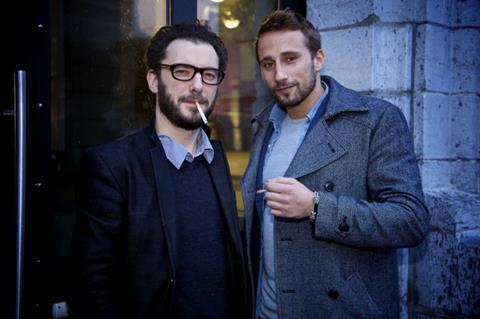 Flanders Image – a division of the Flanders Audiovisual Fund — is hosting the first NeXT event from Oct 9-12 in Ghent, Belgium.
The event will include a showcase of new films and pitches of future projects, alongside works in progress presentations from both established names and new talents of Belgian cinema made in Flanders. There will also be a day of talks, workshops and panel discussions that bring together local filmmakers and international experts.
Among the high profile Flemish films to be discussed will be Michael R Roskam's third feature The Racer And The Jailbird, described as a dark romantic drama and starring his Bullhead star Matthias Schoenaerts alongside Adèle Exarchopoulos; and Loft director Erik Van Looy's new thriller The Prime Minister, which is being sold by The Works. Those are both part of short works in progress presentations which could include showing set photos or scenes from the films.
There will be prizes for best pitch and best work in progress presentation, with ACE and LITES donating $11,200 (€10,000) in facilities spend for each award winner. The two prizes also include a media spend for advertising.
Projects to be pitched are Bas Devos' Ascension Day, Jan Bultheel's Canaan, Kenneth Mercken's Coureur, Stijn Coninx's Don't Shoot, Kaat Beels & Nathalie Basteyns' Facades, Jan Matthys' Many Heavens, Erik Lamens' Sylvain De Coninck and Sven Huybrechts' U-235.
Works in progress presentations include Bülent Öztürk 's Blue Silence, Gilles Coulier's Cargo, Bert Scholiers' Charlie & Hannah's Grand Night Out, Meikeminne Clinckspoor's Cloudboy, Andrés Lübbert's The Color of Chameleon, Nabil Ben Yadir's Dode Hoek, Jan Verheyen's Double Face, Erik Van Looy's The Prime Minister, Michaël R. Roskam's Racer And The Jailbird, Kristof Hoornaert's Resurrection, Hilde Van Mieghem's Speechless, Karen Vázquez Guadarrama & Bart Goossens' El Tio and Sahim Omar Kalifa's Zagros.
Finished film screenings will be Cecilia Verheyden's Behind The Clouds, Peter Monsaert's Le Ciel Flamand, Nic Balthazar's Everybody Happy, Fien Troch's Home, Jessica Woodworth & Peter Brosens' King Of The Belgians, Pieter-Jan De Pue's The Land Of The Enlightened, Kevin Meul's My First Highway, Nathalie Teirlinck's Past Imperfect, Bavo Defurne's Souvenir, and Christophe Van Rompaey's Vincent And The End of The World.
On Oct 12, the NeXT Talks panels will include a workshop for dealing with international press, a discussion of Flemish cinema in France, a look at the changing landscape for international sales, and a look at the role of festival programmers.
Panelists will include Frederic Boyer from Tribeca and Les Arcs, Remi Bonhomme from Cannes Critics Week, Hengameh Panahi from Celluloid Dreams, Clare Crean from The Works, Nathan Fisher from Stray Dogs, Kerri Craddock from Toronto, Jim Kolmar from SXSW, and Mark Adams from Edinburgh.
Other industry experts attending include NeXT will include international guests Virginie Devesa of Alpha Violet, William Guentzler of the Cleveland International Film Festival, Marit Van Den Elshout of Rotterdam, Grainne Humphreys of Dublin International Film Festival, Simon Gabriele of Films Distribution, Jean-Charles Mille of Premium Films, Susan Wendt of TrustNordisk and Marie-Pierre Valle of Wild Bunch.
Belgian attendees include Stephan De Potter of Cineart, Peter Bouckaert of Eyeworks, Tinne Bral of Imagine Film Distribution, Hans Van Acker of Kinepolis, Jan De Clercq of Lumiere, and Bart Van Langendonck of Savage Film.
"We want to create an annual platform where festival curators, sales agents and buyers can discover recent, new and future films, as well as the talent attached to these films," said Christian De Schutter, head of Flanders Image. "In addition to a showcase of recent and new features, there will also be sessions where filmmakers pitch their new projects and present works in progress. Apart from works from some established names like Oscar nominated directors such as Michaël R. Roskam and Stijn Coninx, there is also emerging filmmaking talent like Nathalie Teirlinck or Meikeminne Clinckspoor to discover."
"This inaugural edition of Flanders NeXT is only the start," he added. "We consider NeXT itself as a work in progress, a project that hopefully will be given the time and means and support to grow and expand."
NeXT will overlap with the opening of the 43rd Film Fest Gent, which runs Oct 11-21.
The event is supported by ACE and Lites, and in association with Creative Europe Media Desk, Film Fest Gent, City of Ghent and Brussels Airlines, with media partners Le Film Français and Screen International.
More information is available at next.flandersimage.com.