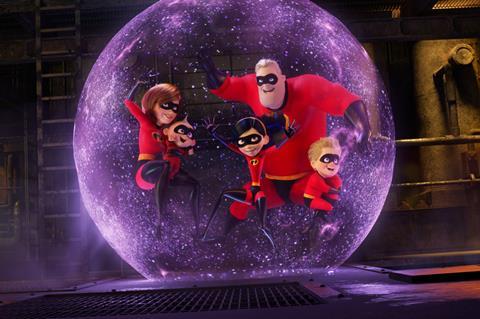 Incredibles 2, Tito And The Birds, and Ruben Brandt, Collector are among 25 animation feature submissions announced by the Academy on Wednesday (24) for consideration in the run-up to the 91st Academy Awards.
The submitted features, listed in alphabetical order, are: Ana y Bruno, Dr. Seuss' The Grinch, Early Man, Fireworks, Have A Nice Day, Hotel Transylvania 3: Summer Vacation, and Incredibles 2.
The list continues with: Isle Of Dogs, The Laws Of The Universe – Part I, Liz And The Blue Bird, Lu Over The Wall, MFKZ, Maquia: When, The Promised Flower Blooms, Mirai, and The Night Is Short, and Walk On Girl.
Rounding out the submissions are: On Happiness Road, Ralph Breaks The Internet, Ruben Brandt, Collector, Sgt. Stubby: An, American Hero, Sherlock Gnomes, Smallfoot, Spider-Man: Into The Spider-Verse, Tall Tales, Teen Titans Go! To The Movies, and Tito and the Birds.
Several of the films have not yet had their required Los Angeles qualifying run. Submitted features must fulfill the theatrical release requirements and comply with all of the category's other qualifying rules before they can advance in the voting process.
Sixteen or more films must qualify for the maximum of five nominees to be voted. Films submitted in the animated feature film category also qualify for Academy Awards in other categories, including best picture.
Nominations for the 91st Academy Awards will be announced on January 22, 2019, and the ceremony takes place on February 24, 2019, at the Dolby Theatre at Hollywood & Highland Center in Hollywood.