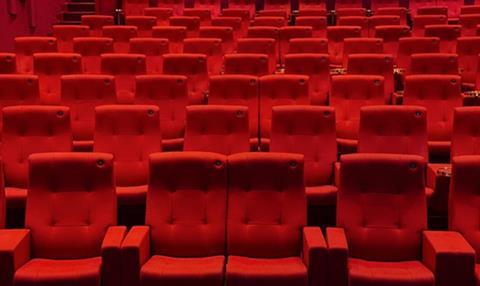 Two of India's biggest cinema chains, PVR Cinemas and Inox Leisure, have spoken out against the growing number of theatrical movies that are opting for a digital premiere during India's Covid-19 lockdown and cinema closures.
The backlash follows an announcement made yesterday by Amazon Prime Video that Shoojit Sircar's Gulabo Sitabo, starring Amitabh Bachchan and Ayushmann Khurrana, would premiere on the platform from June 12 and bypass a theatrical release. The film was originally scheduled to open in theatres on April 17.
Today, Amazon Prime Video announced that a further six Indian movies, across five languages, would premiere on its platform between May and August. The titles include Anu Menon's biopic Shakuntala Devi, starring Vidya Balan and produced by Sony Pictures Networks Productions and Abundantia Entertainment, along with five regional-language films.
Following yesterday's announcement, Inox issued a strongly worded statement, in which it described producers that bypass cinemas as "fair weather friends", and added that it would "reserve all rights to take retributive measures".
The statement read: "Inox would like to express extreme displeasure and disappointment on an announcement made by a production house today, to release their movie directly on an OTT platform by skipping the theatrical window run. The decision of the production house to deviate from the globally prevalent content windowing practice is alarming and disconcerting."
Inox continued that cinemas and content creators have always had "mutually beneficial partnerships, where one's actions provide fillip to another's revenues" and observed that it had been investing heavily in a world-class theatrical infrastructure. "Inox would like to urge all content creators not to skip the theatrical run and stay with the age-old and established windowing pattern, which is in the best interests of all stake holders in the value chain," the statement concluded.
Meanwhile, PVR Pictures CEO Kamal Gianchandani also expressed disappointment with the move. "We are disappointed with Gulabo Sitabo's decision to go straight to a streaming platform," said Gianchandani, speaking to Indian newspaper, the Indian Express. "We were hoping that the producers would accede to our request to hold back their film's release till cinemas reopened."
India's cinemas have been closed since mid-March as part of a lockdown in the country's fight against Covid-19, currently in its third phase and scheduled to end on May 17. So far Indian authorities have not made any statements on when theatres can reopen or what kind of safety measures will need to be implemented.
Shares of PVR Limited and Inox Leisure Limited have both slid by more than 50% on the BSE (Mumbai stock exchange) since the start of the outbreak.
Amazon Prime's recent acquisitions do not mark the first time that theatrical films have premiered on streaming platforms in India. But it's the first time during the current lockdown that big-ticket Indian films with major stars have announced straight-to-digital release plans.
Several other big films have been delayed by the pandemic, including South Indian epic Marakkar: Lion Of Arabian Sea, starring Mohanlal, and Hindi-language action film Sooryavanshi, starring Akshay Kumar and Katrina Kaif. But these films have not yet announced whether they will premiere online or wait for theatres to reopen.
Angrezi Medium, starring the late Irrfan Khan, was the last big Hindi-language film to be released in cinemas on March 13. But the release was cut short and the film was made available less than a month later on streaming platform Disney+ Hotstar.