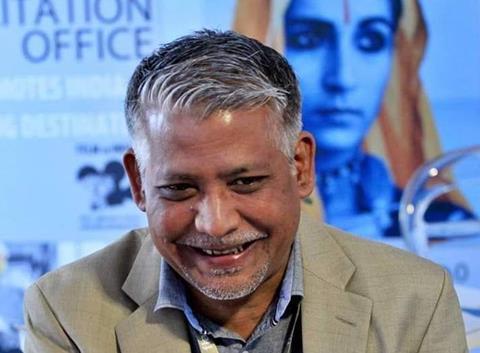 Tributes from the Indian and international film industry have been flooding in for Raja Chhinal, deputy general manager of India's National Film Development Corporation (NFDC), who died on May 17, aged 47.
Chhinal passed away at BLK Hospital in Delhi where he was receiving treatment after suffering from a brain abscess and undergoing surgery for the infection. A funeral service was held in Delhi today. He is survived by his wife Menaka and twin daughters Vanna and Vania.
A tireless campaigner for independent Indian cinema, Chhinal was a familiar face on the international festival circuit, including Berlin, Hong Kong, Toronto and Cannes, where he managed India's national pavilions and film-related activities and helped to shepherd South Asian filmmakers through what was often their first festival visits.
He was also a driving force behind NFDC's Film Bazaar in Goa, alongside former NFDC managing director Nina Lath Gupta. Launched by the NFDC team in 2007, Film Bazaar grew to become the leading platform for the development of Indian and South Asian independent cinema.
Born in Kohima, capital of India's north-eastern state of Nagaland, in 1973, Chhinal graduated from the Regional Engineering College, in Durgapur, West Bengal, and joined the NFDC in 1995.
Among the positions he held were head of overseas markets and promotion, as well as Film Bazaar director. In these roles, he helped raise the international profile of cinema from all over India and across its many languages, including the work of emerging filmmakers in Northeast India. He most recently held the post of NFDC deputy general manager, based in Kolkata (formerly Calcutta).
In a moving tribute posted on Facebook, Gupta described how Chhinal stood out when she joined the NFDC as managing director in 2006 as a "hard-working, solution-driven and above all, a kind, graceful and compassionate man who never turned down a request for help".
"He was the go-to man for many of us in NFDC and the world of indie film," Gupta continued. "He worked tirelessly to promote Indian cinema – both in Film Bazaar and in film markets all over the world. Raja knew everyone and everyone knew Raja. From setting up pavilions to organising film meets, we knew that with Raja in charge, little could go wrong."
NFDC issued a statement on Chhinal's passing yesterday (May 17) and current managing director and Joint Secretary, Ministry of Information & Broadcasting, TCA Kalyani, today commented: "Raja's endeavours at NFDC will not be forgotten. His excellence sprang directly out of his commitment to promote Indian cinema internationally. His contribution towards making Film Bazaar a recognised global brand for NFDC and a credible platform for independent cinema was immense. Raja will truly be forever missed by his colleagues at NFDC. Our prayers be with those he leaves behind."
Although he preferred to remain low-profile, and as Gupta commented in her tribute, entered the world of film almost by default, Chhinal was a calm, gentle and much-loved presence on the festival circuit. Screen has today received many tributes from his friends and colleagues in India and around the world, which we have published below and will continue to add to as we receive messages.
Raja Chhinal remembered:
"Raja's contribution to the re-emergence of independent Indian cinema in the past 15 years was inestimable; he not only helped build the renowned Film Bazaar, which became the place to be in November for programmers from Cannes, Berlin, Venice, Busan and beyond but also redefined the Indian presence at those festivals and markets with national pavilions and stands where filmmakers stood taller than politicians, and everyone flocked to dance and network at the legendary NFDC parties…and oh how we danced Raja!…holding those memories trying to comprehend you're gone. Namaste." Marten Rabarts, New Zealand International Film Festival director and former NFDC head of development
"Raja was such an important ambassador for Indian cinema. He welcomed members of the international film industry to the NFDC's Film Bazaar with true grace, and always kept an eye towards expanding where and how Indian films could find success around the world." Cameron Bailey, Toronto International Film Festival, artistic director & co-head
"For many years, Raja-ji has been a pillar of indie cinema. A problem-solving man who filmmakers, producers and all of us foreign fellow travellers of NFDC labs would always turn to for help. A help that he never refused." Marco Mueller, Pingyao International Film Festival artistic director and Film Bazaar WIP Lab mentor
"From the first moment I travelled to India, Raja has always been there. I was still a producer when visiting the Goa Film Bazaar for the first time more than a decade ago and we stayed connected throughout the years. His smile and enthusiasm and never-ending energy for the Indian film industry, enlarging the space for (international) artistic productions, was powerful and kind. That energy and smile will be dearly missed. He will be dearly missed. A personality of class and human kindness and great love for cinema. May he rest in peace." Bero Beyer, Netherlands Film Fund CEO
"Raja – the Raja [king] of Film Bazaar…the first time we met was in Cannes 2011 and immediately we became friends. Slowly I started depending on you for small things and you became an integral part of my filmmaking journey and my family. I still remember our last family gathering in January this year during the making of our documentary on Gaan-Ngai (post-harvest festival) with your wife Menaka and two daughters Vaana and Vania. My family, especially my kids, will miss your smile. Apart from being a good human being and visionary, you will always be remembered for the thrust you have given to Indian cinema and particularly to the young filmmakers of Northeast India. We the film community of Northeast India salute you for your relentless support and encouragement for the development of cinema in the region. I have not forgotten our great plans and ideas for the growth of cinema in this region. I do hope I will be able to keep our vision alive." Haobam Paban Kumar, Indian filmmaker (Lady Of The Lake)
"Despite, or rather thanks to his soft-spoken, quiet and ever-smiling demeanour, Raja was a pillar and a driving force of NFDC's Film Bazaar. His discreet, yet essential contribution helped to establish FB as the primary platform that brought back Indian and South Asian independent productions to the global film stage. It is especially sad that he won't be there to witness the harvest of what he sowed through the years. But his invaluable contribution will long reflect in the exquisite cinema and budding talents Film Bazar helped existing and growing." Paolo Bertolin, festival programmer and consultant (Cannes Directors' Fortnight, Venice, Locarno Open Doors)
"On my first visit to Cannes I met Raja at the Indian Pavilion. He made me feel comfortable and at ease at a time when I was new to the industry. I remember how he was always ready to help with a smile. He has been a driving force for budding and independent filmmakers at NFDC. Shocked by his sudden passing away. We have lost a kind soul, a strong support." Rima Das, Indian filmmaker (Bulbul Can Sing, Village Rockstars)
STATEMENT FROM LOCARNO FILM FESTIVAL:
"Raja was a friend of the Locarno Film Festival, and of auteur cinema. He was a friend of auteur cinema from India, his homeland. He was a friend of a filmmaking universe that conveys a land made up of lands, languages, religions, cultures and sensitivities. He put all his passion into those stories, those languages, and the language of cinema.
Raja Chhinal was one of many professionals who operate within a quieter part of filmmaking, the one that doesn't end up on the screen, but rather behind it. You don't necessarily read their names, but they make sure you can read those of the filmmakers. Working for many years at NFDC Cinemas of India, Raja was the smiling face of the revolution imagined by Nina Lath Gupta: to shine a new spotlight on Indian auteur cinema. Specifically, the independent variety that went invisible at the turn of the century. Over a brief period of time, Nina and Raja created Film Bazaar, a market event that quickly became an essential bridge to India and South Asia. Film Bazaar, which Raja ran, reignited contacts and mutual observation between local filmmakers and industry professionals from the West. These were essential relationships in order to exist in an international context, with the other end featuring, in recent years, the Locarno Film Festival and Open Doors. Raja was one of the key voices during the Open Doors dialogues, the hand that spun the web of auteur cinema, one edition and Bazaar after the other. He was a person and professional who best summed up what the Locarno Film Festival is and what it strives towards.
"Raja was a well-liked professional," says Paolo Bertolin, Open Doors Artistic Consultant. "He had a wonderful gift: serenity. Everyone recognises how he dealt with each issue with a smile, serenity and politeness. He was kind and generous, and handled obstacles with competence and kindness. He was loved, appreciated and admired. Many viewed him as a gentle accomplice."
He was certainly an accomplice of Indian cinema, in all its forms. Recently, he was working with the filmmakers from the "seven sisters", the seven regions of North-East India bordering China, making its way in between Bhutan, Bangladesh and Myanmar. Raja was there, lending his ear to the voices of very small films and his smile to those willing to discover these voices. He was home, in Assam, Manipur and Nagaland. Farewell, Raja."