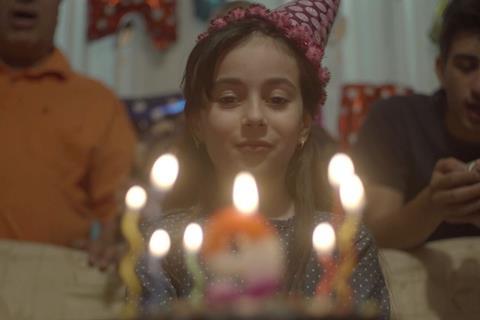 Upcoming documentaries Camels Of The Sea and Friday At The Window have won the top pitch prizes at South Korea's DMZ Documentary Market.
The awards were announced on Tuesday (September 19) on the closing day of DMZ Docs Industry, the industry arm of the DMZ International Documentary Film Festival.
India's Camels Of The Sea won the top prize of $37,700 (KRW50m) in the Global Pitch category, while Iran-Belgium-Norway-Qatar co-production Friday At The Window won the top award of $30,000 (KRW40m) in the Rough Cut Pitch category.
Scroll down for full list of winners
Global Pitch awards go to films that are in production, while Rough Cut Pitch awards go to films in post-production, which are expected to be completed by the following year.
As a condition for receiving the awards, both films must give DMZ a first-look deal and consider hosting their Asian premiere at DMZ Docs.
Camels Of The Sea is about one of the last families in the world that raises a special breed of swimming camels. It is directed by Vikram Singh and produced by Mandakini Gahlot, both of India's Elefant films.
In a joint statement, the DMZ jury said: "With its captivating visuals, compelling storytelling, and a distinct perspective on addressing climate change and preserving endangered traditional lifestyles, this film holds great promise for success on the global festival circuit and in the marketplace."
Friday At The Window is about a young Iranian girl who lives with her grandparents because neither of her divorced parents is willing to take custody. It is directed by Atiye Zare Arandi and produced by Bram Crols (Nelly & Nadine). It previously won the Lightdox Award at Visions du Reel.
"From the child's point of view, the filmmaker has made a beautiful film about growing up and confronting your parents," said the jury.
Making changes
Though DMZ Docs has financially supported filmmakers since its first edition in 2009, DMZ Docs Industry was founded in 2019 via funding from South Korea's Ministry of Culture, Sports and Tourism to formally develop, support and promote documentaries from Korea and Asia. Aside from cash and in-kind pitch awards and its market, the programme offers workshops, training and tutoring sessions.
Korean-American filmmaker Kim Sunah, who has been DMZ Docs' head of industry since 2022, has implemented several changes to this year's programme, such as altering the amount of award money and the obligations around it.
"Before, every prize came with a first-look option, but we realised documentary filmmakers don't really abide by that," said Kim. "It's hard to force filmmakers, or give them some kind of 'penalty,' when we're all together in this struggling industry.
"So one thing we came up with was raising the top prize and making it the only prize with a first-look deal. That way, we're able to secure really wonderful films for a world or Asian premiere at DMZ Docs, and give them a very significant amount of money."
A further unique feature of the DMZ Docs pitch process, according to Kim, is that the festival pays for pitching directors' transportation and lodging and provides cash support of $1,500 (KRW2m) for producers to also join.
"If you're pitching alone, you can use that money to make a better trailer or something, but if you have a producing partner, we ask you to use the money to pay for their flight, because we want you to pitch as a strong team," said Kim. "I've never felt it's right for festivals to ask filmmakers to pay to come and pitch. They should be using their budget on their film, not pitching."
An additional change of which Kim is proud is eliminating the ringing sound that tells filmmakers they have one minute to wrap up their pitches.
"I always wondered why every festival in the world has that same format," said Kim. "I kept seeing incredibly talented filmmakers getting startled by that ring. This isn't elementary school, so why do we do that? I tell the filmmakers that we trust them to keep their pitches under time, because we're all adults."
Kim told Screen that one of her favourite DMZ Docs Industry successes is Ha Le Diem's coming-of-age documentary Children Of The Mist. The filmmakers behind the 2021 Vietnamese doc received funding and met their sales agent at DMZ, and the film went on to win more than a dozen awards at international festivals. It also made history as the first Vietnamese documentary feature to be shortlisted for an Oscar earlier this year.
"The director was so grateful," said Kim. "I consider that our most heart-warming story."
DMZ Docs 2023 Pitch Awards winners
Global Pitch
Best Award (KRW50m)
Camels Of The Sea
Excellence Award (KRW20m each)
Seeds Of A Nation
Untying The Knot
Special Jury Award (KRW10m each)
Mosque
K-Number
Life In The Shadow
Whispers In May
Audience Award
Whispers In May (KRW5m)
Rough Cut Pitch
Best Award
Friday At The Window (KRW40m)
Excellence Award (KRW20m each)
On The Wings Of A Butterfly
After The Snowmelt
Audience Award
Prabha (KRW5m)
In-kind / Fund Awards
Korea University of Media Arts Award (post-production support: DI & DCP, sound mixing)
Red Diary
Sunny Side of the Doc Award (2 passes, pitching program submission fee waived)
Karma
Hot Docs Industry Award (invitation to Hot Docs Industry 2024; one all-access pass)
Seeds Of A Nation
Hans Tech Fund (KRW25m each)
Karma
Parachute Kids