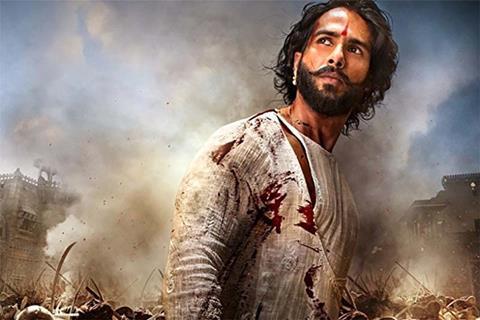 India's Viacom 18 Motion Pictures has delayed the release of Sanjay Leela Bhansali's historical epic Padmavati following a religious controversy that has plagued the film since it was in production.
Originally scheduled for worldwide release on December 1, the film has Paramount Pictures on board to distribute outside India, marking the first time the US studio has handled a Bollywood release.
Based on an epic poem, the film stars Deepika Padukone as the Hindu queen Padmavati, Shahid Kapoor as her husband, Rajput king Maharajah Ratan Singh, and Ranveer Singh as invading Mughal warrior Allaudin Khilji.
According to some Indian religious groups, the film features a dream sequence suggesting a romance between the Hindu queen and the Muslim invader. The religious groups, including the Shree Rajput Karni Sena, are aligned with a warrior caste that traces its lineage back to the Rajput kings.
Some fringe members of the groups attacked the Padmavati sets when the film was in production. More recently, they've issued death threats for Bhansali and Padukone, who are now both under police protection.
Bhansali has denied that the film contains any scenes that would "hurt anyone's sentiments". He stated in a video message shared on social media: "We have made this film with a lot of responsibility and have kept the pride and honour of the Rajputs in mind."
India's Supreme Court has dismissed petitions calling for an outright ban of the film, stating that it still has to be cleared by the Central Board of Film Certification (CBFC). However, the CBFC has refused to certify the film, stating that the application process was incomplete.
In a statement, Viacom 18 Motion Pictures said it had "voluntarily deferred the release date of the film from December 1st, 2017…We are a responsible, law-abiding corporate citizen and have the highest respect and regard for the law of the land and all our institutions and statutory bodies including the Central Board of Film Certification."
The studio added it had "faith that we will soon obtain the requisite clearances to release the film. We will announce the revised release date of the film in due course."
Launched ten years ago, Viacom 18 Motion Pictures is the film arm of India's Viacom18 – a joint venture between Paramount parent Viacom and India's Network 18. It has produced critical and box office hits such as Toilet: Ek Prem Katha, Queen and Bhaag Milkha Bhaag.